Netanyahu Trailing In New Polls, But He Could Remain In Power
Benjamin Netanyahu is trailing in the final polls leading to Tuesday's election, but he still may be able to form the coalition needed to stay in power.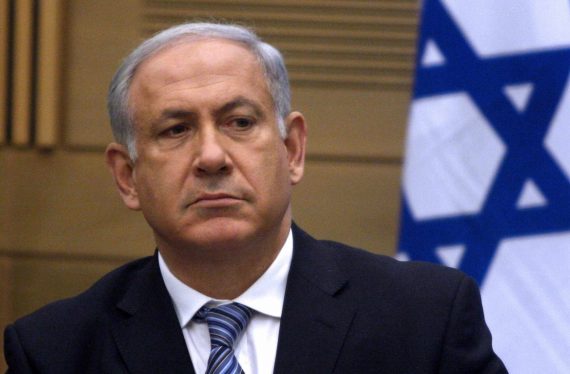 With less than a week to go, the outcome of the Israeli elections remains up in the air, but even with recent polling showing his main opponent with a slight lead, Prime Minister Benjamin Netanyahu still seems likely to keep his job after the dust has settled:
Jerusalem (AFP) – Less than a week before Israel's second general election in two years,Isaac Herzog's centre-left Zionist Union opened up a lead on Prime Minister Benjamin Netanyahu's right wing Likud, polls showed Wednesday.

The March 17 vote comes as Israel faces major domestic and international challenges, all of which will have to be addressed by the next government – among them the Iranian nuclear threat, the deadlock in peace efforts and a looming Palestinian legal move at the International Criminal Court.

Experts say the vote will largely be a referendum on the six-year tenure of Netanyahu, who has made security the centrepiece of his campaign.

The Israeli leader last week gave a controversial address to the US Congress on the threat that would be posed by a nuclear Iran, in a move he hoped would boost his support ahead of the vote.

But a series of polls published this week show an erosion in support for Netanyahu's ruling Likud party, which for weeks had been neck-and-neck with its centre-left rival, with both hovering at around 23 or 24 seats.

According to a survey by Israel's army radio, Herzog's list was seen taking 24 seats to Likud's 21, indicating an erosion in support for Netanyahu's faction.

The poll found that the centre-left and potential allies would take 54 mandates compared with 58 for the rightwing and religious parties within the 120-seat Knesset, or parliament.

The centre-right Kulanu faction, which has not said whether it would back Netanyahu or Herzog and could play the role of kingmaker, is seen taking eight seats.

A similar poll by Channel 2 television released late on Tuesday gave the Zionist Union 25 seats to 21 for Likud, with the centre-left and allies taking 55 seats to 57 for the right. It too forecast eight seats for Kulanu.
These new polls are consistent with other polling over the past several weeks that has shown Herzog's party gaining on, and eventually taking a slight lead over, Netanyahu's faction, and The Guardian describes some Likud activists as being in a panic mode as Election Day approaches next Tuesday. while Herzog's supporters have become more optimistic:
Israel's opposition leader, Yitzhak Herzog, appears to be gaining momentum in the runup to next week's general election, triggering a rising sense of panic in Likud, the party of the prime minister, Binyamin Netanyahu.

Two new polls suggest a lead of three to four parliamentary seats for the Zionist Union, with internal polling from both parties indicating a wider gap.

A text message sent to Likud activists, imploring them to get friends and relatives to vote on Tuesday, reads: "We are in danger of really losing!"

It goes on: "We must save the day and make sure that every single one of our friends/acquaintances/family makes it to the polls on election day and votes for the Likud. Wake up!"

Herzog, the Labour leader who has formed an electoral alliance with former justice minister Tzipi Livni under the Zionist Union banner, has been running neck and neck with Netanyahu, who is campaigning to serve a fourth term as prime minister.

Under Israel's system of proportional representation which invariably produces coalition governments, Netanyahu still has an advantage. But in the last days of the campaign, there is a new sense of optimism among Zionist Union's supporters and MPs.

At a campaign meeting on Tuesday in Be'er Sheva, in the Negev desert, Herzog told a gathering of the faithful, the curious and a handful of supporters of other parties that he represented hope for those who felt excluded within Israel's dysfunctional economy and for those who sought the possibility of peace. He and Livni promised to end Israel's increasing isolation in the international community.

According to MP Erel Margalit, Zionist Union supporters were buoyed by the large turnout at an anti-Netanyahu rally in Tel Aviv at the weekend and by leaks of internal surveys that suggest Netayanhu's position is worse than published polls suggest.

"I've become optimistic in the last few days," Margalit said. "I wasn't so optimistic before. In the last few days I have felt a sense of building momentum. I feel a change is coming. People want a leadership based on something else than fear.

"The sense of fatalism that has been around in a large part of the campaign – people thinking that whatever happens they will get Netanyahu as prime minister again – I think that is what has changed."
There's been some contention that the decline inNeyanyahu's poll numbers, and the contemporaneous rise in Herzog's standing in the polls, has been due in some part to domestic Israeli reaction to Netanyahu's speech to Congress last week, which seems to have become a campaign issue to the extent that it played into the opposition argument that Netanyahu had succeeded in ruining Israel's relationship with its most important ally. The fact that there's a correlation between the two events, though, doesn't necessarily equal causation and none of the polling data that I've been able to see appears to have asked respondents detailed questions regarding their opinions about the Netanyahu's impact on U.S.-Israeli relations in general or the speech specifically. We may just be looking at the impact of the campaign overall rather than a specific reaction to the speech.
Whatever the cause, though, it seems pretty clear that there's been something of a public souring toward Netanyahu and Likud, although it's unclear whether that will actually lead to a change in who heads Israels government after the dust settles. As noted above, neither Likud nor the Zionist Union will end up with sufficient seats in the Knesset on their own to form a majority. Instead, the question in the days and, possibly, weeks following the March 17th election will be which party is able to reach agreements with enough parties to form the 61 seat majority needed to control the Senate. On the surface, it still appears as if Netanyahu has the built in advantage here given the fact that he can count on the support of a number of right wing and religious parties that are likely to add 30 or more seats to whatever total Likud ends up with after Election Day. Much like he as able to do in 2011, Netanyahu may be able to use this built-in advantage to negotiate with other parties more in the middle of the political spectrum to give him the handful of seats he'd then need to get to a majority. In any case, it could be seem weeks before we know for sure who the new Prime Minister of Israel will be. In 2009, for example, the election was held on February 10th, but the final vote of confidence in Knesset confirming Netanyahu's majority didn't occur until March 30th. In 2013, the elections were held on January 22nd, but it wasn't until March 18th that a final government was officially in place. Given that, it would be best to take any assessments about who "won" or "lost" the election on Tuesday with a grain of salt since it will likely be some time before we know for sure who actually walks away with a majority.