Publisher To Delete "Racially Insensitive" Words From 'Huckleberry Finn,' 'Tom Sawyer'
Just over 100 years after his death, Mark Twain's two greatest novels are once again the subject of controversy.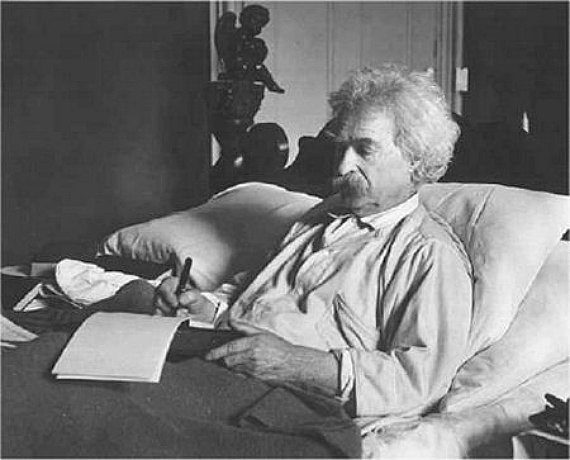 A publisher is coming out with new editions of Mark Twain's two greatest novels that delete or modify all instances of "racially insensitive" words:
Mark Twain's Adventures of Huckleberry Finn is a classic by most any measure—T.S. Eliot called it a masterpiece, and Ernest Hemingway pronounced it the source of "all modern American literature." Yet, for decades, it has been disappearing from grade school curricula across the country, relegated to optional reading lists, or banned outright, appearing again and again on lists of the nation's most challenged books, and all for its repeated use of a single, singularly offensive word: "nigger."

Twain himself defined a "classic" as "a book which people praise and don't read." Rather than see Twain's most important work succumb to that fate, Twain scholar Alan Gribben and NewSouth Books plan to release a version of Huckleberry Finn, in a single volume with The Adventures of Tom Sawyer, that does away with the "n" word (as well as the "in" word, "Injun") by replacing it with the word "slave."

"This is not an effort to render Tom Sawyer and Huckleberry Finn colorblind," said Gribben, speaking from his office at Auburn University at Montgomery, where he's spent most of the past 20 years heading the English department. "Race matters in these books. It's a matter of how you express that in the 21st century."

The idea of a more politically correct Finn came to the 69-year-old English professor over years of teaching and outreach, during which he habitually replaced the word with "slave" when reading aloud. Gribben grew up without ever hearing the "n" word ("My mother said it's only useful to identify [those who use it as] the wrong kind of people") and became increasingly aware of its jarring effect as he moved South and started a family. "My daughter went to a magnet school and one of her best friends was an African-American girl. She loathed the book, could barely read it."

Including the table of contents, the slur appears 219 times in Finn. What finally convinced Gribben to turn his back on grad school training and academic tradition, in which allegiance to the author's intent is sacrosanct, was his involvement with the National Endowment for the Arts' Big Read Alabama.

(…)

"After a number of talks, I was sought out by local teachers, and to a person they said we would love to teach this novel, and Huckleberry Finn, but we feel we can't do it anymore. In the new classroom, it's really not acceptable." Gribben became determined to offer an alternative for grade school classrooms and "general readers" that would allow them to appreciate and enjoy all the book has to offer. "For a single word to form a barrier, it seems such an unnecessary state of affairs," he said.
One writer at CNN compares the modifications to the changes that broadcast television networks make when the air movies:
If this puts the book into the hands of kids who would not otherwise be allowed to read it due to forces beyond their control (overprotective parents and the school boards they frighten), then maybe we shouldn't be so quick to judge.

It's unfortunate, but is it really any more catastrophic than a TBS-friendly re-edit of "The Godfather," you down-and-dirty melon farmer?

The original product is changed for the benefit of those who, for one reason or another, are not mature enough to handle it, but as long as it doesn't affect the original, is there a problem?
This analogy simply doesn't work. Neither the expletives nor things like the graphic details of the "horses head" scene or the brief sex scene between Michael Corleone and his first wife Appolonia are essential elements of the story that Mario Puzo and Francis Ford Coppola are trying to tell in The Godfather. These items can be removed or modified for airing on broadcast television without taking away from the central themes of the story. This is not the case with either Sawyer or Finn, both books are set in a time period when racial tensions were a central part of life and are based, to a large degree, on the racially prejudices that Twain himself encountered as a child growing up in Missouri. This is especially true of Huckleberry Finn where, despite the fact that "the n-word" appears 219 times, it's fairly obvious that Twain is condemning racial prejudice and that one of the central themes of the book is the process by which Huck discovers that the things he'd been taught by society by blacks were wrong, and that his companion him was, in fact, an heroic figure.Twain's use of a word that, even in his time, was meant to be insulting and demeaning, was deliberate and removing it because of "sensitivities" seems to me to detract significantly from the overall power of the novel.
Beyond this, editing these novels like this strikes me as being the literary equivalent of putting a shroud around the waist of Michealangelo's David, or covering the breasts of a woman in a Rubens painting. These are great works of art, changing them like this is troublesome and outrageous on a fundamental level.
It's somewhat ironic that this would happen at the same time that the first volume of Twain's autobiography,
finally released after 100 years, sits at No. 5 on The New York Times' Bestseller List. I'm sure if Samuel Langhorne Clemens were around today, he'd have something to say about this.
Update: Steffani Cameron explains better than I did why this is such a travesty:
Huckleberry Finn's linguistic offensiveness is exactly the way to further the almost non-existent dialogue on race in America. Instead of shutting it up and putting prettier words on the page so it's less offensive, let's wake the hell up.

HEY, it's SLAVERY. It IS offensive. It SHOULD be offensive. It should make schoolkids' skin CRAWL when they learn what REALLY happened. WAKE UP.

They should learn how horrible tarring-and-feathering was, that slaves would be killed by being made to drink boiling water or oil, that lynching was a common "behaviour tool".

Slaves weren't just treated badly, all right? Let's get real here. Let's be honest about how horrible it was.
Huck Finn is an historical novel for us now. It's a window into a past that some would say we haven't fully confronted. Whitewashing (an ironic term for fans of Tom Sawyer) the racism out of Twain's novels is whitewashing the past, it's sending the message that hey things really weren't that bad, when in fact they were that bad, and worse.
Moderation Note: A few comments have already been caught in our spam filter because of their use of the word in question. I approved them because they were used in an appropriate context and will continue do to so for future comments, as long as the word is used appropriately and not as an insult..