Kansas City Catholic Bishop Convicted Of Failing To Report Child Abuse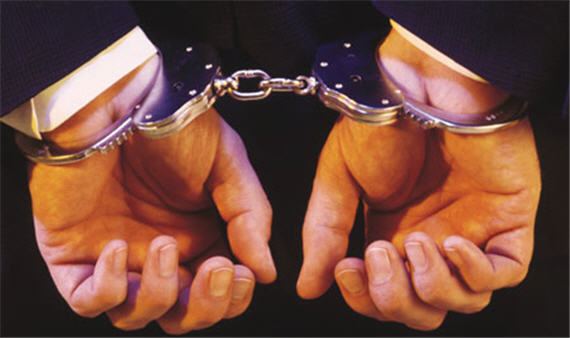 For the first time, an American Roman Catholic Bishop has been convicted of failing to report suspected cases of child sexual abuse by priests under his control:
KANSAS CITY, Mo. — A Roman Catholic bishop was found guilty on Thursday of failing to report suspected child abuse, becoming the first American bishop in the decades-long sexual abuse scandal to be convicted of shielding a pedophile priest.

In a hastily announced bench trial that lasted a little over an hour, a judge found the bishop, Robert W. Finn, guilty on one misdemeanor charge and not guilty on a second charge, for failing to report a priest who had taken hundreds of pornographic pictures of young girls. The counts each carried a maximum penalty of one year in jail and a $1,000 fine, but Bishop Finn was sentenced to two years of court-supervised probation.

The verdict is a watershed moment in the priest sexual abuse scandal that has plagued the church since the 1980s. Bishops have been eager to turn the page on this era and have put in place extensive abuse prevention policies, which include reporting suspected abusers to law enforcement authorities. But the Kansas City case has served as a wake-up call to Catholics that the policies cannot be effective if the bishops do not follow them.

It was an abrupt ending to a case that has consumed the church in Kansas City and threatened to turn into a sensational, first-ever trial of a sitting prelate. The case had been scheduled for a jury trial later this month, but on Wednesday the prosecution said it would be decided in one afternoon by Judge John M. Torrence in Jackson County Circuit Court.

Before being sentenced, Bishop Finn, 59, his jaw quivering, rose in court and said: "I am pleased and grateful that the prosecution and the courts have allowed this matter to be completed. The protection of children is paramount."

He added, "I truly regret and am sorry for the hurt that these events have caused."

The church managed to avoid a lengthy, highly public jury trial like the one earlier this year in Philadelphia, where a high-ranking assistant to the archbishop was convicted of child endangerment and sentenced to prison for three to six years.

The Jackson County prosecutor, Jean Peters Baker, said that the expedited trial spared the young victims and their parents from having to testify. She said it also meant that the disturbing photographs of children would not be shown in open court. She said the victims and their families "were all ecstatic that this could end today."

The Survivors Network of Those Abused by Priests, like some other victims' advocacy groups, applauded the unprecedented conviction of a bishop but said in a statement that the sentence was too lenient. "Only jail time would have made a real difference here," it said.
I am sympathetic to SNAP's criticism of the sentence in this case, especially since one has to wonder how a lay person who was also under a legal obligation to report suspected child abuse would have been treated under similar circumstances as these:
The case began when the Rev. Shawn Ratigan, a charismatic parish priest who had previously attracted attention for inappropriate behavior with children, took his laptop computer in for repairs in December 2010. A technician immediately told church officials that the laptop contained what appeared to be pornographic photographs of young girls' genitals, naked and clothed.

Father Ratigan attempted suicide, survived and was sent for treatment. Bishop Finn reassigned him to live in a convent and ordered him stay away from children. But Father Ratigan continued to attend church events and take lewd pictures of girls for five more months, until church officials reported him in May 2011, without Bishop Finn's approval. The bishop was found guilty on the charge relating only to that time period.

Father Ratigan pleaded guilty in August to federal child pornography charges, and is awaiting sentencing.

Ms. Peters Baker told the judge in opening arguments that Bishop Finn had been given ample warning that Father Ratigan was a danger to children. She said that the priest had even admitted to Bishop Finn that he had "a pornography problem."

The prosecutor said: "Defendant Finn is the ultimate authority. The buck does stop with him."

In May 2010, the principal of the Catholic elementary school where Father Ratigan was working sent a memo to the diocese raising alarm about the priest. The letter said that he had put a girl on his lap on a bus ride and encouraged children to reach into his pockets for candy, and that parents discovered girl's underwear in a planter outside his house. Bishop Finn has said he did not read the letter until a year later.

The prosecutor said the photographs discovered on Father Ratigan's laptop in December 2010 were "alarming photos," among them a series taken on a playground in which the photographer moves in closer until the final shots show girls' genitalia through their clothing. Confronted with the photographs, Father Ratigan tried to commit suicide, but survived and was briefly hospitalized.

Bishop Finn sent Father Ratigan for a psychological examination, then assigned him to live in a convent and told him not to have contact with children. But despite the restrictions, Father Ratigan presided at a girl's First Communion and attended an Easter egg hunt and a child's birthday party.
Instead of reassigning him, of course, Bishop Finn should have ordered that Ratigan immediately be reported to the proper authorities, just as Joe Paterno and others at Penn State should have immediately reported Jerry Sandusky. By not doing so, he allowed Ratigan to roam free and abuse other children. Is probation really the appropriate sentence here? I don't think so.
This case follows on the recent conviction of a high ranking priest in the Philadelphia diocese on similar charges of covering up abuse by a priest attached to the diocese. In that case, there was also a Bishop involved in the cover-up, in that case Philadelphia's late Anthony Bevilacqua, but authorities were unable to put him on trial because he died.
Notwithstanding the inadequate sentence, there is something significant in the fact that, for the first time, a Bishop has been held criminally responsible for the cover-up of child abuse that rocked the Catholic Church in past years. That alone is a satisfying outcome, although one wishes that others had been held to similar standards in the past and that Church officials in Rome had taken responsibility for the horrible crimes they allowed to be committed under their watch.