Ginni Thomas the Insurrectionist
A Supreme Court Justice's wife urged the White House and Congressional Republicans to steal the 2020 election.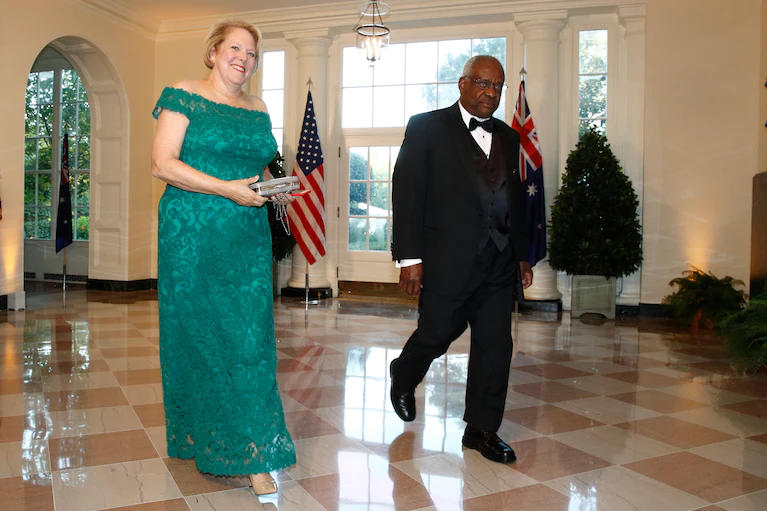 WaPo ("Virginia Thomas urged White House chief to pursue unrelenting efforts to overturn the 2020 election, texts show"):
Virginia Thomas, a conservative activist married to Supreme Court Justice Clarence Thomas, repeatedly pressed White House Chief of Staff Mark Meadows to pursue unrelenting efforts to overturn the 2020 presidential election in a series of urgent text exchanges in the critical weeks after the vote, according to copies of the messages obtained by The Washington Post and CBS News.

The messages — 29 in all — reveal an extraordinary pipeline between Virginia Thomas, who goes by Ginni, and President Donald Trump's top aide during a period when Trump and his allies were vowing to go to the Supreme Court in an effort to negate the election results.

On Nov. 10, after news organizations had projected Joe Biden the winner based on state vote totals, Thomas wrote to Meadows: "Help This Great President stand firm, Mark!!!…You are the leader, with him, who is standing for America's constitutional governance at the precipice. The majority knows Biden and the Left is attempting the greatest Heist of our History."

When Meadows wrote to Thomas on Nov. 24, the White House chief of staff invoked God to describe the effort to overturn the election. "This is a fight of good versus evil," Meadows wrote. "Evil always looks like the victor until the King of Kings triumphs. Do not grow weary in well doing. The fight continues. I have staked my career on it. Well at least my time in DC on it."

Thomas replied: "Thank you!! Needed that! This plus a conversation with my best friend just now… I will try to keep holding on. America is worth it!"

It is unclear to whom Thomas was referring.

The messages, which do not directly reference Justice Thomas or the Supreme Court, show for the first time how Ginni Thomas used her access to Trump's inner circle to promote and seek to guide the president's strategy to overturn the election results — and how receptive and grateful Meadows said he was to receive her advice. Among Thomas's stated goals in the messages was for lawyer Sidney Powell, who promoted incendiary and unsupported claims about the election, to be "the lead and the face" of Trump's legal team.

The text messages were among 2,320 that Meadows provided to the House select committee investigating the Jan. 6 attack on the U.S. Capitol. The content of messages between Thomas and Meadows — 21 sent by her, eight by him – has not previously been reported. They were reviewed by The Post and CBS News and then confirmed by five people who have seen the committee's documents.

Meadows's attorney, George Terwilliger III, confirmed the existence of the 29 messages between his client and Thomas. In reviewing the substance of the messages Wednesday, he said that neither he nor Meadows would comment on individual texts. But, Terwilliger added, "nothing about the text messages presents any legal issues."

Ginni Thomas did not respond to multiple requests for comment made Thursday by email and phone. Justice Thomas, who has been hospitalized for treatment of an infection, did not respond to a request for comment made through the Supreme Court's public information office.

[…]

Thomas has publicly denied any conflict of interest between her activism and her husband's work on the Supreme Court. "Clarence doesn't discuss his work with me, and I don't involve him in my work," she said in an interview with the Washington Free Beacon, a conservative outlet, for an article published March 14.

Ginni Thomas, in that interview, also acknowledged that she had attended Trump's "Stop the Steal" rally at the Ellipse near the White House on Jan. 6, but said that she left early because it was too cold and that she did not have any role in planning the event.

[…]

In her text messages to Meadows, Ginni Thomas spread false theories, commented on cable news segments and advocated with urgency and fervor that the president and his team take action to reverse the outcome of the election. She urged that they take a hard line with Trump staffers and congressional Republicans who had resisted arguments that the election was stolen.

In the messages, Thomas and Meadows each assert a belief that the election was stolen and seem to share a solidarity of purpose and faith, though they occasionally express differences on tactics.

"The intense pressures you and our President are now experiencing are more intense than Anything Experienced (but I only felt a fraction of it in 1991)," Thomas wrote to Meadows on Nov. 19, an apparent reference to Justice Thomas's 1991 confirmation hearings in which lawyer Anita Hill testified that he had made unwanted sexual comments when he was her boss. Thomas strongly denied the accusations.

The first of the 29 messages between Ginni Thomas and Meadows was sent on Nov. 5, two days after the election. She sent him a link to a YouTube video labeled "TRUMP STING w CIA Director Steve Pieczenik, The Biggest Election Story in History, QFS-BLOCKCHAIN."

Pieczenik, a former State Department official, is a far-right commentator who has falsely claimed that the 2012 massacre at Sandy Hook Elementary School in Newtown, Conn., was a "false-flag" operation to push a gun-control agenda.

The video Thomas shared with Meadows is no longer available on YouTube. But Thomas wrote to Meadows, "I hope this is true; never heard anything like this before, or even a hint of it. Possible???"

"Watermarked ballots in over 12 states have been part of a huge Trump & military white hat sting operation in 12 key battleground states," she wrote.
NYT ("Ginni Thomas Pressed Trump's Chief of Staff to Overturn 2020 Vote, Texts Show") adds:
In one message sent in the days after the election, she urged the chief of staff, Mark Meadows, to "release the Kraken and save us from the left taking America down," invoking a slogan popular on the right that refers to a web of conspiracy theories that Trump supporters believed would overturn the election.

In another, she wrote: "I can't see Americans swallowing the obvious fraud. Just going with one more thing with no frickin consequences." She added: "We just cave to people wanting Biden to be anointed? Many of us can't continue the GOP charade."

The committee obtained 29 texts between Ms. Thomas and Mr. Meadows — 28 exchanged between Nov. 4 and Nov. 24, and one written on Jan. 10. The text messages, most of which were written by Ms. Thomas, represent the first evidence that she was directly advising the White House as it sought to overturn the election. In fact, in her efforts to keep Mr. Trump in power, Ms. Thomas effectively toggled between like-minded members of the executive and legislative branches, even as her husband, who sits atop the judiciary branch that is supposed to serve as a check on the other branches of government, heard election-related cases.

Justice Thomas has been Mr. Trump's most stalwart defender on the court. In February 2021, he wrote a dissent after the majority declined to hear a case filed by Pennsylvania Republicans that sought to disqualify certain mail-in ballots. And this past January, he was the only justice who voted against allowing the release of records from the Trump White House related to the Jan. 6 attack.

Ms. Thomas has actively opposed the Jan. 6 committee and its work, co-signing a letter in December calling for House Republicans to expel Representatives Liz Cheney and Adam Kinzinger from their conference for joining the committee. Ms. Thomas and her co-authors said the investigation "brings disrespect to our country's rule of law" and "legal harassment to private citizens who have done nothing wrong," adding that they would begin "a nationwide movement to add citizens' voices to this effort."

Many of Ms. Thomas's postelection texts are rambling, with little attention to punctuation, and they run the gamut. She calls Nov. 3, Election Day, a "heist," and repeats debunked conspiracy theories, including one pushed by QAnon that falsely alleged that voter fraud had been discovered in Arizona on secretly watermarked ballots.

[…]

She also quoted language circulating on pro-Trump sites that said, "Biden crime family & ballot fraud co-conspirators (elected officials, bureaucrats, social media censorship mongers, fake stream media reporters, etc) are being arrested & detained for ballot fraud right now & over coming days, & will be living in barges off GITMO to face military tribunals for sedition." She added: "I hope this is true."
We've known for quite some time that Ginny Thomas was a far-right activist and have questioned the propriety of this work given her husband's role. And we knew she had attended the Stop the Steal rally and seemed to be supportive of the overall effort.
This new insight is just deeply disturbing. Not only is she actively urging arguably the second most powerful person in the US Government, the White House Chief of Staff, to commit crimes but she's coordinating it with powerful Members of Congress.
Beyond that, she's clearly a serious nutcase. She's an attorney with decades of high-level experience in DC politics and she's credulously texting QAnon conspiracy theories and bizarre YouTube rants. It's just deranged.
I've heard her husband speak a few times and even met him at a dinner for his autobiography years ago. He's never struck me as a whacko. But constant exposure to this nonsense from one's life partner has to have some effect.