A Key Aspect of the Ginni Thomas Story
Beyond who her spouse is, the texts to Meadows reveal a deeply concerning situation.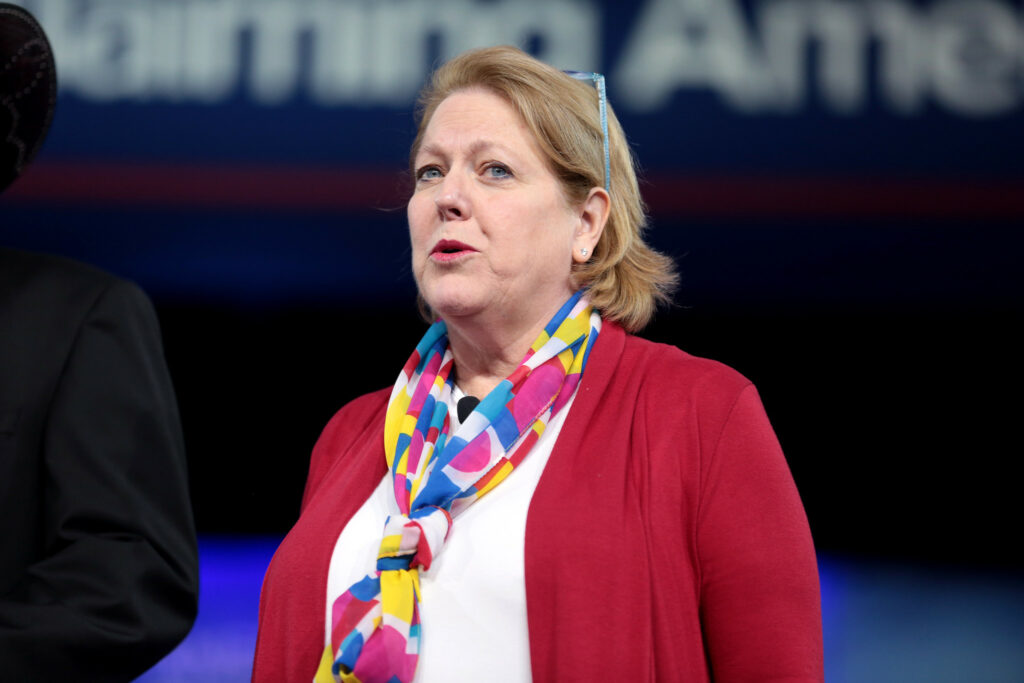 Setting aside (for the moment) that she is married to one of only nine members of the US Supreme Court, there is a deeply disturbing aspect of the Ginni Thomas text story. Note: I am setting aside her spouse's day job not because it is unimportant (quite the contrary) but because I want to focus on the simple fact that Virginia Thomas is a multi-decade member of the GOP/mainstream conservative establishment. She is not some ragtag newbie/grifter that Donald Trump brought into the spotlight/into the government. No, she has been active in American politics for four decades.
She started her career working for US Representative Hal Daub in 1981. She has worked in the US Department of Labor, for US Representative Dick Army, and has spent decades working for various advocacy organizations like the Heritage Foundation. She had run a conservative-oriented consulting firm for over a decade (the website is here).
Certainly, she is conservative. Describing her as "right-wing" is fair. Further, I can understand how someone might look at her record and find her views extreme (and, therefore, want to dismiss the basic thesis of this post–but I would advise against letting one's view of either Thomas cloud the basic point here).
It is striking to me is that she has deep roots in the mainstream of the party and the broader conservative movement. Further, she has direct ties to the government, both by working for members of Congress, serving in the executive branch herself, or, to mention her spouse, being married to 1/9th of the pinnacle of one of the branches of the federal government.
She has to tools to know fact from conspiracy theory. She has four decades of direct exposure. And yet, she fell for QAnon nonsense, as WaPo reported from her text exchange with Meadows:
The first of the 29 messages between Ginni Thomas and Meadows was sent on Nov. 5, two days after the election. She sent him a link to a YouTube video labeled "TRUMP STING w CIA Director Steve Pieczenik, The Biggest Election Story in History, QFS-BLOCKCHAIN."

Pieczenik, a former State Department official, is a far-right commentator who has falsely claimed that the 2012 massacre at Sandy Hook Elementary School in Newtown, Conn., was a "false-flag" operation to push a gun-control agenda.

The video Thomas shared with Meadows is no longer available on YouTube. But Thomas wrote to Meadows, "I hope this is true; never heard anything like this before, or even a hint of it. Possible???"

"Watermarked ballots in over 12 states have been part of a huge Trump & military white hat sting operation in 12 key battleground states," she wrote.

During that period, supporters of the QAnon extremist ideology embraced a false theory that Trump had watermarked mail-in ballots so he could track potential fraud. "Watch the water" was a refrain in QAnon circles at the time.
I understand, to a degree, how someone living their lives, getting news from Facebook memes and snippets from talk radio/cable news talking heads might fall for this nonsense, but it is deeply troubling that someone linked to actual corridors of power would. And, to sire her husband again, was he unable to persuade her otherwise, or, more concerningly, does he believe this stuff, too?
In the Nov. 5 message to Meadows, Thomas went on to quote a passage that had circulated on right-wing websites: "Biden crime family & ballot fraud co-conspirators (elected officials, bureaucrats, social media censorship mongers, fake stream media reporters, etc) are being arrested & detained for ballot fraud right now & over coming days, & will be living in barges off GITMO to face military tribunals for sedition."
I am not suggesting that all married couples should be of the same mind, nor am I am suggesting as someone who has been married for over three decades, that a husband can control what his wife thinks. But I also find it very difficult to conceive a scenario in which he would treat this as some disagreement over where to go on vacation or what color to paint the dining room. Clearly, none of us knows the internal dynamic of their marriage, but the chances that he is influenced by all of this, or is at least sympathetic to his wife's view is a genuine concern. I know this is the realm of speculation, but when one person has as much power as does a given Supreme Court Justice, there is some room for concerned speculation.
But, back to the main point about Ginni Thomas: it isn't just that she supported Trump (as I have noted, as a point of explanation, not defense, in a system with two choices, lifelong Republicans were very likely able to rationalize support for Trump), it is that she has clearly bought into some of the more egregiously problematic aspects of the Trump era.
She bought into QAnon conspiracies (as noted above).
She thought (still thinks?) that Sidney Powell was credible.
"Just forwarded to yr gmail an email I sent Jared this am. Sidney Powell & improved coordination now will help the cavalry come and Fraud exposed and America saved."

[…]

"Don't let her and your assets be marginalized instead…help her be the lead and the face,"

[…]

"Sounds like Sidney and her team are getting inundated with evidence of fraud. Make a plan. Release the Kraken and save us from the left taking America down."
She has been involved in American government, directly or indirectly, for over forty years and is willing to buy into this nonsense. Her husband is one of the most powerful men in America (and between that fact and her day job, is exposed to elites from both parties) and yet she is spouting QAnon!
Like so much in the last half-decade or so, this is perhaps not fundamentally surprising, but it is still stunningly disturbing.
I am not saying that I am necessarily surprised as a general matter (although it is honestly surprising to me that anyone with any level of education, let alone direct exposure to government, would buy into QAnon nonsense).
I am not saying that I thought that mainstream types would save the country from Trumpism (as it clearly had already abdicated).
But it is still concerning, if not profoundly worrying, to see this level of madness from someone who was clearly an ideologue, but one who is educated and with direct access to power. Further, seeing it at this level of the US government, even if only by marriage, is pit-in-the-stomach inducing.
To be clear: my point is not "how could Ginni Thomas, of all people, fall for this stuff?" It isn't like I had any particular reason to assume that she was immune (or, really, any particular view of her state of mind). Still, the question of how bad things are is linked to how far certain categories of persons are willing to go this deeply into nonsense. The category, in this case, is conservative elite.
Stuff like this makes me think back to educated, elites in Latin America backing military takeovers:
"Help This Great President stand firm, Mark!!!…You are the leader, with him, who is standing for America's constitutional governance at the precipice. The majority knows Biden and the Left is attempting the greatest Heist of our History."
That's the kind of thinking that leads to coups, and to things like the January 6th insurrection.
And this really gets to the heart of a major concern that I have: if people like Ginni Thomas, who has every tool are her disposal to know the difference between fact and fiction, between reality and conspiracy theories, are not committed to even semi-rational examination of the facts, then this underscores the difficulties ahead of us.
In more general terms: this would appear to underscore the radicalization of at least some members of the political elite–and beyond those that Trump brought into government, but rather those who well pre-date him. This is actually more frightening to me than the fact that she is married to a Justice. The My Pillow guy is one thing, but if people firmly embedded in DC at the highest levels believe this stuff, excising it from mass politics will be all the harder.
I want to be clear: this post is not about me being shocked that some conservative elite believes nonsense. This post is about underscoring the way in which this story, which understandably focuses on who her husband is, is disturbing simply because of who Ginni Thomas is (or, more accurately, the type of person she represents) even without reference to her husband.
But, to return to her husband: the likelihood that she was not influencing him strikes me as extremely low. While I fully agree that spouses can be distinct intellects with their own views, the idea that there is some kind of Chinese wall between the two of them on politics strains all credulity.
At a bare minimum, Justice Thomas resides with a person of influence in his life, his "best friend" I would note, who is susceptible to the gross propaganda of conspiracy theorists. There is nothing calm, casual, or comforting about that observation.
Update. A thought to add to all of this, and which directly links to her husband's job: if she really believes, as per the texts above, that "America's constitutional governance at the precipice" then there is no way that she isn't trying to influence her husband on this topic.