Little Known Congressman Files Doomed Motion To Remove John Boehner As Speaker
A little known Congressman from North Carolina has filed a motion to "remove" John Boehner from the Speakership.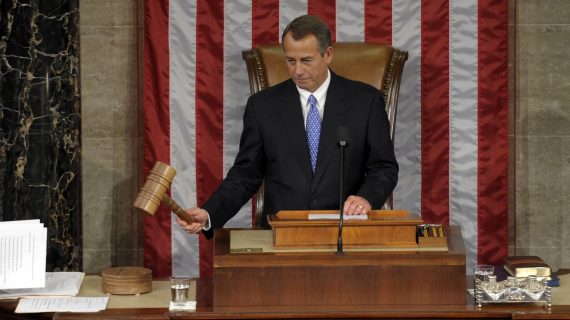 A little known conservative Republican back bencher from North Carolina has filed a motion in the House of Representatives seeking to remove John Boehner as Speaker of the House, and it is as weak and impotent as previous leadership challenges that Boehner has faced:
North Carolina Rep. Mark Meadows had heard from leading conservatives that trying to oust Speaker John Boehner right now was a bad idea.

Reps. Mick Mulvaney (R-S.C.) and Jim Jordan (R-Ohio), fierce and frequent critics of leadership, thought the move was ill-advised. Some of Meadows' friends didn't even see it coming. But just before 6 p.m. Tuesday — a day before the House was set to leave town for its five-week summer recess — Meadows offered a motion to vacate the chair, an extraordinarily rare procedural move that represents the most serious expression of opposition to Boehner's speakership. If the motion were to pass — most Republicans say it will be hard to cobble together the votes — Boehner would be stripped of the speaker's gavel, potentially plunging the House of Representatives into chaos.

GOP leaders were taken completely by surprise. Meadows, a second-term Republican, hadn't even asked for a meeting with Boehner or other top Republicans to air his gripes.

Until now, the North Carolina Republican had taken small steps to undermine Boehner — he voted against procedural motions and against Boehner for speaker. Now he's declared all-out war, and he could quickly find out how many people are willing to back him up.

Meadows, however, didn't go as far as he could have. A motion to vacate the chair — last attempted roughly a century ago — is typically considered a privileged resolution. In that format, the House would hold a vote within two legislative days. Meadows, however, chose not to offer it in that form, which he said was a sign that he wanted a discussion.

GOP leadership allies said the move suggests Meadows is trying to steal the spotlight as Congress leaves for its break. He denied that but said a vote was unlikely before the August recess.

(…)

Meadows' move set off a frenzy of discussion within the GOP leadership. Late Tuesday evening, some of Boehner's close allies and other figures atop the party said they thought Boehner (R-Ohio) should call up Meadows' resolution himself, as a way to demonstrate his power and tamp down the rebellion from the right for good.

It's unclear whether Boehner is willing to take that risky step or instead will opt to ignore the motion altogether. To be safe, Republican leadership allies were informally gathering intelligence from the rank and file late Tuesday.

Meadows, speaking to a clutch of reporters off the House floor Tuesday evening, insisted he had no beef personally with Boehner or his policies, saying his move was "procedural-driven." Meadows lamented the "punitive culture" in the Capitol, just weeks after he overcame a leadership-backed challenge to his chairmanship of a subcommittee.
For a guy who says he just wants to have a conversation, Meadows' motion is quite caustic:
Meadows' resolution didn't hold back.

It states that Boehner tried to "consolidate power and centralize decision-making, bypassing the majority of the 435 members of Congress and the people they represent." It accuses the speaker of using the "legislative calendar to create crises for the American people, in order to compel members to vote for legislation." The resolution also charges Boehner with using the Rules Committee to limit amendments.

The "Speaker has, through inaction, caused the power of Congress to atrophy, thereby making Congress subservient to the Executive and Judicial branches, diminishing the voice of the American People," it reads. "Whereas the Speaker uses the power of the office to punish Members who vote according to their conscience instead of the will of the Speaker."
Not surprisingly, this isn't the first time that Meadows has crossed paths with the Speaker and other members of leadership. He was part of a more organized effort to oust in 2013 that nonethlesss also failed and led Boehner to take actions against some of the chief plotters such as removing them from prized committee spots. According to some reports, Meadows was so worried about how Boehner would treat him as a freshman involved in the plot that he literally got down on his knees and begged Boehner forgiveness. Whether that report is true or not, it is the case that for whatever reason Boehner chose not to retaliate against Meadows directly. From this action, it would appear that Meadows did not learn his lesson and is now plotting against Boehner again. One would assume that it will take more than getting down on his knees and apologizing for Meadows to get out of this one when it's all over.
In reality, of course, there is little substance to what Meadows is doing here and it is no different from any of the other "challenges" to Boehner's leadership that we have seen over the past four years, all of which the Ohio Congressman has survived easily. First of all, there's no indication whatsoever that he has the support of any other member of the House GOP Caucus. While it's likely that there will be some rebels who have gone against Boehner in the past who would support, without the support of someone higher up seniority such as Congressman Jim Jordan there is no hope at all that Meadows maneuver would have any chance of actually working. This is likely the reason that Meadows chose not to file his action as a privileged motion, because without the support of anyone else he would have seen it go down to ignominious defeat before the August recess. Furthermore, there is as little substance to Meadows' complaints about Boehner as there have been to others that have been made by the most conservative members of the House GOP Caucus. When you look the situation rationally, it's clear that Boehner has done about as much as the conservatives can rationally hope to expect under the circumstances. Indeed, given the difficulty that Boehner has had in corralling his caucus over the years, largely thanks to things like the elimination of earmarks, it's a wonder that he's gotten as much done as he has.
Meadows' motion will, no doubt, serve as a rallying point and a financial boon for him, for some of the other "rebel" members of the House, and for the various Tea Party groups that have turned creating a controversy into a fantastic way for them to get people to give them money. As a practical matter, though, it will accomplish nothing. Boehner will remain Speaker, and Meadows will remain a marginalized sophomore Congressman.