Did Mark Meadows Break Electoral Laws?
It would appear to be the case.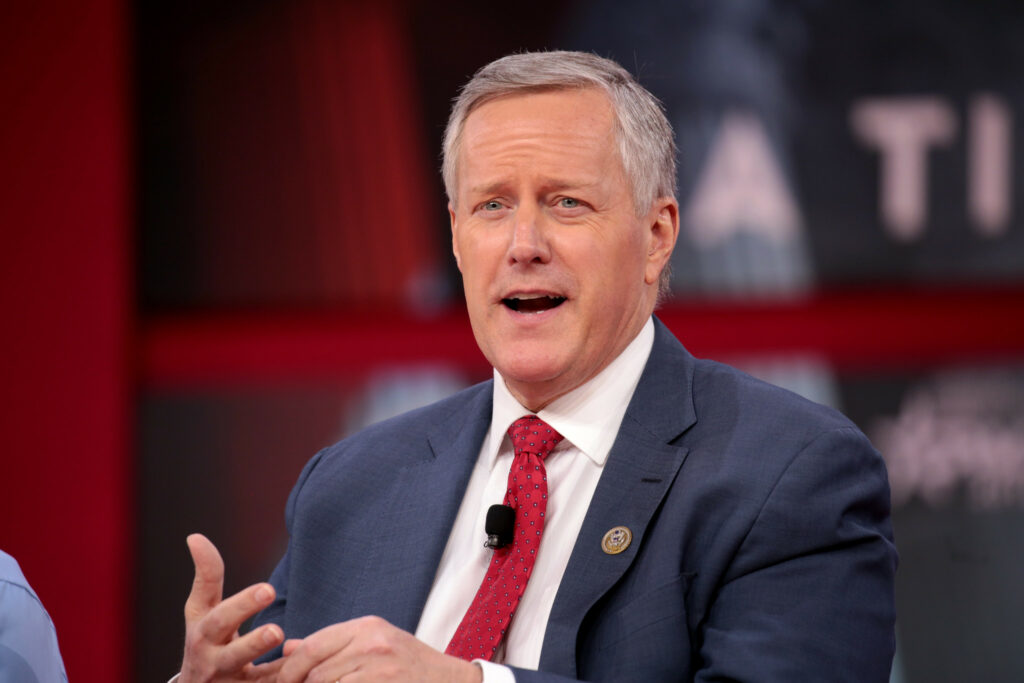 The New Yorker asks a very reasonable question: Why Did Mark Meadows Register to Vote at an Address Where He Did Not Reside? The subtitle provides the basics: "In September, 2020, Donald Trump's then chief of staff claimed to live in a mobile home in North Carolina." The piece attempts to determine if Meadows did, in fact, ever meet the legal definition needed to use the address (a property his family once rented) for voting purposes. Spoiler: they could find no such evidence.
Here are the basics:
On September 19th [2020] about three weeks before North Carolina's voter-registration deadline for the general election, Meadows filed his paperwork. On a line that asked for his residential address—"where you physically live," the form instructs—Meadows wrote down the address of a fourteen-by-sixty-two-foot mobile home in Scaly Mountain. He listed his move-in date for this address as the following day, September 20th.

Meadows does not own this property and never has. It is not clear that he has ever spent a single night there. (He did not respond to a request for comment.)
Much of the piece then describes the nature of the property and information from the previous owner, the current owner, and a neighbor. The reporting confirms the Meadows wife, Debbie, and their children did rent and stay at the property. However, there is no evidence that Mark was ever present.
So, what's the bottom line, legally?
Did Meadows potentially commit voter fraud by listing the Scaly Mountain address on his registration form? It's a federal crime to provide false information to register to vote in a federal election.

[…]

One of the authors of North Carolina's voter-challenge statute is Gerry Cohen, who wrote it during his time as a staff attorney for the state's General Assembly. He's now on the Wake County Board of Elections; he teaches public policy at Duke. Cohen told me that, legally speaking, you can have more than one residence but only one domicile, and that your voter registration must be linked to the domicile. For something to qualify as such, he said, it must be a "place of abode" where you have spent at least one night and where you intend to remain indefinitely—"or at least without a present intent to establish a domicile at some other place." (Elected officials who move—to D.C., for example—are allowed to remain registered in their home county or state as long as they don't register to vote in the new location.)

I asked Cohen about the mobile home. "If Debra Meadows stayed there a single night, and Mark Meadows didn't stay there, then he didn't meet the abode test," Cohen said. What if Meadows had stayed there, I asked? How would he establish that he intended to live there for an indefinite period of time? There isn't a single determinative test, Cohen said, but a driver's license, cable bill, W-2, or car registration listing the address would each suffice. "It's a question of intent and evidence," he added. I called the previous owner again, and asked her whether the Meadows family might have received any mail there. "It didn't even have a mailbox," she said. Abele has since installed one. He told me that he has never received any mail for the Meadows family at his home.
In short, there is no evidence that Meadows ever met the modest legal test needed to allow him to claim the address in question as his domicile.
So, again strict vigilance on voter registration for thee, but not for me.
To my amusement, the action the Meadows engaged in is the kind of thing found in the Heritage Foundation's "database" of which I have been so critical.
Under President Trump, the White House Web site posted a document, produced by the conservative Heritage Foundation, intended to present a "sampling" of the "long and unfortunate history of election fraud" in the U.S. Many of the cases sampled involve people who registered to vote at false addresses, including, for instance, second homes that did not serve as a person's primary residence.
The piece speculates on why Meadows may have done this:
Why would Meadows risk committing voter fraud by listing as his domicile the address of a mobile home where he seems never to have slept? At the time, there was speculation that he might run for the Senate seat that the North Carolina Republican Richard Burr will vacate later this year; it may have struck him as important, politically, to keep voting in the state. Meadows owns two undeveloped parcels of land in Transylvania County, through an L.L.C., but neither could be described as a legal residence. Perhaps the Scaly Mountain mobile home, which was owned by someone who lived in another state and which sat just down the road from friends of the Meadows family, offered a last-minute fix. (Meadows ultimately decided not to run for Burr's seat.)
This seems reasonable in a general sense. And, to be honest, it wouldn't be a big deal to me if he simply wanted to remain registered in North Carolina for exactly this kind of reason, even if he resided elsewhere. My mind goes to George H. W. Bush maintaining residence in Texas via a hotel in Houston despite living in DC during the Reagan administration and then during his four years in the White House. In truth, it would have made more logical sense for his summer home in Kennebunkport, ME to be his domicile. Likewise, it didn't both me one whit when Dick Cheney shifted his state of residence from Texas to Wyoming so he could run as Dubya's veep. All that really matters to me is transparency and, above all else, that a given person is only registered to vote in one place at a time (and, most important of all, only votes in one place). There is a broader conversation one could have about whether politicians should really live in a given place for representational/connection purposes, but that is a different discussion than one of simple voter registration/voting. (It doesn't bother me, for example, that someone might do a Hillary Clinton, i.e., move to a new place and immediately run for office–the voters can make the choice as to whether the newbie is capable of representing their interests or not).
Having said all of that, the NC law is pretty clear about its standards. After all, there is the highly onerous need to have slept in the place one whole night and then have some mail delivered that suggests you might come back and at least take a nap there at some point in the future. This is not unreasonable. It also seems almost certain that Meadows broke this law.
Of course what this story underscores, yet again, is that for all the talk about "election integrity" high-level GOP officials really don't give a tinker's damn about any of it, save the hope that it makes it harder for their opponents to win votes.
Meanwhile, it seems unlikely that he will be laying his head in the mobile home in the NC mountains.
In January, 2021, Meadows took a job with the Conservative Partnership Institute, a nonprofit founded by the former South Carolina senator—and former president of the Heritage Foundation—Jim DeMint. "No group has played a more critical role in helping conservatives stay true to their principles in the hostile Washington swamp," Meadows said at the time. In July of that year, less than a month after the House voted to form a select committee to investigate the January 6th attack on the Capitol building, Donald Trump's Save America pac donated a million dollars to the institute. "The contribution to Meadows's nonprofit stands out both for its size and for its timing," NBC noted. A few months later, Mark and Debbie Meadows purchased a $1.6-million-dollar lakefront estate in Sunset, South Carolina. According to Thibault, the director of the Macon County Board of Elections, their voter registration remains linked to the Scaly Mountain mobile home.