Today in Circular Reasoning
Back to the Ten Commandments and Alabama politics.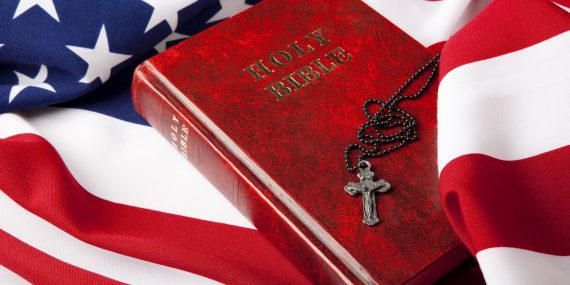 Via Al.com:  Alabama county wants Ten Commandments included on monument of historical documents at courthouse:
A commissioner in Jackson County wants to erect a monument at the courthouse that would feature the Ten Commandments alongside other historical documents.

Tim Guffey, a Republican who was elected to the commission in 2012, said the Ten Commandments should be included in the monument alongside the U.S. Constitution and the Declaration of Independence.

"What I'm trying to do is erect a monument of historical documents," Guffey said Thursday in an interview with AL.com. "It's the Constitution, the Ten Commandments and the Declaration of Independence. I feel like that's what this country was founded on. These documents helped America become the greatest country in history."

Inclusion of the Ten Commandments is for historical reasons, not religious, Guffey said. The influence of the Ten Commandments, he said, cannot be separated from the writings of the Constitution and the Declaration of Independence.
Ok, so we get a great deal of poor logic and terrible history here.
First, poor logic:
"The Ten Commandments is a historical document (in this context) and it has nothing to do with religion. It shows that these founders had great beliefs in God and the Ten Commandments and His Word and it helped them get to the point where they were. Their feeling was God helped them build the Constitution and the Declaration of Independence. If you read all of the writings of John Adams, Patrick Henry, James Madison, Thomas Jefferson, John Jay, they speak about how that was their foundation that helped them interpret and write a great Constitution."
Ok, so claiming that something has its origins with God is a religious claim, by definition.  Hence, one cannot claim that displaying these documents to show their religious origins "has nothing to do with religion."  This is basic transitive property stuff (if a=b and b=c, then a=c and so forth).
What this really sounds like is someone who has half-digested the knowledge that religion-linked issues can be raised in a public context by public officials when the purpose is secular in nature (such as studying the Bible as literature), but who really has fundamentally religious intentions for bringing up the subject in the first place.  I don't mean, by the way, that he is being disingenuous, but rather that he rally doesn't understand the basis of his claim.
Second, poor history.  I will stipulate that I am not a historian, but I do have more than reasonable claims to significant knowledge in the realms of both a) the political philosophies/theories that informed the documents in question the as well as b) of the construction of the US Constitution in particular.*  (I would even throw into the mix a great deal of lay study of the Bible/Christian theology over the years, although by no means of an expert level).
Back to Guffey:
"I just can't see how you could explain a Constitution – why it was written the way it was written – without understanding why those men wrote it the way they wrote it," Guffey said. "They don't teach this at school anymore and a person would have to go back and research and study each one of those men's writings to find out that that's what established them. That's what gave them the inspiration to read the greatest Constitution this world has ever seen.

"There's no other country that's ever done what we have done. And I feel like taking that document out, if that document wasn't there to guide them, then our Constitution wouldn't be what it is today. (All the documents) would not be the way it is today without it. I'm using it in the context of this is historical. I'm not doing it to push religion at all. But I don't see how I could do the other two and not do that one and be truthful about it."
I certainly am all for people going back and studying the founding, but it is rather difficult to see how such study would actually lead to Guffey's conclusions.   I would also submit that actual study might disabuse Guffey of making claims like "There's no other country that's ever done what we have done" if by that he means established a functional constitutional order of self-governance.   Indeed, one thing that the "don't teach…at school" is decent comparative politics, but that is a another discussion entirely.
These claims (i.e., that the Ten Commandments form the basis of the US Constitution) are not new in Alabama as they are central to the political philosophy of the Chief Justice of the Alabama Supreme Court, Roy Moore.  Moore is extremely fond of stating that our constitutional order is based on the Ten Commandments.  While one can certainly make connections to things like murder being illegal to the laws of Moses this is hardly unique to that list. As such, one allow that the Ten Commandments are an early example of a basic legal code, and so forth, it hard to draw any direct-line connection between them and to the main characteristics of either the Declaration or the US Constitution.
For example, it is all but impossible to derive the right to rebel from Christian theology (and certainly not from the Commandments) and the right to rebel is the central thesis of the Declaration of Independence (with the basic theory coming mostly from John Locke's Second Treatise on Government).  Yes, the Creator is invoked in the document, but the theoretical basis is pretty far off from having firm theological origins not to mention that for the bulk of the common era that the Bible has been used to justify monarchy not self-government (see, for example, Aquinas' On Kingship).
Indeed, the only actual example of governance as we would understand it in the Christian Bible is kingship in the Old Testament and then a general endorsement of earthly governments in the New (all of which would have been autocratic in nature at the time).  Romans 13 has about the most definitive statement on that subject that I am aware of :
13 Let everyone be subject to the governing authorities, for there is no authority except that which God has established. The authorities that exist have been established by God. 2 Consequently, whoever rebels against the authority is rebelling against what God has instituted, and those who do so will bring judgment on themselves.3 For rulers hold no terror for those who do right, but for those who do wrong. Do you want to be free from fear of the one in authority? Then do what is right and you will be commended. 4 For the one in authority is God's servant for your good. But if you do wrong, be afraid, for rulers do not bear the sword for no reason. They are God's servants, agents of wrath to bring punishment on the wrongdoer. 5 Therefore, it is necessary to submit to the authorities, not only because of possible punishment but also as a matter of conscience.

6 This is also why you pay taxes, for the authorities are God's servants, who give their full time to governing. 7 Give to everyone what you owe them: If you owe taxes, pay taxes; if revenue, then revenue; if respect, then respect; if honor, then honor.
The citation of a religious text will, no doubt, spark debate over interpretation, but I would submit that it is rather difficult to logically take that passage and then demonstrate how it flows into the claims made in Declaration. For example, the Declaration claims that government are "Governments are instituted among Men, deriving their just powers from the consent of the governed" and that claim is diametrically opposed to that of Romans:  "The authorities that exist have been established by God."  The Declaration claims that men have the right to severe ties to an existing government based on human perceptions of injustice even to the point, we know, of armed rebellion, but Romans states "Consequently, whoever rebels against the authority is rebelling against what God has instituted, and those who do so will bring judgment on themselves."  The Bible does not teach self-determination, that is, rather, a tenet of classical liberalism.
At a minimum, the passage from Romans should raise any number of questions given the degree to which many American Christians like to assert that the US was founded as a Christian nation and that God himself helped usher in success in the war for our independence.**
Indeed, a grand irony here is that Moore talks incessantly about how it is the duty of the government to "acknowledge God" but the US government has as a central constitutional principle that eschews established religion while to this day the government of the UK acknowledges Christianity by having a state church.  So, really, when it comes to officially and governmentally acknowledging God, the Brits beat us Yanks rather substantially.
Beyond the right to rebel, general concepts such as popular sovereignty, republicanism, and limited government are impossible to derive from the religious texts of Christianity in general, let alone the Ten Commandments in specific.   And when we get into specific institutional constructs like separation of powers, checks and balances, federalism, presidential, and so forth (all key conceptual elements of our constitution), we stretch the claims of linkage well beyond the breaking point.  One might as well claim that the basic rules of baseball can be found in those texts.
At any rate, if Guffey really wants a monument featuring influences on America's founding documents he should replace the Ten Commandments with things like the aforementioned Second Treatise by Locke, Montesquieu's Spirit of the Laws, as well as any number of texts by Hume and various Greeks and Romans (and I mean the people group, not the book of the Bible).
I would conclude by noting that unless one is looking for the structure of a theocracy, religious texts tend to be lousy places to go for institutional design (especially when we are talking texts written millennia ago for contemporary governance).
——-
*On the first count, one of the fields for which I tested in my doctoral program was political theory and I have been teaching it for roughly a decade and a half.  On the second, not only is institutional/constitutional design a long-term part of my research agenda, but have recently done a great of research on the issue of the US constitution's design.
**For example, I once sat in a sermon (at a church here in Alabama) that detailed how weather conditions helped Washington escape the British army, thus proving divine intervention in the colonial fight for independence.  These types of claims are quite common.