Gary Johnson Opens Mouth, Inserts Foot
Libertarian Party Presidential candidate Gary Johnson doesn't get much national press attention, and it doesn't help when he flubs an answer like he did this morning.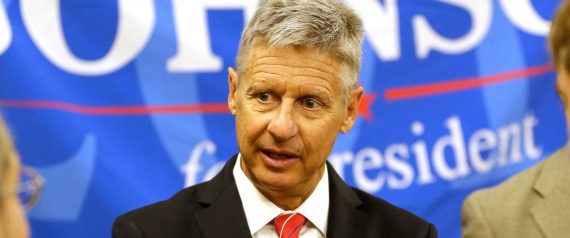 Libertarian Party Presidential candidate Gary Johnson made the worst kind of news for any candidate this morning when he absolutely flubbed an answer to a question about the refugee crisis in Syria:
Asked what he would do about the Syrian city of Aleppo, the region at the center of that nation's civil war and refugee crisis, Libertarian presidential candidate Gary Johnson responded by asking, "what is Aleppo?"

"What would you do if you were elected about Aleppo?" MSNBC's "Morning Joe" panelist Mike Barnicle asked the former New Mexico governor during an in-studio interview Thursday morning.

"And what is Aleppo?" Johnson responded.

"you're kidding," a stunned Barnicle replied, to which Johnson answered that he was not.

Barnicle explained to the Libertarian candidate that Aleppo is "the epicenter of the refugee crisis" in Syria, giving Johnson enough information to finally answer the question.

"Okay, Got it. Well, with regard to Syria, I do think that it's a mess," he said. "I think the only way that we deal with Syria is to join hands with Russia to diplomatically bring that at an end but when we've aligned ourselves with — when we have supported the opposition, the Free Syrian Army, the Free Syrian Army is also coupled with the Islamists, and then the fact that we're also supporting the Kurds and this is, it's just a mess. And this is the result of regime change that we end up supporting and, inevitably, these regime changes have led to a less safe world."

(…)

Co-host Joe Scarborough followed up with Johnson, asking him if he really thinks "that foreign policy is so insignificant that somebody running for president of the United States shouldn't even know what Aleppo is, where Aleppo is, why Aleppo is so important?"

"I do understand Aleppo and I understand the crisis that is going on. But when we involve ourselves militarily, when we involve ourselves in these humanitarian issues, issues, we end up with a situation that in most cases is not better, and in many cases ends up being worse," Johnson replied. "And we find ourselves always, politicians are up against the wall, and ask what to do about these things, and this is why we end up committing military force in areas that, like I say, at the end of the day have an unintended consequence of making things worse."
Here's the video, via Morning Joe's Twitter feed:
.@mikebarnicle: What would you do, if you were elected, about Aleppo? @GovGaryJohnson: And what is Aleppo? https://t.co/ZbqO5RAEsk

— Morning Joe (@Morning_Joe) September 8, 2016
Subsequent to his appearing on Morning Joe, which honestly didn't last much longer than what's described above, Johnson was interviewed by Bloomberg's Mark Halperin, who was also appearing on the show this morning but was apparently off set at the time Johnson was interviewed. In an interview that was recorded on Halperin's smartphone, Johnson acknowledged the fact that he had seriously flubbed a question that a Presidential candidate should be able to answer and said that he was "incredibly frustrated" with himself. No doubt he recognizes the fact that he made a serious mistake that could have a real impact on the future of his campaign, and most especially his effort to move up in the polls in the next two weeks in order to get to the 15% that would garner him an invitation to the Presidential debates that start in less than three weeks. Additionally, even though I've been supportive of Governor Johnson in the past, there really isn't much of an excuse for an a mistake like this. Aleppo has been in the news for several years now thanks to the refugee crisis and is at the moment at the center of that refugee crisis. Tens of thousands of civilians have died there, and tens of thousands more have been displaced and forced to find shelter elsewhere from a civil war that is more than five years old now. Whether Johnson truly doesn't know what Mike Barnicle meant when he asked about Aleppo, or whether he simply had a "brain freeze" that caused him to blurt you the most embarrassing answer possible to the question hardly matters. To be blunt about it, I'd expect any serious candidate for President of the United States to recognize what Aleppo is and what it means for the issues related to the threats that ISIS continues to make toward the United States and American citizens. Along with coverage of last night's foreign policy forum on MSNBC, this story is likely to be in the news all day today and it's precisely the wrong kind of press for a campaign that needs as much positive news coverage as it can get. It's comparable to Rick Perry's "oops" moment during the 2012 campaign, a minor flub but one that has the potential to define the campaign going forward. Perhaps there's something the Johnson/Weld campaign can do to deal with this if this if they get on top of the issue quickly, but this is likely to be a defining moment for a candidate that most Americans don't know much about, and he didn't come across well at all.
Halperin posted his post-flub interview with Johnson on YouTube:
Johnson's ignorance on Aleppo aside, when he recovered he did make some points on Syria that I think are largely correct. First of all, our current strategy in Syria of trying to defeat ISIS while at the same time pursuing the overthrow of the Assad regime by backing the so-called "moderate" Syrian rebels has never made sense and is, in the end, contradictory. Just as happened when Saddam Hussein was overthrown in Iraq and Gaddafi was overthrown in Libya, the sudden collapse of the Assad regime in Syria would most likely lead to the kind of chaos in that country upon which organizations such as ISIS thrive. Additionally, whether we like it or not, there's not going to be a solution of any kind in Syria at this point without Russian involvement. Unfortunately, that part of Johnson's response is going to be overshadowed by the beginning of his response.
Johnson wasn't the only person to flub a question about Aleppo this morning. Appearing shortly after Johnson on the same show and responding directly to a question about what he thought of Johnson's response, former Ambassador to Iraq Christopher Hill referred to Aleppo as "ISIS's capital." This, of course, isn't the case. The capital of ISIS's self-declared caliphate is Raqqah, but Hill isn't running for President. Gary Johnson is, and this moment is going to get played over and over again.
All of this happened on what should have been a good morning for the Johnson/Weld campaign. Just yesterday afternoon, former Governor and 2012 Republican nominee Mitt Romney said that he hoped that Johnson and his running mate former Massachusetts Governor William Weld would receive invitations to the upcoming Presidential and Vice-Presidential debates. As it stands, Johnson is averaging 9% in the national polls and the odds that he was going to get to the 15% threshold that the Commission on Presidential Debates has established in the next two weeks were something of a long shot. Romney's comment, while not an endorsement, was exactly the kind of boost the Johnson/Weld campaign needed. Instead, his coverage today to the extent he gets any will be dominated by this flub, and Johnson has nobody but himself to blame for that.
Update: Amusingly, The New York Times  seems confused about Aleppo too judging from these corrections to its report on the Johnson flub:

Heh.
Update #2: The Johnson campaign has issued the following statement:
Must admit, a refreshingly human statement here from Gary Johnson: pic.twitter.com/aYnXVhfbhR

— Sopan Deb (@SopanDeb) September 8, 2016
Correction: I have revised the language describing Aleppo as "the center of the battle between the Assad regime, ISIS, and the supposedly moderate rebel groups fighting to overthrow the Assad regime." As D.J. McGuire correctly points out, ISIS has not been involved in the conflict in and around Aleppo.