Gary Johnson Enters Senate Race In New Mexico
Gary Johnson was a successful two-term Governor in New Mexico. Now he's making a bid to represent the Land of Enchantment in the U.S. Senate.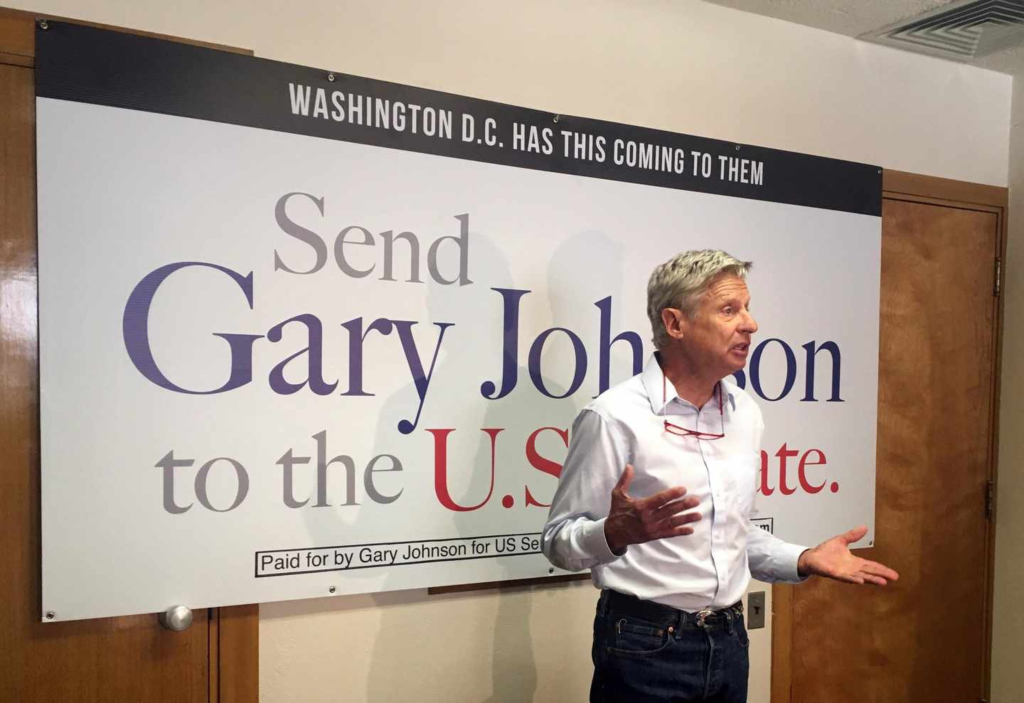 Former Libertarian Party Presidential nominee Gary Johnson, who led his party's Presidential ticket in both 2012 and 2016 after having run unsuccessfully for the Republican nomination for President in 2012, has entered the race for Senate in his home state of New Mexico:
Former Libertarian presidential candidate Gary Johnson began his campaign Tuesday to unseat New Mexico's junior Democratic senator, seeking political opportunity in the space between Democrats and voters loyal to President Donald Trump.

Johnson, a former two-term governor of New Mexico, was added to the state's list of Senate candidates as final paperwork was being filed with election officials.

His campaign manager said a formal announcement would come soon.

Johnson remains popular in New Mexico and his entry into the U.S. Senate race that Democrats have been favored to win could complicate the party's national effort to hold seats or make gains in the chamber.

Johnson's 2016 presidential bid as a Libertarian sputtered after a live-television gaff on foreign policy. Democrats saw the presidential run, with currents of social liberalism, as a bane to their party, even as Johnson criticized Trump for his treatment of women and border-wall proposal.

Elected and re-elected governor of New Mexico as a Republican, Johnson stayed true to a small-government philosophy while vetoing more than 700 bills. His open advocacy for legalized marijuana broke mainstream 1990s political taboos and made him a national curiosity.

Incumbent Martin Heinrich won the Senate seat in 2012, succeeding five-term Democratic Sen. Jeff Bingaman by beating out GOP Congresswoman Heather Wilson. This year's Republican Senate candidate is Mick Rich, an Albuquerque-based construction contractor and newcomer to politics. An internal poll released last week by Heinrich's campaign showed him easily winning a three-way race with 47 percent to 29 percent for Rich and 22 percent for Johnson.

Rod Adair, a Republican political strategist and former state senator, said Johnson's reputation for disciplined, business-savvy governance and as an independent thinker could lure conservative, Hispanic Democrats as well as Republicans.

"Here's a guy who vetoed close to 900 bills and simply would not accept any increase in the size and scope of government," Adair said. "That seems to be right in the wheelhouse of measurable disgust with both the left and the right. He may be the perfect third-party option right now."

Johnson, a 65-year-old fitness enthusiast who has summited Mount Everest and this summer completed a grueling 2,700 mile (4,350 kilometer) bicycle race along the Continental Divide, says Democrats and Republicans alike are guilty of deficit spending and military overreach that he says limits economic freedom.

A campaign ad rolled out Monday by the Elect Liberty PAC touts Johnson's image as a self-made businessman who is disciplined and competitive.

Democratic Party Chairwoman Marg Elliston cautioned that Johnson's zeal for balanced budgets could translate into cuts to federal entitlement programs as pressure mounts to offset tax cuts signed by Trump last year.

"Over 1 million New Mexicans are on various forms of health care help from the federal government," she said. "We need to take care of those people."

In New Mexico, Johnson has been known for direct positions on policy and occasionally goofy behavior, once twirling a toy pig above his head at a news conference as he refused to sign a state budget proposal — unless pigs were to fly.

In a Senate closely divided between Republicans and Democrats, Johnson's possible swing vote could hold outsized influence over national policy, said attorney A. Blair Dunn — a Johnson ally and the Libertarian candidate for attorney general.

"Gary basically becomes a power fulcrum, especially if he gets together with people like Mike Lee, Rand Paul, Cory Booker," Dunn said.
The Washington Post notes that Johnson's presence in the race could complicate things for both parties in a state that has seen both Republicans and Democrats win at the statewide level in the past:
ALBUQUERQUE, N.M. — Former Libertarian presidential candidate Gary Johnson said in seeking to make history and capture a U.S. Senate seat in New Mexico he'll have to give up a few of his favorite activities: marathon biking rides, hanging out in his northern New Mexico "dream" home and tuning out news about President Donald Trump.

But he can't promise he won't smoke an occasional joint.

Johnson, who served two terms as New Mexico governor in the 1990s and gained national attention as one of the first mainstream politicians to call for the legalization of marijuana, announced Thursday that he's seeking to unseat Democratic incumbent U.S. Sen. Martin Heinrich after the previous Libertarian nominee dropped out the race.

Johnson told reporters at his newly minted and empty Albuquerque headquarters that his candidacy was a longshot, but he felt he had no choice given Trump's unacceptable actions on immigration and free trade.

"What's at stake here is arguably one of the most powerful seats in the U.S. Senate," said Johnson, who a month ago was telling supporters he'd never run for office again. "If I were elected to U.S. Senate, I'd be the swing vote. That is a gigantic position that excites me to no end."

Johnson's entrance into a race that Democrats had previously seen as a safe seat has generated excitement in a state that leans Democratic but has elected moderate Republicans to statewide office in recent years. But to win, Johnson would have to convince some supporters of Republican challenger Mick Rich and Heinrich that he'd be a better senator for a state that relies on federal government spending for Medicare, three military bases and two national labs.

In his passionate announcement, Johnson criticized both main political parties. Johnson said he was "angry" at the two-party system that continuously avoids tackling wasteful spending and coming up with solutions on immigration.

Johnson said some Republican voters consider Mexican immigrants the "scourge of the earth and GOP politicians rarely challenge those racist notions. Meanwhile, Democrats regular support programs that balloon the federal deficit, he said.

Still, Johnson said if he were in the U.S. Senate now he'd probably vote to confirm President Donald Trump's Supreme Court nominee Brett Kavanaugh. However, Johnson said he didn't like Trump as president and as a person and called his actions on race relations — around immigration and Trump's tepid reaction to white nationalist violence in Charlottesville, Virginia, last year — "unacceptable."

"I am fiscally conservative and socially…I-don't-care-what-you-do-as-long-as-it-doesn't-hurt-anybody," Johnson said.
As the Libertarian Party nominee in 2012, Johnson garnered just under 1% of the vote, pulling in more than 1,000,000 votes, which at the time was a record for the party at the Presidential level. Four years later, after having polled at levels that nearly allowed him to qualify for the Presidential debates, Johnson and his running mate former Massachusetts Governor Bill Weld received more than 4,000,000 votes nationwide. In his home state, Johnson managed to get 3.55% of the vote in 2012 and 9.34% of the vote in 2016. That he did better in his home state than he had nationwide is due in no small part to the fact that he remains relatively popular there after two successful terms as Governor. having been elected to the job as a Republican in 1994 and re-elected by a healthy margin in 1998. During those eight years, Johnson worked as Republican with a state legislature dominated by Democrats to keep the state budget under control and generally successfully guide the state through eight strong years. As a result, there have always been those back in New Mexico who believed he had potential as a statewide candidate should he choose to run again. While the previous efforts to get him to agree to such a run in the past were largely unsuccessful, this time it apparently worked and Johnson accepted the nomination of the state's Libertarian Party despite not having actively campaigned for it.
In any case, as Johnson readily admits in the article quoted above, his candidacy remains something of a long shot and it seems more likely at the moment that he could end up handing the race to either incumbent Martin Heinrich or Republican nominee Mick Rich, a businessman making what appears to be his first run for elective office. There's only been limited polling in the race, all of which precedes Johnson's entry into the race, and it shows Heinrich leading both Rich and Johnson, but also shows Johnson garnering support in the mid-to-low 20% range, putting him only a few points behind Rich. Potentially, then, this could end up being a true three-way race and there would at least be the possibility that Johnson could come away with a plurality of the vote that would be enough of a margin to win the seat. Presently, all of the major rating agencies have the race rated as Safe or Likely Democratic, though, and that is unlikely to change unless Johnson manages to have an impact on the race going forward. Because of that, this race could end up being a surprise when November rolls around.