Parliament Suspended, Boris Johnson Handed Consecutive Historic Defeats
Parliament is suspended for the next five weeks but it ended with Prime Minister Boris Johnson being handed historic defeats for an incoming Prime Minister.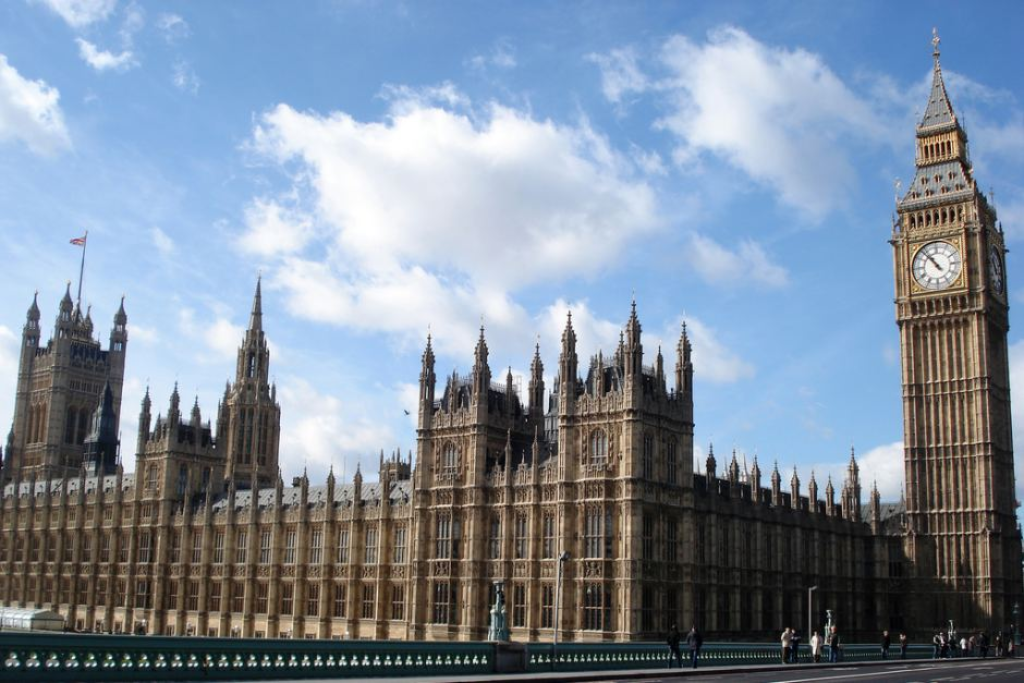 Pursuant to Prime Minister Boris Johnson's announcement two weeks ago, the British Parliament went into suspension starting last night, but not before handing the newly-installed Prime Minister another defeat that seemingly guarantees that there will be no election before the end of October and no "hard Brexit" on October 31st in any case:
LONDON — British lawmakers, capping what may be one of the most abysmal starts any British leader has ever endured, on Monday rejected Prime Minister Boris Johnson's bid to hold a new national election.

For Britain's bare-knuckled new prime minister, it was a day of defeat. Parliament's rejection of a snap election came as a new law went into effect on Monday blocking Mr. Johnson from pursuing a "no deal" withdrawal from the European Union.

Parliament is now suspended until mid-October, the result of earlier political maneuvering by the prime minister. But by Monday's end, it seemed clear that if Mr. Johnson had thought he could outfox Parliament by suspending it, sidelining lawmakers at a critical moment in the Brexit debate, he was the one who had been outmaneuvered.

Now, the man who promised to deliver Britain's withdrawal from the European Union "do or die," formal withdrawal agreement or not, is suddenly flailing for a new strategy.

Mr. Johnson needed more than 430 votes for a snap election to proceed. He got 293.

Brexit supporters and opponents alike may want an election — but only one timed to most benefit them politically.

"Johnson is a toothless prime minister who desperately needs a snap election to give some credibility to his Brexit strategy," wrote Kallum Pickering, a senior economist with Berenberg Bank. But, he added: "For the opposition parties, it makes little sense to give Johnson the election on his terms. That would return the initiative to him."

It was just another day in the new Britain, which has been bitterly divided since voters narrowly voted in favor of parting company with the European Union in a 2016 referendum. The issue did in the two prime ministers before Mr. Johnson, and while he was able to ride the ensuing tumult to power, it has severely damaged him, too.

On Monday, the motion to suspend Parliament, or "prorogue" it, and send lawmakers away for five weeks, came after eight days of head-snapping moves and countermoves in Parliament.

The suspension, which the Johnson government announced in principle less than two weeks ago, was denounced by critics as a transparent, anti-democratic effort to sideline Parliament while the government forced through a no-deal Brexit.

But the government's move to suspend Parliament backfired, serving to unite the disparate opposition, incite a revolt within Mr. Johnson's own party and produce the bill that now blocks a no-deal Brexit. On Monday, that bill became law when it completed the final stage of passage, a formality known as royal assent.

The turbulent week has left Mr. Johnson in a tight corner. He has promised to leave the bloc on Oct. 31 — without an agreement if necessary — and said last week that he would rather be "dead in a ditch" than request another delay to a process that has already been put off twice.

Digging his way out of that promise could be tough, because a majority of lawmakers think that a no-deal Brexit would be disastrous for the country's economy. The new law is intended to force Mr. Johnson to request another extension if he cannot secure a withdrawal agreement with European Union officials before the Oct. 31 deadline.

As recently as a few weeks ago, Mr. Johnson said the chances of leaving the European Union without a deal were a million to one against; he now puts the prospects as "touch and go."

But many of his critics believe the prime minister's real agenda is political. They believe he plans to fight for re-election as the candidate for Brexit at any cost, rallying right-wing voters behind him and crushing the threat from the hard-line Brexit Party, led by Nigel Farage.

From Mr. Johnson's perspective, the suspension of Parliament at least provides some relief by removing the possibility of further embarrassments and defeats at the hands of lawmakers after a week of tumultuous setbacks.

But it also means that prospects of a general election before the Oct. 31 Brexit deadline have slipped away.

Mr. Johnson had hoped to use a big win in an election before that date to empower his government to push through withdrawal from the European Union, with or without a deal. Lawmakers, however, need to approve an early election, and with the suspension of Parliament lawmakers cannot do so for at least five weeks. It would then take several weeks to organize an election.
The Guardian describes the final, chaotic moves in the House of Commons:
Boris Johnson shut down parliament amid chaotic scenes in the early hours of Tuesday following his sixth parliamentary defeat in six days, as MPs voted to block a snap election and to force the publication of No 10's secret preparations for a no-deal Brexit.

MPs on the opposition benches shouted: "Shame on you" at Conservative MPs as they filed out behind the Speaker, John Bercow, during the start of proceedings to prorogue parliament until 14 October, while others held up signs saying "silenced". Renditions of Red Flag, Jerusalem, Flower of Scotland and Bread of Heaven were also sung.

Bercow told the Commons "this is not a standard or normal prorogation" and that the move represented "an act of executive fiat". Opposition MPs tried to physically stop Bercow from leaving his chair to go to the House of Lords to finish the prorogation formalities.

Earlier, Johnson moved to stop parliament sitting for five weeks and repeatedly refused to countenance any delay to leaving the EU, even though the bill to prevent a no-deal Brexit on 31 October passed into law on Monday and MPs refused him a general election before that date.

Johnson was also defiant about parliament's vote, by 311 to 302, for him to publish Operation Yellowhammer documents detailing the government's no-deal Brexit plans, after a leaked version from early August warned of possible food and medicine shortages.

The motion, brought by former Tory MP Dominic Grieve, also directed Johnson to disclose messages relating to the suspension of parliament sent by his senior adviser, Dominic Cummings and various other aides on WhatsApp, Facebook, other social media and both their personal and professional phones. Grieve said he had information from public officials that such correspondence contained a "scandal".

But Downing Street sources suggested Johnson's advisers would resort to legal action rather than hand over their communications. Any refusal to comply could put them and the government in contempt of parliament.
Johnson's options then narrowed further on Monday afternoon, as parliament's bill to prevent a no-deal Brexit on 31 October received royal assent and passed into law.

He then launched his second attempt to get parliament to back a general election in order to get a mandate to leave the EU by 31 October, accusing Labour leader Jeremy Corbyn of "preposterous cowardice" for refusing to support one. However, Corbyn said Johnson could not be allowed to dictate the terms of an election before a no-deal Brexit was taken off the table.

Only 293 MPs voted to go to the polls, which did not meet the two-thirds threshold of MPs required under the Fixed-term Parliaments Act. The loss of the vote means there cannot now be an election until mid-November at the earliest, given parliament's suspension.

In a further setback for No 10, John Bercow, the Speaker of the House of Commons, announced he would stand down on 31 October if there was no election before then. This means his immediate successor is likely to be chosen by the current parliament, in which there is no majority for a no-deal Brexit. It also confirms Bercow will still be in post during the crucial fortnight when parliament returns from prorogation in mid-October.

Bercow, who received a stream of tributes from Labour and other opposition MPs, has been instrumental in empowering backbenchers to hold the executive to account over its Brexit policy and to pass the legislation preventing the UK's departure from the EU without a deal.

Minutes after announcing he would step down after 10 years, Bercow said he was allowing Grieve, a former attorney general, and Corbyn to move humble addresses putting Johnson under pressure. The device was previously used by MPs to make Theresa May publish the government's legal advice on Brexit.

Corbyn's address was designed to force Johnson to say he would abide by the rule of law, amid suggestions the prime minister could try to get around legislation mandating him to request a three-month delay to Brexit if there is no deal by 19 October.

Johnson's official spokesman insisted on Monday that he would abide by the rule of law but, at the same time, the prime minister has said he would rather "die in a ditch" than ask for an extension to article 50. Johnson later told the Commons repeatedly: "I will not ask for another delay."

Following the defeats, several Tory MPs said they believed Johnson was trying to find a way to bring back some of the 21 Conservatives from whom he removed the whip for defying his Brexit policy last week.

The aim of the Grieve motion was to prove that Johnson and his administration had misled MPs with their claim that the move to shut down parliament for five weeks was not to frustrate debate about Brexit. Grieve said he had asked for the information relating to prorogation because public officials had informed him that "they believed the handling of this matter smacked of scandal".
When he announced the suspension of Parliament, Johnson no doubt believed that he would have the upper hand heading into the October 31st Brexit deadline. At the very least, it would mean that Parliament would be prevented from debating or passing any Brexit-related legislation until it would be scheduled to return to session in mid-October, just two weeks prior to the Brexit deadline. All his move appeared to do was to stir up resentment among dissident MPs and members of the British public, and to hand Johnson some of the most significant political setbacks of any newly installed Prime Minister in British history.
Over the course of just one week, Johnson managed to lose all six of the six crucial votes that he put forward before the House of Commons, something which may be a historical record dating back centuries. As a result of these votes, Johnson will be unable to crash the United Kingdom out of the European Union without a deal on October 31, and he will be unable to hold elections prior to the October 31 deadline as he had planned. As things stand, the only way that Brexit will happen on October 31 is if Johnson were to somehow come up with a Brexit deal with European Union negotiators that Parliament would support. Since that's unlikely, Johnson will likely be forced to seek yet another extension of time from the European Union. In that regard, E.U. negotiators have indicated that they would be willing to agree to an additional three-month extension to January 31, 2020.
In addition to losing the ability to force a hard Brexit, Johnson also lost out on a bid to force a snap election prior to the October 31st deadline. Johnson had hoped to call such an election, which would have been held in mid-October just prior to the Brexit deadline, to strengthen his hand politically just prior to Brexit. Based on the polling as it stands now, it does appear that the third round of elections since 2015 would be to the advantage of the Tories, but that could change and, as Theresa May learned in 2017, a lead prior to a snap election doesn't necessarily correspond to a big win on election day. In any event, Johnson was denied that opportunity yesterday when Parliament failed to approve a move for a snap election by the two-thirds majority required by the Fixed Term Parliaments Act. This means that the earliest there could be elections in the United Kingdom would be mid-November, and that assumes there would be a two-thirds majority supporting elections when Parliament returns from suspension in mid-October. Taking all this into account, it seems to indicate that Johnson's first month or so office has been an utter disaster, a shambolic disaster you might say and that things aren't going to get better.
It's still unclear where all of this is going to end up. Johnson could end up coming up with a Brexit deal that Parliament will approve. We could end up with a situation where Johnson tries to push through a no-deal Brexit on October 31 despite what the law says. We could end up with elections that will strengthen Johnson's hand politically, or we could conceivably end up with a situation where the political pressure leads to a second referendum on the entire Brexit issue. It will all be quite fascinating to watch unfold.