United Kingdom Sets December 12th Election Date
Brits will head to the polls for the fourth time in four years with the future of Brexit on the ballot.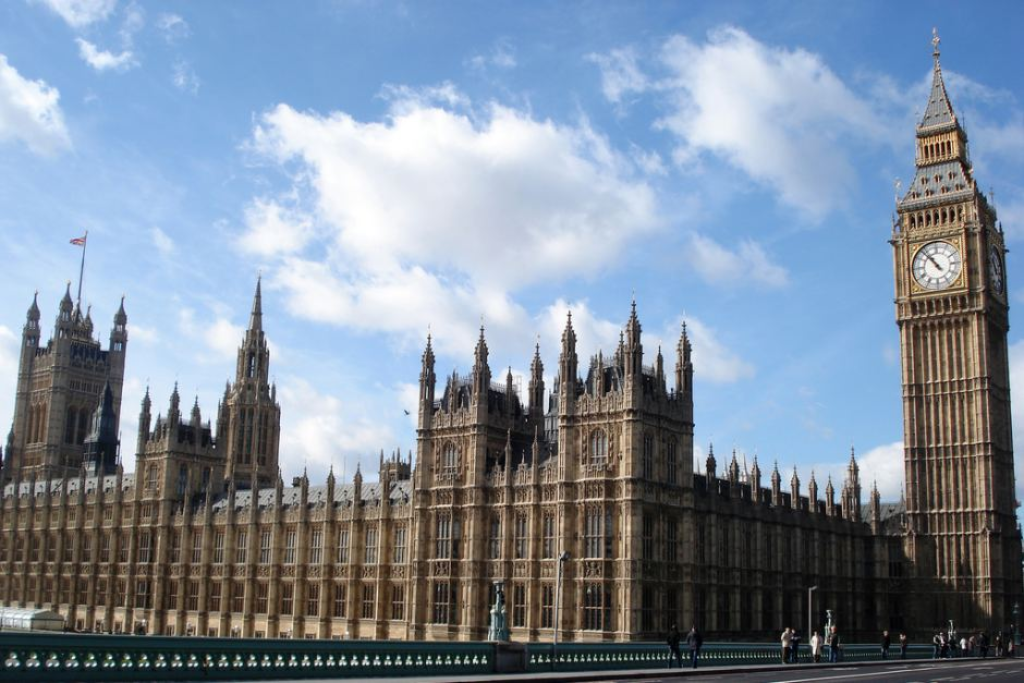 After first rejecting Prime Minister Boris Johnson's request to schedule elections for December 12th, Parliament has gotten behind a bill that will result in the first December election in the United Kingdom in a very long time:
LONDON — Prime Minister Boris Johnson on Tuesday finally won lawmakers' support for an early election, setting up a Dec. 12 ballot that will be dominated by Brexit, Brexit and more Brexit.

Parliament will dissolve next week, and the parties will go into overdrive on their five-week campaigns.

This will be the United Kingdom's first election in dark and dreary December since 1923 — a time of year when Britons prefer Christmas parties to political party hustings.

Voters will be offered some stark choices on Brexit, alongside the usual overenthusiastic promises, scary scenarios, misrepresentations and foggy numbers. Will the British double down on wanting to leave the European Union? Or will they change their minds and decide to stay in the largest trading club on the planet?

The Conservative Party under Johnson will run as 100 percent for Brexit, under the banner "Get Brexit done."

The prime minister is planning to campaign against the establishment: the devious opposition, overreaching jurists and other elites who he says have conspired to deny the country its freedom from the European Union.

Never mind that Johnson is a scion of privilege — a diplomat's son, schooled at Eton and Oxford, who went on to become a celebrity journalist and politician with a country home.

"There is only one way to get Brexit done in the face of this unrelenting parliamentary obstructionism, this endless, willful, fingers-crossed, 'not me, guv' refusal to deliver on the mandate of the people," Johnson said Tuesday, "and that is to refresh this Parliament."

He hopes that an election will allow his party to regain its parliamentary majority and give him a mandate to do Brexit his way, according to the terms of the withdrawal deal he negotiated with E.U. leaders.

The new Brexit Party, led by talk show host Nigel Farage, will be 200 percent for Brexit, arguing: Why even talk to the Europeans anymore? Let's crash out.

The Liberal Democrats will campaign to stop Brexit. And have a second referendum.

The Scottish National Party will push to remain in the European Union — and, by the way, promote Scottish independence.

And then there's Jeremy Corbyn's Labour Party, now the main opposition.

Labour has said it will seek a 21st-century socialist agenda, aiming to take back control of utilities and transport, pursue a radical Green New Deal to curb climate change, and put workers on corporate boards. It will campaign under the banner: "For the many not the few."

"We will launch the most ambitious, radical campaign for real change," Corbyn pledged Tuesday.

But Labour has adopted an awkward position on Brexit. The party's official plan is: Let's win the election; then let's negotiate a very soft, very closely aligned "Labour Brexit" with Europe; then let's have a Labour Party conference to decide whether to support the deal; and finally let's have a second referendum to see whether the people support it.

Johnson has said that Corbyn wants to spin Brexit out to "forever."
Labour lawmaker Jess Phillips said that even though voters will cast ballots with Brexit on their minds, the outcome will be open to interpretation and manipulation.

"This is going to be a Brexit referendum whether we like it or not," Phillips told Parliament. "Except we won't be being clear and we won't be being honest, none of us will be, and what we get back, we will be able to see whatever we want to see."
More from The Guardian:
MPs voted on Tuesday night to finally resolve their Brexit deadlock by calling a general election, setting the stage for a 12 December contest that could be the most unpredictable in a generation.

Boris Johnson won his fourth bid to go to the polls by 438 to 20 after Jeremy Corbyn declared that Labour would support an election as a "once-in-a-generation chance to transform our country". The pre-Christmas vote will be the first December poll since 1923.

The Liberal Democrats and Scottish National party abstained, after their preferred day for it to be held – 9 December – was rejected. Almost half of all Labour MPs were absent or voted against the legislation in a sign of unhappiness about a snap election, although some blamed a mix-up by the whips for their failure to attend.

Parliament will dissolve next Wednesday for a short campaign of five weeks, so long as the House of Lords passes Johnson's legislation as expected in the coming days.

Corbyn set the stage for his campaign by calling on voters to kick out Johnson's Conservatives who think they are "born to rule", while Jo Swinson, the Lib Dem leader, said it was "our best chance to elect a government to stop Brexit".

Speaking earlier in the House of Commons, Johnson argued that a "new and revitalised" parliament was needed to take Britain out of the European Union. "We are left with no choice but to go to the country to break free from this impasse," he told MPs.

But he later struck a cautious note, telling a backbench meeting of Tory MPs that it would be "a tough election but we will do the best we can". He told them he had not wanted an election but was forced to seek one because Labour would have "sliced and diced" his Brexit legislation beyond recognition.

In a move to unite his party, the prime minister decided to readmit 10 of the 21 MPs he expelled last month for defying his Brexit plan.

The major battle lines of the campaign will be drawn along on the subject of Brexit, after Johnson failed to take the UK out of the EU on 31 October "do or die" as he had promised.

The Conservatives will campaign to get Brexit done by pushing through Johnson's deal, while Labour is promising a second referendum to let the people resolve the EU question.

The Brexit party will try to outgun the Tories by arguing for a no-deal Brexit, while the Lib Dems will seek to attract remain voters from Labour by pledging to revoke article 50.

Although parliament voted decisively for an election, many backbenchers in the two biggest parties are extremely nervous about going to the polls at such a politically volatile time and an unusual time of year.

The Tories under Johnson are about 10 points ahead of Labour in the average polls, roughly half the lead that Theresa May had before she led her party to a disastrous result that saw her lose her majority.

Labour has been deeply split for months about whether to back an election or a second referendum first. In a sign of reluctance on the backbenches, more than 100 Labour MPs abstained and 11 voted against the motion. Those rejecting an election included strongly pro-remain campaigners such as Margaret Beckett, Peter Kyle, David Lammy and Owen Smith, who later said he would be standing down.

Speaking earlier in the Commons, Corbyn confirmed that the party would back a poll after rejecting one on three previous occasions, after getting confirmation that the EU had granted an extension to article 50.

The Tories will be targeting leave-voting Labour marginal constituencies in Wales, the Midlands and the north of England, while defending areas of the south-west against the Lib Dems and its seats in Scotland against the SNP.

Labour will be hoping to build on its successes in 2017 at picking up marginal seats from the Tories, especially in remain-voting urban areas. Corbyn's campaign will also be bolstered by the leftwing activists in Momentum, who are planning to mobilise tens of thousands of people to knock on doors in marginal seats and launch a "viral video response unit" to reach millions online.

The Lib Dems have been speaking to the Greens and Plaid Cymru about maximising the chances of pro-remain parties, by standing single "Stop Brexit" candidates in certain seats. However, the number of these is likely to be limited.

Paula Surridge, a political sociologist at the University of Bristol, said the 12 December election was "likely to pose key challenges to both the Labour and Conservative parties, both of whom need to improve on their performance in terms of seats, while simultaneously unlikely to match their 2017 vote share".

"Who manages to hold on to the larger part of the 2017 votes is likely to form the next government. Will this be the Brexit election 2017 never quite managed to be? The Liberal Democrats and the Brexit party will be pushing hard to make it so, while Labour are likely to want to talk about almost anything else," she said.
This latest move, of course, comes just days after the European Union agreed to extend the Brexit deadline to January 31st, with the possibility of an earlier exit if a deal that Parliament approves can be finalized before then. What the election effectively means, though, is that the entire Brexit issue will be put on hold from now until December 12th, leaving roughly a month and a half left get Brexit finalized. While this may seem like more than a sufficient amount of time, that idea rests largely on the idea that the election will provide a clear mandate on Brexit one way or the other. If it doesn't then things will remain as muddled as they have been since the 2017 election and the U.K. will head toward yet another deadline with no idea what might happen.
Looking at the polling numbers today, the prospects are looking pretty good for Johnson and the Tories, but as Theresa May learned in 2017 the poll numbers at the beginning of a campaign don't necessarily say much of anything about how the election might turn out. The current "Poll of Polls" — essentially the same thing as what we call a polling average here in the United States — from Politico Europe shows the Tories with 37% of the national vote, followed by Labour at 24%, the anti-Brexit Liberal Democrats at 17%, the pro-Brexit Brexit Party, and the remaining votes spread out among smaller parties such as the Greens, the Scottish National Party, the Welsh nationalist party Plaid Cymru, the remnants of UKIP, and other smaller parties all of which are anti-Brexit and are calling for a second referendum on European Union membership. On a related issue, polling for a hypothetical second Brexit referendum, which would have to be approved by Parliament, shows 50% of Brits supporting "Remain" and 44% supporting leave. What is unclear is if this seemingly pro-Brexit result could have an impact on the December 12th vote.
Going forward, it's obvious that Brexit will be the top, if not the only, issue in the election between now and December 12th. Conservatives will be campaigning to be the party that will "get Brexit done," which is similar to the slogan that Johnson himself used while campaigning for the leadership of the Conservative Party earlier this year. They'll be joined in their pro-Brexit platform by Nigel Farage's Brexit Party, which could find itself held back from making a mark nationwide by the fact that the Tories are going all-in on Brexit. After all, if you're a pro-Brexit citizen of the U.K., why vote for a party that has no realistic chance of winning control of the government when you can vote for the one major party that is pro-Brexit? On the other side of the Brexit issue will be the Liberal Democrats, who stand to benefit significantly from being the only explicitly anti-Brexit party on the ballot. The Scottish National Party, meanwhile, will likely use this opportunity to consolidate power up north and prepare for another push for independence in the event that Brexit actually happens.
Somewhere in the middle of all this is the Labour Party, which could be hurt by the fact that it does not seem to have a consistent position on Brexit and which is presently led by a man who even many party members don't want to see as Prime Minister. Added to this is the fact that, to an even greater extent than the Tories, Labour is not united on the Brexit issue. Additionally, Corbyn has made clear that he will campaign on a wide-ranging economic plan that not only seems wildly out of step with the current mood of British voters but which seems to openly ignore the 900-pound gorilla in the room that will dominate the race. Whether he likes it or not, Brexit is going to dominate this election and his party's fate will depend largely on the position it takes on that issue. In that regard, it may help that Corbyn is promising a second Brexit referendum but it's unclear if that is a practical solution given the fact that, after the election, there will be only 50 days left before the Brexit deadline, part of which will include a holiday period that will last roughly two weeks. It is unrealistic to expect there to be time for a referendum in that period, and it is entirely unclear if the European Union would agree to yet another extension.
As noted, this will be the first December General Election since 1923 and it's likely to be a bumpy ride to say the least.