Clinton Health Scare Raises Questions
Clinton stumbles and leaves an event early, leading to the news that her campaign has been withholding health information from the press.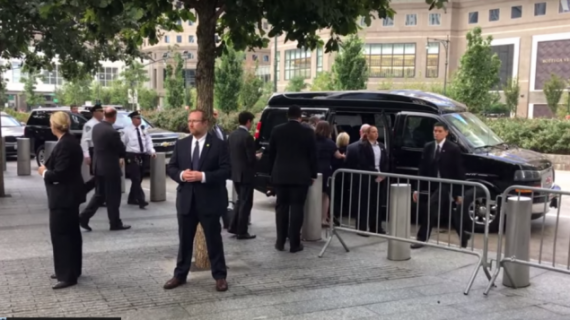 While most of the nation spent yesterday focused on remembering the September 11th attacks on their 15th Anniversary and enjoying, or for at least half the fans out there not enjoying, the first week of the N.F.L. season, the political media  became obsessed with Hillary Clinton's health thanks to an episode that just happened to occur under the full glare of television cameras. It all started yesterday morning when, as has become customary in Presidential election years, Clinton made an appearance at the remembrance ceremonies in New York City. Donald Trump was there as well, although unlike previous years (see e.g., 2008 and 2012) the candidates did not appear together amid a day when both campaigns suspended campaigning. After about an hour and a half, Clinton ended up abruptly leaving the ceremonies much to the surprise of the press poll assigned to travel with the candidate and not too long after that smartphone video became public that appeared to show Clinton stumbling and needing to be helped getting in her campaign van. From there, Clinton was apparently taken to her daughter's apartment nearby where she stayed for about an hour before emerging to an awaiting press corps and appearing to be physically fine as she got back in the campaign van and leaving. In the meantime, the campaign had released a statement saying that Clinton had become "overheated" and left the ceremonies for that reason. That statement quickly became a matter for debate as many observers noted that it was in high 70s and not particularly humid in Manhattan yesterday morning. In any case, after a full day, the campaign issued a more detailed statement from Clinton's doctor revealing she had been diagnosed with pnemonia late last week and had left the ceremonies due to that and the fact that she had become dehydrated, a report that has led to a renewal of the long-standing debate over what candidates for President should be expected to disclose about her health:
Hillary Clinton is being treated for pneumonia and dehydration, her doctor said on Sunday, hours after she abruptly left a ceremony in New York honoring the 15th anniversary of the Sept. 11 attacks and had to be helped into a van by Secret Service agents.

The incident, which occurred after months of questions about her health from her Republican opponent, Donald J. Trump, and his campaign, is likely to increase pressure on Mrs. Clinton to address the issue and release detailed medical records, which she has so far declined to do.

Mrs. Clinton was taken from the morning event at ground zero to the Manhattan apartment of her daughter, Chelsea. About 90 minutes after arriving there, Mrs. Clinton emerged from the apartment in New York's Flatiron district. She waved to onlookers and posed for pictures with a little girl on the sidewalk.

"I'm feeling great," Mrs. Clinton said. "It's a beautiful day in New York."

Mrs. Clinton left in her motorcade without the group of reporters that is designated to travel with her in public. A campaign spokesman, Nick Merrill, indicated that she had returned to her Chappaqua, N.Y., residence sometime after 1 p.m., and Mrs. Clinton was not seen publicly the rest of the day.

Mr. Merrill initially described Mrs. Clinton, the Democratic presidential nominee, as feeling "overheated" at the commemoration ceremony.

But just after 5 p.m., a campaign official said Mrs. Clinton's physician, Dr. Lisa R. Bardack, had examined the candidate at her home in Chappaqua, and Dr. Bardack said in a statement that Mrs. Clinton was "rehydrated and recovering nicely."

"Secretary Clinton has been experiencing a cough related to allergies," Dr. Bardack's statement said, adding that on Friday morning, after a prolonged cough, Mrs. Clinton was given a diagnosis of pneumonia.

Dr. Bardack did not indicate what sort of pneumonia Mrs. Clinton had or elaborate on the nature of the examination last week, whether Mrs. Clinton had a fever today, or a host of other issues that could offer more precise insights about her condition.

(…)

The episode thrust questions about Mrs. Clinton's health and the transparency of her campaign squarely into the last two months of the race, which many polls show has grown tighter. For months Republicans have, with scarce evidence, questioned the stamina of Mrs. Clinton, 68, and claimed she is ill, often pointing to her repeated coughing bouts.

She has brushed off such claims. Mrs. Clinton and Mr. Trump, 70, have shared substantially less information about their health than some previous presidential candidates.

And Mrs. Clinton revealed that she had pneumonia and had been prescribed medication only after the startling video emerged of her being unable to walk under her own volition after the ceremony.

Her campaign initially did not offer any information about why she had left early or her whereabouts. Twice during the day, she abandoned the group of reporters assigned to cover her public movements. Campaign officials did not respond to multiple inquiries about whether Mrs. Clinton had been treated by a doctor or had taken any medications.

Even some members of Mrs. Clinton's campaign staff had been unaware of her recent diagnosis. Huma Abedin, Mrs. Clinton's long-time aide, sent an email to the full campaign staff on Sunday that included the doctor's note, to share with them "the full picture."

"Onward as H.R.C. would say," Ms. Abedin wrote in the message, the contents of which were disclosed by a Clinton aide who requested anonymity to share an internal campaign email.
Shortly after that statement was released, the Clinton campaign announced that they had canceled a two-day fundraising trip to the West Coast and that Clinton would spend the beginning of the week resting and recovering at home and, presumably, following the course of antibiotics prescribed by her doctor. Because she had what seemed to be a health scare in such a public forum, though, Clinton has raised a public debate that has been around for decades now. Immediately, the Clinton campaign was criticized by the media for keeping them in the dark regarding what was going on and, especially, the way it handled both the incident yesterday and the candidate's health:
Jonathan Martin, national correspondent for the New York Times, tweeted, "Hillary camp now reveals that her doctor diagnosed her pneumonia on Friday & put her on antibiotics. Only disclosed after this am's episode."

"I don't understand why Clinton aides weren't telling reporters at 10:30am: 'pneumonia,'" CNN media reporter Brian Stelter wrote.
"Of course they should have disclosed this. This isn't a cold," added Chuck Todd, the host of NBC's "Meet the Press."

The campaign ignored requests for explanation, but its allies defended its actions online.

"#Hillary's health is fine. The hysteria in the media and the attacks about it from #Trump supporters are not," Democratic PR consultant Hilary Rosen tweeted before Clinton's pneumonia was disclosed.

"Is there really a tradition of candidates publicly disclosing illnesses like colds, flu's etc?" tweeted former White House communications director Dan Pfeiffer. "Every candidate I have ever worked for has gotten sick on the trail and worked through it because you can't take days off in a close race."

"[S]o which illnesses that are treated with antibiotics do you have to disclose? All?" former White House chief speechwriter Jon Favreau asked.

"From a medical point of view this is not a big deal, She needs to cancel some events or do them by Skype for a week," observed former Vermont governor Howard Dean, a trained doctor.

"I think I coughed up a lung somewhere between Pennsylvania and Kentucky," recalled former Clinton '08 staffer Mo Elleithee, who also lauded her stamina. "She kept a campaign schedule with pneumonia. When I have a normal cold, I curl up in the fetal position & want to stay in bed for a week."

Former Michigan governor Jennifer Granholm tweeted: "To press lamenting @HillaryClinton's health/transparency: 'powering through' illness is what women do: Stoically, every. single. day."

Clinton's campaign schedule has been vigorous: On Friday alone, she headlined two fundraising events, met with a group of national security heavy-hitters, held a news conference, and granted an interview to CNN.

But the former secretary of state, who at 68 would be the second-oldest president in U.S. history should she win in November, has disclosed fewer details about her health than past presidential nominees — though she has divulged more information than her opponent, 70-year-old Donald Trump, who has released only a cryptic, one-page letter that his doctor has said was written in just five minutes.

David Scheiner, an assistant professor at the University of Illinois Medical School who was Obama's personal physician for 22 years, argued in a recent Washington Post op-ed that neither Clinton nor Trump had disclosed enough information given their advanced ages.

"Having been in practice for 50 years serving a predominantly geriatric patient population, and now a septuagenarian myself, I can attest that the American people need much more medical information from these candidates," he wrote. "The medical reports from Clinton's and Trump's personal physicians do not suffice."
The Washington Post's Chris Cillizza, meanwhile, contends that this episode means that Clinton's health is now a "real issue" in the campaign:
Whether Clinton likes it or not, her "overheating" episode comes at a very bad time for her campaign. Thanks to the likes of Rudy Giuliani and a small but vocal element of the Republican base, talk of her health had been bubbling over the past week — triggered by a coughing episode she experienced during a Labor Day rally.

That talk was largely confined to Republicans convinced that Clinton has long been hiding some sort of serious illness. I wrote dismissively of that conspiracy theory in this space last week, noting that Clinton had been given an entirely clean bill of health by her doctors after an episode in which she fainted, suffered a concussion and then was found to have a blood clot in late 2012 and early 2013.

Coughing, I wrote, is simply not evidence enough of any sort of major illness that Clinton is assumed to be hiding. Neither, of course, is feeling "overheated." But those two things happening within six days of each other to a candidate who is 68 years old makes talk of Clinton's health no longer just the stuff of conspiracy theorists.

Whereas Clinton and her campaign could laugh off questions about her health before today, the "overheating" episode makes it almost impossible for them to do so. Not only has it come at a time when there was growing chatter — with very little evidence — that her health was a problem but it also happened at a 9/11 memorial event — an incredibly high-profile moment with lots and lots of cameras and reporters around.

(…)

But the issue is that Clinton kept reporters totally in the dark for 90 minutes after her abrupt departure from the 9/11 memorial service for a health-related matter. No reporter was allowed to follow her. (Clinton has resisted a protective pool for coverage because Donald Trump refuses to participate in one.) This is, yet again, the Clinton campaign asking everyone to just trust it. She got overheated! But she's fine now!

Clinton may well be totally fine — and I certainly hope she is. But we are 58 days away from choosing the person who will lead the country for the next four years, and she is one of the two candidates with a real chance of winning. Taking the Clinton team's word for it on her health — in light of the episode on Sunday morning — is no longer enough. Reasonable people can — and will — have real questions about her health.

(…)

A coughing episode is almost always just a coughing episode. But when coupled with Clinton's "overheating" on Sunday morning — with temperatures something short of sweltering — Clinton and her team simply need to say something about what happened (and why the press was in the dark for so long.)
In retrospect of course, the Clinton campaign created an unnecessary problem for itself by not disclosing the diagnosis of pneumonia until hours afterwards and by abruptly abandoning the press corps that follows Clinton around and not disclosing where Clinton was until she was safely inside the access controlled building where her daughter's apartment is located. Had they disclosed the diagnosis at the end of last week, then it would have both accomplished two things at once. First, it would have explained, as it largely does, the coughing fits that Clinton has been having on the campaign trail over the past two or three weeks and given them an excuse for Clinton either skipping Sunday's events in Manhattan or only making a brief appearance. Second, it would have undercut the idea that the campaign has something to hide, an idea that's just reinforced by the way it acted Sunday morning and the fact that it didn't disclose the news from Friday and didn't take any steps to reduce the candidate's schedule to allow her to recover from what is a serious illness in anyone, especially someone on the verge of turning 70 who is engaged in a campaign that will not end for another eight weeks and who is running for a job has been demonstrably physically taxing on those who have held their job even when they were decades younger than her when they took office, such as President Bush 43 and President Obama both of whom aged visibly and notable during their eight years in office. Considering the fact that Clinton would be 78 years old at the end of a hypothetical second term in 2025, as would Donald Trump, questions about candidate health raised by this incident, and in the post I wrote about this issue just two weeks ago, are entirely legitimate.
David Axelrod, a former aide to President Obama who can hardly be called a Donald Trump fan put it this way this morning:
Antibiotics can take care of pneumonia. What's the cure for an unhealthy penchant for privacy that repeatedly creates unnecessary problems?

— David Axelrod (@davidaxelrod) September 12, 2016
Axelrod has a point. While it's hardly necessary for a campaign or Presidential Administration to disclose every time a candidate or President has the sniffles or wakes up feeling out of sorts, it is important for the American people to know the truth about the health of leader of the nation. For much the same reason that Clinton set up her private email server, though, Clinton's campaign acted as if yesterday's incident was something they could keep from the press. In the process, they created unnecessary problems for themselves and their candidate.