Vice-President's Physician Accused Ronny Jackson Of Misconduct In September
The Vice-President's personal physician accused Ronny Jackson of misconduct back in September, according to new reports.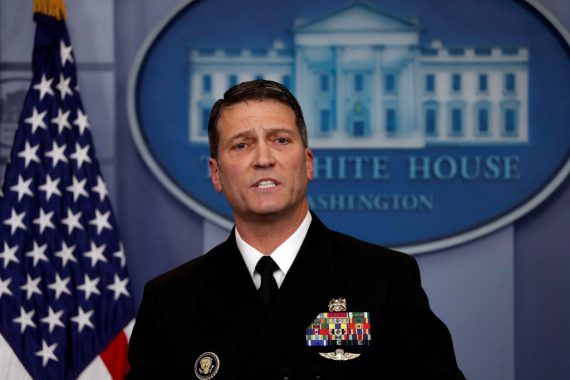 Ronny Jackson, who withdrew his nomination to be Secretary of Veterans Affairs amid mounting allegations about his qualifications and mounting allegations regarding his medical ethics and personal behavior, was apparently brought to the attention of the Trump White House as early as last December:
Vice President Mike Pence's physician privately raised alarms within the White House last fall that President Donald Trump's doctor may have violated federal privacy protections for a key patient — Pence's wife, Karen — and intimidated the vice president's doctor during angry confrontations over the episode.

The previously unreported incident is the first sign that serious concerns about Ronny Jackson's conduct had reached the highest levels of the White House as far back as September — months before White House aides furiously defended Jackson's professionalism, insisted he had been thoroughly vetted and argued allegations of misconduct amounted to unsubstantiated rumors.

The episode — detailed in three memos by Pence's physician — is also the first documentation that has surfaced involving a specific allegation of medical misconduct by Jackson. It adds to a series of significant allegations leveled by unidentified current and former colleagues, including that he casually dispensed prescription drugs.

Jackson and the White House have continued to deny allegations of misconduct, and Jackson's defenders in the White House said Monday that the episode involving Mrs. Pence was simply a dispute between two doctors with a strained relationship and that he had acted appropriately.

According to copies of internal documents obtained by CNN, Pence's doctor accused Jackson of overstepping his authority and inappropriately intervening in a medical situation involving the second lady as well as potentially violating federal privacy rights by briefing White House staff and disclosing details to other medical providers — but not appropriately consulting with the vice president's physician.

The vice president's physician later wrote in a memo of feeling intimidated by an irate Jackson during a confrontation over the physician's concerns.

The physician informed White House officials of being treated unprofessionally, describing a pattern of behavior from Jackson that made the physician "uncomfortable" and even consider resigning from the position.

After Mrs. Pence's physician briefed her about the episode, she "also expressed concerns over the potential breach of privacy of her medical condition," the memo said. Karen Pence asked her physician to direct the vice president's top aide, Nick Ayers, to inform White House chief of staff John Kelly about the matter. Subsequent memos from Pence's doctor suggested Kelly was aware of the episode.

A White House official said that Ayers informed Kelly and White House deputy chief of staff Joe Hagin about the situation and they said Pence's doctor should report the matter through the appropriate medical and military chains of command.

Alyssa Farah, press secretary for the vice president, said Pence's physician "brought the issue to Mr. Ayers, who appropriately referred the matter to the proper channels."

Farah added that Mrs. Pence "has been briefed on all the facts related to a private matter regarding her health care. She is grateful for the professional care she received from all White House medical personnel who resolved the matter quickly. She considers the matter closed and has no further comment on the situation."

The vice president's physician did not respond to multiple inquiries seeking comment. A White House spokesman declined to comment.

(…)

In one of two tense encounters described in the memos, Jackson made the vice president's doctor feel uncomfortable with his "accusatory" tone, "unprofessionalism" and "intimidating" and "aggressive" behavior during their private meetings. Jackson told the doctor to "let the issue go" and to "let things go … if I am to succeed in my career," the physician wrote.

"This meeting summoned by Dr. Jackson appears to have been in retribution for me verbalizing concerns over the protection of the SLOTUS' medical information and his inappropriate involvement in the decision-making process of her care, which is consistent with previous behavior that I have received from him in the past," the memo says, referring to the second lady of the United States. "This unprofessionalism fosters a negative command climate that removes any opportunity for open, professional discussion."

Jackson and the vice president's physician have long had a "strained relationship," according to a former White House medical official.

The issue involving Karen Pence arose September 8, 2017, when a medical situation required her to be taken from Camp David — where the President was slated to meet with his Cabinet — to Walter Reed hospital. Even though Jackson is responsible for caring for Trump, he intervened in the situation involving Mrs. Pence, leading to "an inadvertent disclosure of SLOTUS' medical information in a situation where ultimate discretion was of utmost importance," according to the memo, which does not describe the information disclosed.

Jackson asked for several reports on her condition from the physicians who initially treated her at Camp David, though the physician noted it was done "without malicious intent to circumvent their medical knowledge."

Jackson then shared information with the senior medical providers involved in the matter, and according to the memo, briefed "multiple parties" on Trump's White House staff "without specific consultation from the physician to the vice president," prompting the concerns that he disclosed Mrs. Pence's private information. He made an order to call in the on-duty specialist at Walter Reed and made plans for her evacuation from Camp David, according to the memo, though he later denied doing so in a private meeting with the physician.

On September 11, 2017, Pence's physician briefed Ayers about "this breach of her patient information" under the federal law known as the Health Insurance Portability and Accountability Act, or HIPAA, by disclosing information to various parties. The physician was later directed by Mrs. Pence to tell Ayers to relay the information to Kelly, after the second lady expressed concerns about the potential her medical information was disclosed.

"Dr. Jackson stated that it is not always possible to adhere to HIPAA at the White House," the memo said. The memo said that Jackson asserted to the physician that "he must be involved" in medical issues at Camp David and Walter Reed because they are "presidential assets" — even if those medical issues don't involve the First Family.
It's hard to tell from the reports if these incidents are serious incidents, or if they are part of what the CNN reports to have been a tense relationship between Jackson and the Vice-President's personal physician, who are co-workers. Taken at their worst, though, these would appear to have been serious violations of Mrs. Pence's rights under HIPAA regarding the privacy of her medical information as well as violating the procedures that are supposed to govern the White House Physician's Office. In either case, this report does indicate that the Trump White House was aware of questions regarding Jackson's behavior in office and the way he practices medicine well before Trump named him as his nominee for Secretary of the Department of Veterans Affairs.
This report came on the same day as reports emerged that Jackson had returned to the Physician's Office in the White House but that he would not be returning to his role as the President's personal physician. The White House pushed back against this report but did not directly deny that Jackson would not be the President's doctor going forward. Additionally, the Republican Chairman of the House Oversight Committee suggested that there were several allegations against Jackson that needed to be investigated:
House Oversight Chairman Trey Gowdy on Sunday said some of the allegations against President Donald Trump's ill-fated pick for secretary of Veterans Affairs should be investigated.

Appearing on CBS' "Face the Nation," the South Carolina Republican said, "I think some of those allegations do warrant being investigated," referring to a series of allegations levied against the White House physician and now-withdrawn VA secretary nominee, Rear Adm. Ronny Jackson.

Gowdy specified that Congress was not the appropriate body to investigate all allegations of misconduct by Jackson, referencing in particular claims the Navy doctor overprescribed sleeping pills while serving in the White House.

"I don't think you want members of Congress deciding whether or not the prescribing of Ambien is within the course of a professional medical practice," Gowdy said. "In fact, I can't think of anybody less well-qualified to decide whether Ambien should be prescribed than a bunch of lawyers."

Jackson withdrew his nomination to serve as Trump's VA secretary last week after allegations surfaced that, among other things, he created a toxic work environment and maintained poor prescription records.
Gowdy is correct on both counts, of course. The questions regarding Jackson's alleged misconduct do deserve to be investigated, especially given the fact that at least some of them appear to date back to well before the Trump Administration took office and one wonders how it is that these issues were not brought to light until Jackson's name was put forward for the position at the Department of Veterans Affairs. This is especially true given the fact that Jackson has apparently returned to the White House and could end up back at his old role as personal physician to the President at any time if Trump decides that's what he wants. Other allegations, such as those involving handing out prescription medications like Ambien and Percocet to non-patients, though, would probably be best investigated by the appropriate state licensing board, or by the Pentagon.
In addition to Gowdy's committee potentially investigating all of this, it's worth noting that Jackson remains on the promotion list to be elevated to the rank of Rear Admiral. That promotion must be approved by the Senate, though, and it would fall to the Senate Armed Services Committee, which is led by Senator John McCain at least in name, so it could be that much of this will end up being investigated after all. About the only thing that could stop such investigations would be if Jackson decided to take his retirement from the military and enter the civilian world, although even there at least some of the allegations could be investigated by the appropriate authorities in whatever states Jackson is licensed to practice in. So, there's probably more to come before this is over.