VA Nominee Ronny Jackson Under Fire for Workplace Misconduct
The White House physician is accused of excessive drinking on the job and improperly dispensing medication among other offenses.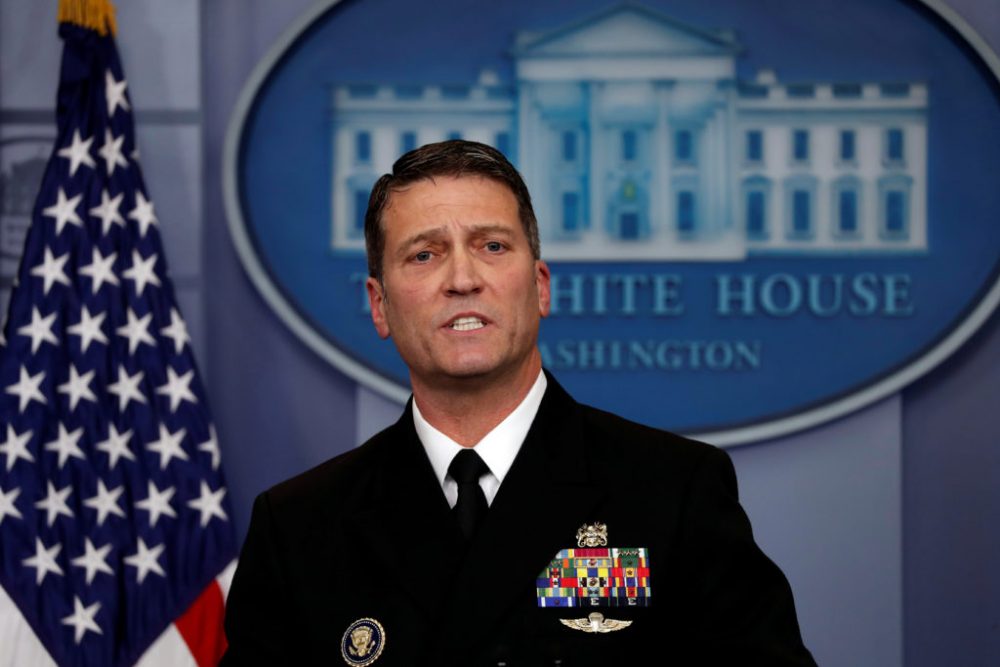 When President Trump nominated the White House physician to run the Veterans' Affairs behemoth, many questioned whether he was up to the task. Now, there are serious allegations about how he's handled his current post. The reporting is mostly murky.
CNN ("Scramble for answers as Ronny Jackson allegations threaten to upend nomination"):
Republicans and Democrats on the Senate Veterans Affairs Committee are raising concerns about allegations involving Rear Adm. Ronny Jackson, President Donald Trump's nominee to lead the department of Veterans Affairs and are reviewing them to determine if they are substantial enough to upend his nomination.

Committee members have been told about allegations related to improper conduct in various stages of his career, two sources said.

The sources say the committee is in talks to delay Wednesday's confirmation hearing as they try to figure out the allegations.

None of the senators would publicly detail the specifics of the allegations. A White House spokesman did not immediately respond to a request for comment.

Two Republican sources with direct knowledge of the situation say the White House is aware that both Democratic and Republican lawmakers are looking into potential problems. Republican lawmakers and aides on the committee say they are also grappling with the allegations, trying to assess what they mean for Jackson's nomination to the post.

Senate Democrats huddled privately Monday in a basement office in the Capitol to discuss "raw allegations" that have been raised against Jackson.

"There are reasons, as there are with every presidential appointee, for very close scrutiny and vetting. We need to know if allegations raised by others may have some factual basis. That's the process of vetting that has to occur," said Sen. Richard Blumenthal, D-Connecticut, as he left the meeting, which lasted about a half hour.

"We need to be asking questions and there need to be answers," he added. "At this point we are dealing with some fairly raw allegations and we need to know if there is factual support for it."

"All I can really tell you at this moment time is we are continuing the vetting process. We are working very hard at it. It's all hands on deck," said Sen. Jon Tester of Montana, the top Democrat on the committee.

Asked if the allegations were troubling, Tester replied, "Only if true." Asked if Democrats could determine if the allegations are true before Wednesday's hearing or if he would need to meet with Jackson again, Tester responded, 'We'll see."
That's not much to go on. My natural suspicion, given the spate of #MeToo revelations in recent months, was that there were some allegations of sexual misconduct. But that doesn't seem to be the case.
POLITICO ("Ronny Jackson's VA nomination on the rocks") is similarly vague:
Rear Adm. Ronny Jackson's nomination to be Veterans Affairs secretary may be in trouble, according to senators and aides in both parties.

Republicans are considering postponing his confirmation hearing this week as senators pore over potentially new negative information that committee members have received, according to GOP sources familiar with the matter. And Senate Democrats are digging into his record after being made aware of potential new problems with the nomination.

[…]

Republicans and Democrats alike have been talking over the weekend, and in person on Monday, about the potential for allegations to derail Jackson's nomination, senators said. But the nature of discussions now going on about the material is "conversational," said Sen. Thom Tillis (R-N.C.).

Tillis suggested that the Jackson confirmation hearing scheduled for Wednesday may be "pushed back pending a review of some of this stuff that, like I said, I've only heard on a conversational basis. I think that's where we'll spend our time this week."

[…]

Axios was first to report that new information about Jackson's "professional conduct" was taken to Tester earlier this month.

Democrats declined to comment on the severity of the allegations that have been presented to the committee about Jackson.

"We're going to vet him. The Trump administration doesn't do a particularly good job," said Sen. Sherrod Brown (D-Ohio), another committee member. "That's all I'm going to say."
WaPo ("Senate to postpone confirmation hearing for Ronny Jackson to head Veterans Affairs, White House officials told") adds,
Senate lawmakers have postponed the confirmation hearing for Ronny L. Jackson, President Trump's nominee to lead the Department of Veterans Affairs, after top Republicans and Democrats raised concerns about his qualifications and oversight of the White House medical staff, White House and other administration officials were told Monday.

The development came just two days before Jackson, the White House physician, was scheduled to testify before the Senate Committee on Veterans' Affairs and threw what was looking to be a difficult confirmation process into further jeopardy.

In addition to Jackson's lack of management experience, the former combat surgeon had come under fire for his glowing appraisal of Trump's health following his annual physical in January. Jackson said then that the president might live to the age of 200 with a healthier diet. In recent days, fresh concerns arose about Jackson's management of the White House medical office, said the officials, who declined to provide details.
Finally, the CBS report ("Democrats reviewing allegations against VA nominee Ronny Jackson") sheds some useful light:
The ranking Democrat on the Senate Veterans Affairs committee is reviewing allegations he's hearing about Ronny Jackson, the White House physician and President Trump's pick to lead the Department of Veterans Affairs. It was unclear late Monday whether the Senate panel would postpone Jackson's confirmation hearing, which was scheduled for Wednesday, in light of stories about the nominee told by current or former White House medical staff.

Sources familiar with the tales say Sen. Jon Tester's committee staff is reviewing multiple allegations of a "hostile work environment." The accusations include "excessive drinking on the job, improperly dispensing meds," said one of the people familiar, who was granted anonymity to speak frankly about the situation. The other people familiar with the stories also confirmed those details.

If proven true, "it'll sink his nomination," said one of the sources.
It should be noted that Jackson is not a Trump crony but a career Navy officer who has served as a physician to three successive presidents. Still, if the allegations prove true this will be yet another case of a stellar career ruined by being nominated to a higher profile post by this President.