Ronny Jackson Unlikely To Return To Duty As President's Doctor
Despite the fact that President Trump's continues to praise him, Ronny Jackson will not be returning to the White House as the President's personal physician.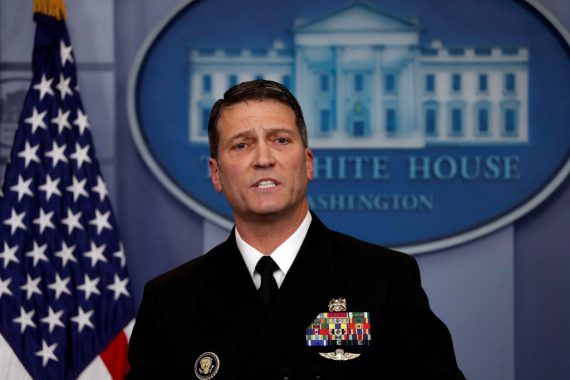 Ronny Jackson, who withdrew his nomination to be Secretary of Veterans Affairs amid mounting allegations about misconduct, has returned to the White House Physicians Office but his unlikely to return to his role as the President's personal doctor:
WASHINGTON — Dr. Ronny L. Jackson, who withdrew from consideration for secretary of veterans affairs last week amid allegations related to his professional conduct, is unlikely to return to his role as the president's doctor, according to a person familiar with the matter.

It was unclear if Dr. Jackson, a Navy rear admiral, would remain in the White House in any capacity or if he would retire from the military.

President Trump had nominated Dr. Jackson in March for advancement to a two-star admiral. His promotion is still pending, and senators have indicated that they will scrutinize it in light of recent claims that he oversaw a hostile work environment, loosely distributed prescription medications and drank while on official White House travel.

Sean Conley, a Navy officer who took over for Dr. Jackson after he was nominated in March, is expected to stay on as Mr. Trump's primary doctor.

Dr. Jackson withdrew himself from the nomination on Thursday, two days after charges brought to Capitol Hill by current and former colleagues burst into the open. He has denied the charges, and the White House has sought to dispute certain claims against him.
The story was initially reported by Politico, which has a bit more detail:
White House physician Ronny Jackson will not return to his role as the president's personal physician, according to two senior administration officials, after a string of allegations caused the Navy rear admiral to withdraw his nomination last week to lead the Department of Veterans Affairs.

Sean Conley, a Navy officer who took over Jackson's role as the president's personal doctor last month, will continue in the role, the officials said.

Jackson bowed out last week after Montana Sen. Jon Tester, the top Democrat on the Veterans' Affairs Committee, released a document summarizing allegations by current and former colleagues that Jackson overprescribed pills, drank on the job and created a hostile work environment. Jackson has denied the allegations and has returned to work in the White House Medical Unit.

President Donald Trump has continued defending Jackson, with whom he formed a tight personal bond.

On Saturday, Trump wrote on Twitter that Tester should resign, saying that the Secret Service had been unable to confirm any of the allegations against Jackson.

Tester is facing a tough reelection in November in a state that Trump won resoundingly in 2016.

The president also wrote that "Tester's statements on Admiral Jackson" were as baseless as special counsel Robert Mueller's investigation into collusion between the Trump campaign and Russia in the 2016 election — a probe he derided as "A TOTAL WITCH HUNT!!!" earlier this month.

Jackson made a splash earlier this year when he held an extended news conference on Trump's physical in which he claimed the president was one pound under the weight that would be considered obese and said that Trump has "great genes."

Trump's decision to elevate Jackson to his Cabinet after dismissing former VA Secretary David Shulkin nonetheless took even senior-most White House aides by surprise. The president announced the move before the White House had a chance to do the sort of thorough vetting typically performed on Cabinet-level nominees.
It's not clear why Jackson will not be returning to his previous position, although it's possible that the allegations that were made during the course of the nomination played a role notwithstanding the fact that the White House has aggressively pushed back against the allegations even after Jackson withdrew the nomination. This announcement is also puzzling given the fact that Trump continues to praise Jackson and attack those such as Senator Tester who he deems responsible for bringing down his nomination. Presumably, if the President wanted Jackson to return as his physician he would be able to get what he wants. Why this hasn't happened is unknown at this point.
Also unclear is where Jackson could or would go if he doesn't return as Trump's physician. At least in theory, he could stay in the White House, albeit not as the President's personal physician, but that would likely be seen as a demotion. Alternatively, he could return to the Pentagon in some role, although that leaves open the issue of Trump's effort to nominate him for promotion to a two-star Admiral,something that would require Senate approval. In either case, though, it seems clear that the allegations against Jackson are serious enough that they are likely to continue to be investigated even if he isn't the President's doctor. About the only thing that could stop them, I suppose, would be if Jackson were to retire, although even then Jackson could still face investigation from a state licensing board over the allegations about handing out prescription medicine to non-patients.
Update: Trey Gowdy the Republican Chairman of the House Oversight Committee thinks the allegations against Jackson need to be investigated notwithstanding the fact that he's withdrawn his nomination:
House Oversight Chairman Trey Gowdy on Sunday said some of the allegations against President Donald Trump's ill-fated pick for secretary of Veterans Affairs should be investigated.

Appearing on CBS' "Face the Nation," the South Carolina Republican said, "I think some of those allegations do warrant being investigated," referring to a series of allegations levied against the White House physician and now-withdrawn VA secretary nominee, Rear Adm. Ronny Jackson.

Gowdy specified that Congress was not the appropriate body to investigate all allegations of misconduct by Jackson, referencing in particular claims the Navy doctor overprescribed sleeping pills while serving in the White House.

"I don't think you want members of Congress deciding whether or not the prescribing of Ambien is within the course of a professional medical practice," Gowdy said. "In fact, I can't think of anybody less well-qualified to decide whether Ambien should be prescribed than a bunch of lawyers."
Gowdy is correct to say that some of the allegations probably shouldn't be investigated by Congress. Instead, that task ought to fall to either the Department of Defense or the appropriate medical licensing board.
Update #2: The Hill is stating that the White House is pushing back against this report:
The White House on Monday pushed back on reports that Dr. Ronny Jackson, the failed Veterans Affairs nominee, is no longer President Trump's personal physician.

White House spokesman Raj Shah said in a statement that Jackson, a Navy rear admiral, is "currently on active duty" and is still "assigned to the White House."

"Despite published reports, there are no personnel announcements at this time," Shah said.

The statement does not deny outright that Jackson's role has changed on the White House medical team. Politico and The Washington Post reported on Sunday that Jackson will not return to his previous role as physician to the president.

The reports said Sean Conley, a Navy veteran who had performed Jackson's responsibilities following his nomination, would continue to serve as the president's personal doctor.
Take that for what it's worth, I suppose.