Ronny Jackson's Nomination Becomes More Imperiled As Accusations Mount
With the accusations mounting, the nomination of Ronny Jackson to be Secretary of Veterans Affairs is becoming more and more imperiled.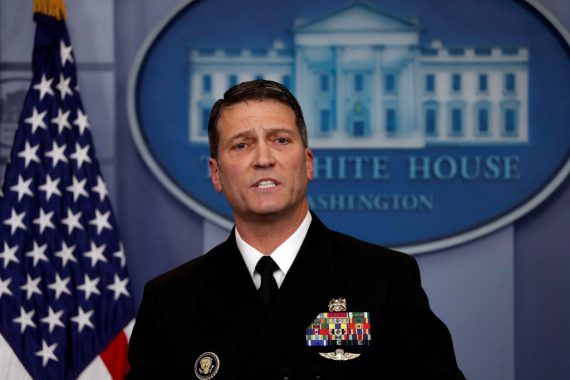 The nomination of White House Physician Ronny Jackson to be the new Secretary of Veterans Affairs is becoming more imperiled as accusations of past bad behavior mount, but the truth is that there were reasons to oppose his nomination long before these reports came out:
WASHINGTON — Dr. Ronny L. Jackson, the White House physician nominated to lead the Veterans Affairs Department, provided such "a large supply" of Percocet, a prescription opioid, to a White House Military Office staff member that he threw his own medical staff "into a panic" when it could not account for the missing drugs, according to a summary of questionable deeds compiled by the Democratic staff of the Senate Veterans' Affairs Committee.

A nurse on his staff said Dr. Jackson had written himself prescriptions, and when caught, he simply asked a physician assistant to provide him with the medication.

And at a Secret Service going away party, the doctor got intoxicated and "wrecked a government vehicle," according to the summary.

The two-page document, distributed by committee Democrats, fleshes out three categories of accusations — prescription drug misuse, hostile work environment and drunkenness — that threaten to derail President Trump's nominee. Committee staff members say the summary details the testimony of 23 current and former colleagues of Dr. Jackson, many of whom are still in the military.

An aide to Senator Jon Tester of Montana, the top Democrat on the committee, said each allegation included in the document was based on information provided by two or more individuals.

The new details came as White House officials on Wednesday ratcheted up their public defense of Dr. Jackson, calling the charges of workplace misconduct "outrageous," even as new episodes of questionable conduct surfaced.

Dr. Jackson told reporters at the White House that he had "no idea where that is coming from" but categorically denied the car accident. "I have not wrecked a car. I can tell you that," he said, adding that "we're still moving ahead as planned."

Sarah Huckabee Sanders, the White House press secretary, told reporters earlier Wednesday afternoon that Dr. Jackson had been the subject of at least four background investigations, including by the F.B.I., during his time at the White House, which dates to 2006. None, she said, had turned up areas for concern, and Dr. Jackson had drawn praise from colleagues and presidents in each administration he worked for.

"None of those things have come up in the four separate background investigations that have taken place," she said, referring to the recent allegations. "There's been no area of concern that was raised for Dr. Jackson specifically."

But when pressed, Ms. Sanders said she could not comment on the credibility of specific charges.

"These are new," she said. "I can only speak to some of the personal accounts that those of us have, as well as the records that we have that are substantiated through a very detailed and thorough background investigation process."

Among those new charges she did not address: During an overseas trip by the Obama administration in 2015, Dr. Jackson went out drinking, came back to the delegation's hotel and began banging on the door of a staff member's hotel room, according to an account shared with Mr. Tester. The noise was so loud that members of the Secret Service came to see what was happening and warned Dr. Jackson to be quiet so he would not wake the president, who was staying nearby.

The episode was first reported by CNN.

On another trip during Barack Obama's presidency, White House staff members reached out to Dr. Jackson for medical reasons but found him passed out in his hotel room after a night of drinking, Tester aides said. The staff members took the medical supplies they were looking for without waking Dr. Jackson.

The document prepared by the Democratic staff of the Veterans' Affairs Committee paints a picture of a medical office that was casual with the prescribing and distribution of drugs but terrorized by a mercurial boss, quick to anger. According to the summary, interviewed staff members described Dr. Jackson as "the most unethical person I have ever worked with," "flat-out unethical" and "incapable of not losing his temper," among other charges.

The document includes allegations that Dr. Jackson regularly distributed Ambien, a prescription sleep aid, to members of the White House staff and members of the news media flying on long overseas trips, as well as another prescription drug to promote wakefulness.

It says that the committee was told that physicians working with Dr. Jackson "felt uncomfortable and refused to be a part of the loose dispensing of drugs to current and former" White House staff members. It also states that Dr. Jackson "also had private stocks of controlled substances."

The document says that the panel received testimony that the White House medical unit "had questionable record keeping for pharmaceuticals" and that the committee was told that Dr. Jackson would often account for pills only after distributing them.

Members of the committee continue to investigate the claims. But by Wednesday evening, the tone had shifted in the Senate.

"I see no realistic path forward for this nomination," said Senator Richard Blumenthal, Democrat of Connecticut and a member of the committee. "He cannot lead this agency dragging all that baggage into the V.A. — even if he could have compensated for his lack of experience."

Republicans were not ready to defend him.

"I think what the committee is doing right now is the proper due diligence, and it's both Republicans and Democrats," said Senator Dan Sullivan, Republican of Alaska.
If true, these are fairly serious allegations that raise questions of medical ethics as well as personal discretion, even if they don't directly go to the question of whether or not Jackson is qualified to head the second largest department in the Federal Government. Handing out prescription medicine without having a full medical history in the context of a Doctor/Patient relationship is generally considered a serious breach of medical ethics that could lead to disciplinary action by a state's licensing board. This is especially true with regard to a drug like Percocet, which is a far more powerful medication than Ambien. Additionally the prospect that Jackson was drinking excessively, or even drinking at all, when he was at least theoretically on call as White House Physician during overseas trips is fairly serious. Based on online conversations I've had with some physicians, it's generally considered bad practice for a physician to drink when they are on duty or to do so when they are on call and could be called in at any point during a day or evening. The drinking charges and the prospect that Jackson may have a drinking problem brings to mind the allegations that were made against former Texas Senator John Tower when President George H.W.. Bush selected him to become Secretary of Defense. Notwithstanding Tower's status as a former Senator, the Senate rejected his nomination and Bush nominated Dick Cheney in his place.
With specific regard to the allegations about handing out medication, Dr. Richard Friedman points out why the allegations are troublesome:
First of all, with the exception of the president, it's a safe bet that the people receiving these medications were not Dr. Jackson's patients. That would mean he was prescribing controlled drugs to people whose medical histories he knew nothing about. What if, for example, some of them had a substance abuse or alcohol problem or serious pulmonary diseases? For people with those conditions, Ambien, a potent hypnotic drug, can be quite harmful. And Provigil, a long-acting stimulant-like drug, can raise blood pressure and provoke anxiety and worse in people who are medically or psychiatrically vulnerable.

Just as worrisome, Dr. Jackson would have had no idea whether any of the people he allegedly casually drugged were taking other medications that might interact adversely with what he was handing out. Can the president's physician really be clueless of the fact that interactions between drugs are among the most common causes of iatrogenic (that is, accidentally doctor-induced) morbidity and mortality?

I have reviewed many physicians whose treatments fall outside the bounds of accepted medical practice for New York State's Office of Professional Medical Conduct. I can say that the "treatments" Dr. Jackson is accused of would almost certainly qualify for such review — and probably result in sanctions, from a fine up to the loss of a medical license.
The Washington Post meanwhile reports that Jackson is telling those close to him that he is growing "frustrated" with the nomination process and considering withdrawing:
White House physician Ronny L. Jackson has grown frustrated with the nomination process to lead the Department of Veterans Affairs and has told colleagues he may remove his name from consideration, according to two White House officials with knowledge of his deliberations.

Jackson's indecision was brewing even before Capitol Hill Democrats on Wednesday released new allegations of professional misconduct, including the claim that Jackson had wrecked a government vehicle after getting drunk at a Secret Service going-away party.

The allegations were contained in a two-page document described by the Democratic staff of the Senate Veterans' Affairs Committee as a summary of interviews with 23 of Jackson's current and former colleagues. The document also described Jackson's "pattern" of handing out medication with no patient history, writing himself prescriptions and contributing to a hostile work environment with "a constant fear of reprisal."

One White House official said Jackson is growing weary of a process that has been besieged from the start. Veteran advocates and many lawmakers have expressed concerns about the former combat physician's lack of management experience, and some have worried that he would capitulate to President Trump's goal of outsourcing more veteran services.

On Wednesday, Jackson quickly denied crashing a vehicle. In private, he alternated between contemplating an end to his bid and striking a pugnacious tone, according to several White House officials, telling colleagues he hopes to defend himself even if he can't win confirmation.

The Democrats' document provided no evidence for the allegations, nor an explanation of the methodology of the investigation, which has been spearheaded by the office of Sen. Jon Tester (D-Mont.). According to Tester's staff, every allegation has been substantiated by at least two people.

The memo does not provide specifics on when some of the alleged incidents occurred. It also presents a stark contrast to the stellar portrait offered by Jackson's defenders, who have described previous allegations as a smear job.

"Am I 100 percent rock-solid sure that he did this? No," Tester said on MSNBC. "But I've seen a pattern here that continues on and on and on and I think it's important that members of the committee see what I'm seeing."
Finally, Axios is out with a report this morning that Jackson is expected to withdraw his nomination:
White House sources tell Axios that they expect White House physician Ronny Jackson to withdraw as President Trump's nominee to run the Veterans Affairs Department, after Democrats on Capitol Hill circulated harsh new allegations.

What we're hearing, from a senior administration source: "There's no question about whether the White House will stand by him. There is a question about how much longer he wants to put himself through it."
Amid all of this, the confirmation hearings have been put on indefinite hold and even some top Republicans in the Senate are expressing doubts about the future of the nomination in light of these accusations. With Congress set to head out on another recess next week, this essentially means it would not be until Mid-May at least that the Senate Veterans Affairs Committee would be ready to take up the nomination. Assuming any other allegations come out between now and then, it would mean that there would be plenty of time for reporters to track down the people behind the allegations and possibly uncover new ones that would further imperil the nomination.
Even leaving aside these allegations, many of which raise the question of how and why they were not known at the time he served in the White House Physicians Office under both Presidents George W. Bush and Barack Obama, it seems fairly clear that Jackson should not be confirmed. While the allegations are serious enough that, if true, they should probably lead the Senate to reject his nomination based on the questions they raise about his judgment and temperament, they are not the most serious issue regarding his nomination. As I noted above, the Department of Veterans Affairs is the second biggest agency in the Federal Government, right behind the Department of Defense. It is a large, cumbersome, and widespread bureaucracy that, as we've seen in recent years, has raised serious questions and in some cases may have led to the deaths of patients awaiting care. As I've said in the past, it is in need of much-needed reforms that only Congress can bring about via legislation, but that doesn't seem likely any time in the near future.
Because of this, the selection of a leader for the department is crucial, and it's clear that Jackson doesn't have the resume needed for the position. What the job requires is someone who has significant experience leading and managing large organizations, preferably someone with administrative experience in the medical field. Even assuming he is a highly qualified position, and putting the allegations noted above to the side, Jackson does not have that experience. While he has been the head of the White House Physicians Office for several years, the staff of that office is relatively small and certainly not comparable to the task that would face him as the Secretary of Veterans Affairs. For that reason alone, the Senate ought to reject Jackson's nomination and force the President to put forward a candidate who has actually demonstrated that they have the experience needed for this position.
UPDATE (James Joyner, 8:08 am): Multiple reports have Jackson withdrawing his name from consideration for the post.
UPDATE (Doug Mataconis 8:58am)Jackson has withdrawn his name from consideration.: Confirming the reports noted above,
Here's the report from the Veterans Affairs Committee:
Democratic Memo on Ronny Jackson by Doug Mataconis on Scribd