Should Presidential Candidates Be Required To Undergo Independent Medical Reviews?
Much like their predecessors, Hillary Clinton and Donald Trump have released only limited information about their health. It may be time for that to change.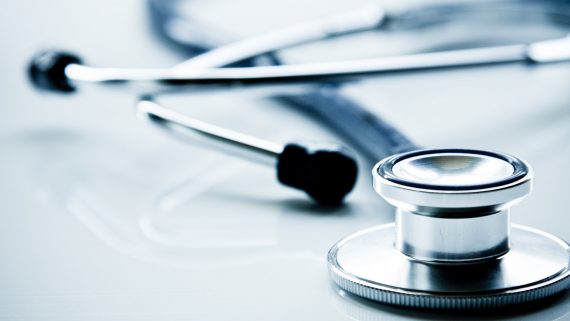 If he were to win the election in November, Donald Trump would become the oldest person to ever become President of the United States, exceeding by more than half a year the  69 years, 349 days that Ronald Reagan was when he became President. If she wins the election in November, Hillary Clinton would become the second oldest person to take the office, falling some ten months short of Reagan's age in 1981, but well ahead of William Henry Harrison, who was 68 years, 23 days old when he took office on March 4, 1841. If either Trump or Clinton were to serve two full terms in office, they would be 78 years and 77 years old respectively when their successor took office on January 20, 2021. Because of this, there's been at least some attention paid to the issue of the health of the candidates. For her part, Hillary Clinton, who had a health scare shortly before leaving office in December 2012 when she reportedly fainted in her Washington, D.C. home and suffered what was reported at the time as a concussion that we later learned had developed into a blood clot near her brain that required hospitalization, released a two-page letter from her primary care physician detailing her condition and the medications she was taking in little more than the most general of ways. Donald Trump, meanwhile, released as his medical "report" a short, bizarre letter from his purported physician that reads more like a Trump speech than something that a doctor would write, and which was apparently composed in five minutes while Trump waited outside the doctor's office in his limousine.
For the most part, these disclosures are similar to what we've gotten from recent Presidential candidates in the way of disclosures about their past or present medical condition or revelations regarding what medications they may have been on. In the past, of course, the public was largely unaware of Presidential health. President Woodrow Wilson spent the final years of his Presidency largely incapacitated in the White House thanks to a stroke, and there have been persistent rumors in the years afterward that, in many cases, orders and decisions purported to come from the President were actually being made by Wilson's wife Edith and his chief aides, who kept the President's true condition a closely guarded secret. Similarly, few Americans were even aware that Franklin D. Roosevelt was even in a wheelchair, never mind the fact that his health by the time of the 1944 election was so precarious that Democratic Party officials acted to remove Henry Wallace as FDR's running mate and replace him with Harry Truman for fear of what might happen should Wallace, a man to the left of FDR who had long expressed sympathy for the Soviet Union, should become President. Similarly, Americans were unaware of the fact that President Kennedy suffered from Addison's Disease, an autoimmune disease that can become debilitating over time.
Additionally, the lack of full disclosure has led unsurprisingly to a host of conspiracy theories, especially regarding the current health condition of the two major party candidates for office. In the case of Hillary Clinton, conservatives have taken it upon themselves to put forward conspiracy theories claiming that Clinton is suffering from some undisclosed ailment, typically by using photos and video that have obviously been altered or taken out of context to support their argument. These claims have, of course, been largely debunked and discredited, but they remain common fodder on the right side of the political spectrum and will likely follow Clinton into office. In Trump's case the strangeness of the letter drafted by his physician has led many to wonder if he isn't hiding something regarding his health, although there has not been a similar level of conspiracy theory mongering among Democrats about that issue.
It all leads one to wonder, if anything, could be done about this issue that balances both the right to medical privacy of candidates and office holders and the right of the public to have at least some knowledge about the fitness for office of the people competing for what is obviously among the most stressful and demanding in the world. As a way of trying to resolve these issues, Dan Diamond discusses one possible solution in Politico Magazine:
It's reasonable to worry about a candidate's health. There's an entire amendment to the Constitution that centers on whether a president is mentally or physically able to carry out the duties of the office. And this is an especially pressing question this year, when the two major-party candidates represent the oldest pair in presidential election history. But, even in more mainstream outlets, the reasoned speculation you might expect seems to have been replaced by untamed conjecture.

One reason for this is that there's a vacuum of information about our candidates. That problem is largely preventable, medical ethicists say. "If people care about health—and they don't, they care about politics—if they did, they'd have an independent panel of doctors checking out the candidates," says NYU bioethicist Art Caplan.

The idea of asking candidates to undergo an independent medical review isn't new; it's kicked around medical conferences and academic journals for years. But the concept has gained traction this campaign season as conspiracy theories about Clinton's and Trump's health have gone viral. Caplan and others argue that a panel of a half-dozen doctors could do a comprehensive workup of the candidates—checking everything from their bloodwork to physical fitness and even mental health—and share a summary that voters could find trustworthy and useful. "They don't have to get down to psychoanalysis," Caplan caveats.

Here's the drawback with our current system: We don't actually know how healthy Clinton or Trump are. Candidates don't undergo any kind of independent examination and they aren't obligated to release their medical records, either. And what they do share isn't always the full story, given the risk of political damage. "The things that we'd want to know are the things, unfortunately, that people won't want to reveal," says internal medicine doctor Connie Mariano.

As the White House physician to three presidents, Mariano has seen the rigors of the job up close, and she ticked off the list of conditions that candidates might be tempted to hide. "Mental illness, like being treated for depression. Seizure disorder. If they have cancer—will there be a reoccurrence. Have they ever had a stroke, or heart disease." Fairly or not, those conditions have been perceived as disqualifying.

(…)

It's important to know as much about our next presidents as possible—their policy positions, their temperament, even their health information, given the possibility of electing a president who isn't long for the office. But it's also clear that as long as candidates can cherry-pick their physicians, they can essentially cherry-pick their medical reports, too.

There is a way to try and fix the broken system, and it was former President Jimmy Carter who helped identify it. In 1994, more than a decade after he left office, Carter floated an idea in the Journal of the American Medical Association: An independent commission to evaluate the health of the president, in case of disability. Carter's proposal never went anywhere, but was a high-profile acknowledgement that medical fitness for the presidency should be taken seriously, and de-politicized as much as possible.

Mariano says that she served on an American College of Physicians subcommittee that looked at a similar proposal to require presidential candidates to undergo an independent medical evaluation, although the idea was eventually shelved. "We debated it back and forth, and then reality set in," she says. "Most candidates bristle at releasing private information" and might seek to avoid a medical review.

But candidates also bristle at false attacks, and it's clear that as long as the system doesn't require them to disclose complete records, the medical rumors aren't going away. Martin Shkreli—the embattled 'Pharma Bro'—conducted an hours-long online video session this month where he "diagnosed" Clinton with Parkinson's disease. Seizing on Sean Hannity's prime-time series of "medical investigations" into Clinton's health, Trump is actively trying to turn Clinton's admission that she "short-circuited" when answering a recent question into a subtle attack on her mental fitness.

That's one reason why some prominent doctors have new interest in the old idea of an independent review. "I've been proposing a panel for more than six years," NYU's Caplan said, arguing that when figures like Rudy Guiliani attack a candidate's health, it's bringing unnecessary legitimacy to what used to be fringe conspiracy theories.

Ethicists point out that a mandatory medical review might not be feasible. While some important jobs—think airline pilot—do require medical approval, it would be harder to make the case for a politician and would raise complicated legal questions.

So "let's assume it is not a government panel," muses Harvard ethicist I. Glenn Cohen, "but rather something that candidates voluntarily undertake." He points to how the American Bar Association, for instance, has historically rated the qualifications of Supreme Court nominees. Many lawmakers say they consider the ABA's assessment as one factor among many when vetting a judicial appointee. Yes, it's possible for candidates to buck a voluntary expectation—Trump's doing it right now with his tax returns—but it reframes the focus, Cohen argues.
As Diamond readily acknowledges, there are possibly benefits and downsides to proposals such as this:
It's possible that an independent medical commission could diffuse a lot of the controversy over presidential health. In a world where nearly 60 percent of adults take prescription drugs, many for heart disease or mental health conditions, an independent medical commission probably wouldn't hurt candidates as much as the perception that they're hiding something—and the wild theories that spawns.

Of course, the opposite scenario could unfold: That voters seize on bouts with cancer, heart disease or other legitimate health concerns that turn out to be irrelevant. Despite the many questions about McCain's fitness for office in 2008, the Arizona senator hasn't had serious medical issues in the past seven-and-a-half years, as the end of President Barack Obama's second term looms. Franklin Roosevelt was one of our least healthy presidents, physically, and yet he steered the United States through a depression and a World War.
This is an issue where I'm not entire sure where I stand at the moment. On the one hand, I agree that it is important for Americans to know as much as reasonably possible about the people running for President, and that the health of the candidates is certainly a relevant concern going forward since it could tell us something about the candidate that is arguably important and could effect how they do their job or whether or not they actually can do their job. At the same time, the possibility that the public could misinterpret the results, or that opponents will latch on to something that is largely irrelevant as a political issue is quite high. For example, what if a candidate had been on a mild anti-depressant in the past, as many Americans have been.. The probability that this could be misinterpreted or exploited would seem to be quite high, even though the risk of such medication having adverse side effects is low. Evidence of a candidate being treated for high cholesterol or high blood pressure could be used in a similar manner. This, no doubt, is one reason why candidates in the past have been reluctant to reveal too much about their medical history even though the public should arguably be confident about a candidate willing to do what it takes to take care of their health. Another argument against the idea of mandatory independent medical reviews is the fact that, as President, one of these candidates will have access to some of the best medical care in the world at a moments notice. Given that, requiring them to reveal potentially embarrassing details about their health status is arguably unnecessary.
As it stands, of the eight Presidents who died in office, four of them died of what amounts to 'natural' causes, the most recent being FDR in 1945. Since then, there have been a handful of serious health incidents involving sitting Presidents. Perhaps the most notable involved President Dwight D. Eisenhower, who had a serious heart attack while traveling in Colorado. Eisenhower recovered from that attack, though, and went on to be overwhelmingly re-elected a year later. A year after that, Eisenhower suffered a mild stroke that left him temporarily debilitated. Along with other considerations, these incidents eventually led Congress to pass, and the states to quickly ratify, the Twenty-Fifth Amendment, which sets up a procedure involving the Vice-President, the Cabinet, and Congress to deal with Presidential disability, something that the Constitution had failed to address for nearly 200 years. Since then, there have been a number of incidents involving Presidents who have needed surgery for one health matter or another, but very little that amounted to a serious health condition other than the doubt that surrounded the White House on March 30, 1981 when President Reagan was shot outside the Washington Hilton. Since Reagan, Presidents Bush 41, Clinton, Bush 43, and Obama have all been relatively healthy while they served in office. At some point, though, it's likely that the law of averages will play out and we'll end up with a President with a serious health condition that voters knew nothing about before electing that person to office. Before we get there, perhaps we should ask ourselves if candidates ought to be required to be far more open about their physical and mental health than they have been to date.