Hey, Is Anyone Out There?
If there's anyone out there, why haven't we heard from them yet?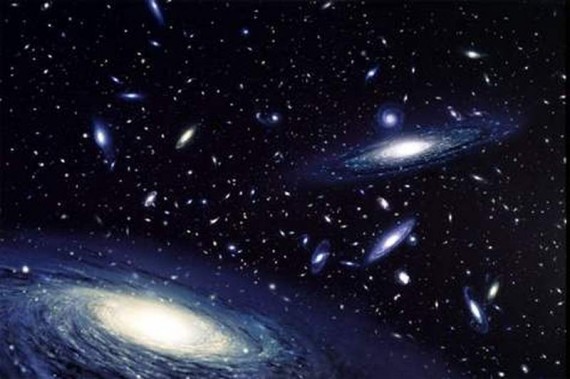 Two columns this week have touched on the rather interesting question of why, given the fact that we keep finding more and more evidence that extrasolar planets are commonplace in the galaxy (and presumably the universe) we have yet to discover any evidence of extraterrestrial intelligence. After all, the universe is some 14 billion years old, the Milky Way itself is believed to be around 8 billion years old, and we've been listening with radio telescopes for decades with no sign of any intelligent communication. Not even something resembling the radio, television, radar, and other electromagnetic signals we've been sending out into the universe for some 80 years now.
Charles Krauthammer tackles the topic in a column that appeared earlier this week:
It's called the Fermi Paradox, after the great physicist who once asked, "Where is everybody?" Or as was once elaborated: "All our logic, all our anti-isocentrism, assures us that we are not unique — that they must be there. And yet we do not see them."

How many of them should there be? Modern satellite data suggest the number should be very high. So why the silence? Carl Sagan (among others) thought that the answer is to be found, tragically, in the high probability that advanced civilizations destroy themselves.

In other words, this silent universe is conveying not a flattering lesson about our uniqueness but a tragic story about our destiny. It is telling us that intelligence may be the most cursed faculty in the entire universe — an endowment not just ultimately fatal but, on the scale of cosmic time, near instantly so.

This is not mere theory. Look around. On the very same day that astronomers rejoiced at the discovery of the two Earth-size planets, the National Science Advisory Board for Biosecurity urged two leading scientific journals not to publish details of lab experiments that just created a lethal and highly transmittable form of bird-flu virus, lest that fateful knowledge fall into the wrong hands.

Wrong hands, human hands. This is not just the age of holy terror, but also the threshold of an age of hyper-proliferation. Nuclear weapons in the hands of half-mad tyrants (North Korea) and radical apocalypticists (Iran) are just the beginning. Lethal biologic agents may soon find their way into the hands of those for whom genocidal pandemics loosed upon infidels are the royal road to redemption.
As Krauthammer notes, this was the belief held by Carl Sagan, and one of the reasons that he became involved in things like the Nuclear Freeze movement in the 1980s. It has a certain air of plausibility too. Ever since Enrico Fermi created the first human-created sustained nuclear chain reaction under the abandoned grandstands of a stadium at the University of Chicago, technology has been advancing faster than morality at a record pace. The fact that mankind has made it this far having only used atomic weapons twice is perhaps no small achievement. Now, we've got access to knowledge that could create viruses that replicate far too fast for public health authorities to deal with them, not to mention other nasty inventions that have the potential to wipe out large numbers of people. And then, of course, there's always the possibility of a natural disaster on the scale of the one that wiped out the dinosaurs. Who knows how many advanced civilizations have appeared and disappeared before we even had a chance to start listening for radio signals?
Geoffrey Miller has another theory:
I suggest a different, even darker solution to the Paradox. Basically, I think the aliens don't blow themselves up; they just get addicted to computer games. They forget to send radio signals or colonize space because they're too busy with runaway consumerism and virtual-reality narcissism. They don't need Sentinels to enslave them in a Matrix; they do it to themselves, just as we are doing today. Once they turn inwards to chase their shiny pennies of pleasure, they lose the cosmic plot. They become like a self-stimulating rat, pressing a bar to deliver electricity to its brain's ventral tegmental area, which stimulates its nucleus accumbens to release dopamine, which feels…ever so good.

The fundamental problem is that an evolved mind must pay attention to indirect cues of biological fitness, rather than tracking fitness itself. This was a key insight of evolutionary psychology in the early 1990s; although evolution favors brains that tend to maximize fitness (as measured by numbers of great-grandkids), no brain has capacity enough to do so under every possible circumstance. Evolution simply could never have anticipated the novel environments, such as modern society, that our social primate would come to inhabit. That would be a computationally intractable problem, even for the new IBM Blue Gene/L supercomputer that runs 280 trillion operations per second. Even long-term weather prediction is easy when compared to fitness prediction. As a result, brains must evolve short-cuts: fitness-promoting tricks, cons, recipes and heuristics that work, on average, under ancestrally normal conditions.

The result is that we don't seek reproductive success directly; we seek tasty foods that have tended to promote survival, and luscious mates who have tended to produce bright, healthy babies. The modern result? Fast food and pornography. Technology is fairly good at controlling external reality to promote real biological fitness, but it's even better at delivering fake fitness—subjective cues of survival and reproduction without the real-world effects. Having real friends is so much more effort than watching Friends. Actually colonizing the galaxy would be so much harder than pretending to have done it when filming Star Wars or Serenity. The business of humanity has become entertainment, and entertainment is the business of feeding fake fitness cues to our brains.

(…)

Maybe the bright aliens did the same. I suspect that a certain period of fitness-faking narcissism is inevitable after any intelligent life evolves. This is the Great Temptation for any technological species—to shape their subjective reality to provide the cues of survival and reproductive success without the substance. Most bright alien species probably go extinct gradually, allocating more time and resources to their pleasures, and less to their children. They eventually die out when the game behind all games—the Game of Life—says "Game Over; you are out of lives and you forgot to reproduce."
It's somewhat of a depressing vision of the future, really. Instead of achieving greatness, colonizing new worlds, and exploring the galaxy, is humanity really doomed to a turn inward on itself as our brains become more fascinated with the instant gratification of fake reality than the hard work of, well, reality? There certainly seem to be signs that it's a possibility. "Internet addiction" has been a common topic for most of the past decade, and it's commonplace to walk around a mall or other public place and see people looking down tapping out messages (or playing games?) on their cell phones, perhaps preferring the artificial community of sites like Twitter and Facebook to the reality of creating real friendships and real communities. You don't see this outside the First World, of course, because in most of the world people are still spending their day worrying how to survive rather than worrying about which Hollywood celebrity just got divorced or what happened last night on a so-called "reality" show. Once material scarcity is no longer an issue, though, humanity seems to concern itself more with trivialities than substance. Star Trek presented a vision of a world where want and need no longer existed and humanity redirected its energy to science, the arts, and the exploration of the galaxy, but what if eliminating want and need just causes our brains to become lazy? Then, the fate that Miller posits for all those advanced civilizations becomes quite plausible.
Of course, these two dystopias aren't necessarily the only explanation for why we haven't heard from E.T. Perhaps they just don't find us very interesting, except perhaps in the way that we find a colony of ants interesting. If interstellar travel and communication are possible, a civilization that has achieved such things would be as far removed from our world as we are from early hominids who first made their way out of Africa millions of years ago. Perhaps, as David Swindle suggests, we aren't hearing anything from them because we just aren't able to hear them:
I'm sympathetic without having the same pessimistic spin. My hypothesis for why we haven't yet replicated the scene where they meet the Vulcans in First Contact (and why we never will because such creatures do not exist): by the time any extraterrestrial race would have sufficient technology to travel to earth via Star Trek-like star ships the rate of technology's exponential growth for their species would be moving so fast already that the rate of change would be so drastic they would not resemble us at all. I don't know how many of the technological predictions I should take seriously in Ray Kurzweil's The Singularity is Near: When Humans Transcend Biology and its documentary counterpart Transcendent Man. But the starting point for Kurzweil's analysis — Moore's Law which observes that technological progress builds on itself, perpetually doubling the strength and halving the cost of technology — is not controversial. It seems to me that any discussion about intelligent life beyond the stars needs to also include this insight about the nature of technological growth.
We're assuming, for example, that these aliens would still be using electomagnetic signals as their means of communication. What if they've discovered some other means to communicate that we can't detect yet because we haven't even conceived of it? There's a certain amount of hubris in assuming that the rest of the universe would be just like us in that regard, actually.
Of course, the other example of hubris is assuming that we're all alone in the universe, the only intelligent life form in a space that traverse tens of billions of light years. The probabilities of that being true strike me as being even lower than the odds that the people who believe they've been abducted by aliens are describing something that actually happened. There's someone out there, somewhere, it just may not be as easy to find them as we think.
UPDATE (James Joyner): I saw Krauthammer's column and a few reactions to it this morning but kid-related activities derailed any actual post writing. One of the comments on one of the posts I read pointed to a fascinating essay in the Quarterly Journal of the  Royal Astronomical Society from an F.J. Tipler published way back in September 1980 and submitted almost a year before titled "Extraterrestrial intelligent beings do not exist." It's PDF'd and the format makes excerpting exhausting, so I'll simply commend it to those interested. It's based on a principle called "the assumption of mediocrity," which basically posits that we must assume that other intelligent beings have developed communications and transportation technologies at least as advanced as our own.
The concluding sentences: "[T]he Universe must contain 10[20] stars in order to contain a single intelligent species. We should no therefore be surprised if indeed it contains only one."
Of course, three decades of work have been done since this was published.