Scientists Discover Mysterious Radio Bursts From Billions Of Light-Years Away
Using new radio telescopes, scientists have discovered mysterious new radio bursts that originated from deep in the universe long before life began on Earth.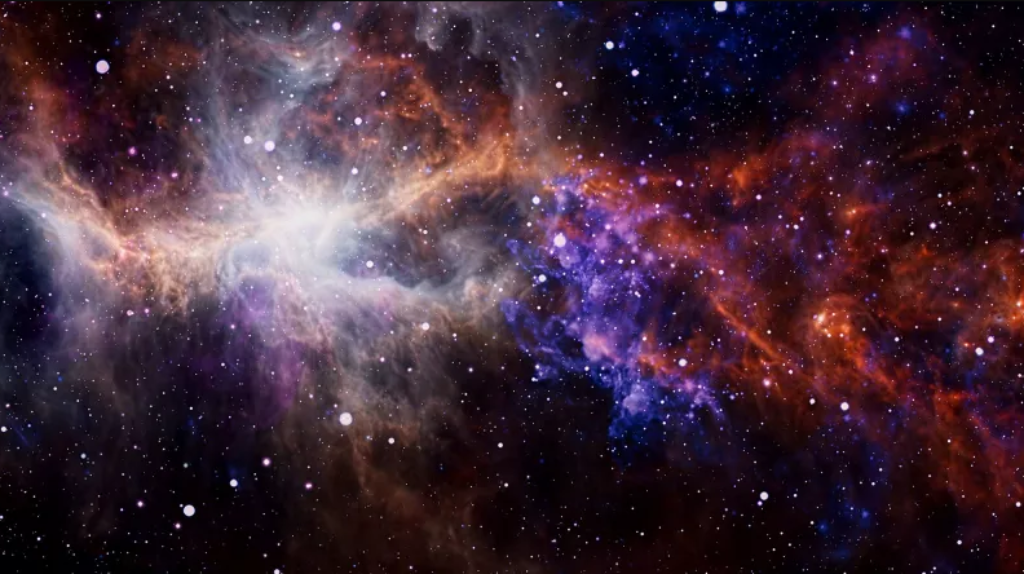 The New York Times is reporting that scientists are puzzled over a series of radio signals from far way in the universe that they can't fully explain:
Something is happening out there, and astronomers sure wish they knew what it was.

For the last several years, they have been teased and baffled by mysterious bursts of radio waves from the distant universe: pops of low-frequency radiation, emitting more energy than the sun does in a day, that occur randomly and disappear immediately. Nobody knows when these "fast radio bursts," or F.R.B.s, will occur, or where exactly in the cosmos they are occurring.

More than 60 of these surprise broadcasts have been recorded so far. About the only thing astronomers agree on is that these signals probably are not extraterrestrials saying hello.

So it was big news a year ago when scientists found a repeating radio burster and tracked it to a dwarf galaxy 3 billion light-years from Earth. Subsequent observations suggested that the burst was generated by extremely powerful magnetic fields, most likely ruling out lasers from alien spaceships.

Now a group of astronomers from several Canadian universities have announced the discovery of a second radio repeater. The repeating bursts appeared last summer almost as soon as the team turned on and began tuning up a new telescope, the Canadian Hydrogen Intensity Mapping Experiment, or Chime, in British Columbia. The team announced the discovery in a pair of papers in Nature, and in a news conference at the American Astronomical Society meeting in Seattle on Jan. 9.

The astronomers estimated that the new repeater is about 1.5 billion light-years away, roughly half the distance to the other repeater. The existence of a second repeater suggests that there are many more to be found, said Ingrid Stairs, an astrophysicist at the University of British Columbia, in a news release.
These two reports appear to be the first time that we've been able to detect these 'radio burst repeaters' whatever they may be, which suggests either that the equipment we've had hasn't been sufficient to detect them before or that they are "new" in that they didn't exist before. Of course, in both cases, these radio burst originated from whatever their source might be three billion and one-and-a-half billion years ago and just reached Earth recently. This means that the first such signal originated when Earth itself was a little more than a billion years old at a time before life in even its more rudimentary forms had begun and the planet was largely a barren wasteland. The second was sent 1.5 billion years ago when the existing continents and plate tectonics were just beginning to take shape and the life that existed on Earth consisted of multicellular organisms that had yet to evolve into anything resembling something that we would recognize as life.
Most likely, of course, it's probable that these radio bursts come from some form of an astronomical phenomenon that we aren't familiar with, or perhaps are related to the formation of some of the more exotic phenomenon we are aware of such as black holes and quasars. That's the most fascinating thing about science, the idea that no matter how much we think we know there's always going to be something new that we haven't encountered before, especially in a universe that is as vast as ours where it's likely that we will always be encountering things we've never seen or heard before.
Notwithstanding the Occam's Razor explanation that the radio bursts are coming from a natural source of some kind, it's always fun to speculate that things like this might be something different. We live in a universe that is some 14 billion years old and I've always found the idea that we are the only intelligent species that has ever developed in all that time to be somewhat absurd. This isn't to say that I believe that we're being visited by aliens or even that intelligent life that is equivalent or superior to us exists anywhere that can be considered "close" in the astronomical sense. It's simply to say that, while it does seem apparent that the conditions that make it possible for the kind of intelligent life capable of exploring the universe or being the source of ancient radio signals are somewhat rare that doesn't mean such a thing is impossible, if not likely. Anyway, that's just a tangential thought since, as I said, it's likely that what was detected here was some kind of previously unknown natural phenomenon.
That being said, who's going to argue with this guy?