Boris Johnson To Face Jeremy Hunt In Tory Leadership Fight
The fight to determine the leader of the Conservative Party, and the next British Prime Minister, is down to two candidates, but there's one clear favorite.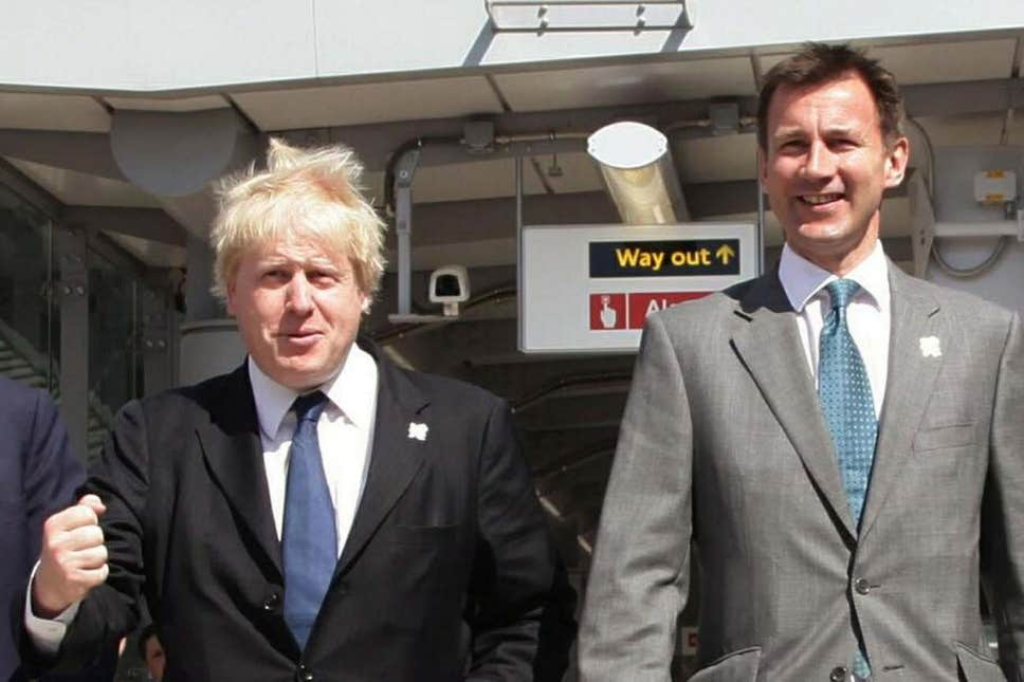 The fight to become the next leader of the United Kingdom's Conservative Party, and the next British Prime Minister, is headed to its final phase with former Foreign Secretary Boris Johnson, who is seen as the frontrunner, set to face off against Jeremy Hunt, who succeeded Johnson as Foreign Secretary and has held a number of other high-profile positions:
LONDON — After more than a week of campaigning, intriguing and infighting among Conservative Party lawmakers, Britain's foreign secretary, Jeremy Hunt, won the right on Thursday to take on his more famous and charismatic predecessor, Boris Johnson, in the final phase of the race to become the next prime minister.

Mr. Hunt was the second choice of Tory lawmakers, well behind Mr. Johnson, and now the two men will compete for the votes of around 160,000 members of the party who will next month select a successor to Prime Minister Theresa May. Mr. Johnson won 160 votes, and Mr. Hunt 77.

Mr. Johnson, whose optimistic, bombastic and entertaining speeches at party conferences have made him a favorite of activists, is supremely well placed to win the vote. The party members are disproportionately older, whiter and more male than the general population and appear to favor Brexit at any cost, something that Mr. Johnson has championed since a 2016 referendum that he helped win.

According to the rumor mill, the mild-mannered Mr. Hunt was the candidate that Mr. Johnson most wanted to face in the runoff, and all day Thursday there was speculation in Parliament of tactical voting by his supporters to eliminate Michael Gove, the environment secretary.

Mr. Gove was Mr. Johnson's nemesis in 2016, the last time the Conservative leadership was contested, and in the first of two votes held on Thursday, Mr. Hunt had fallen slightly behind Mr. Gove.

Yet, it was Mr. Gove who sank Mr. Johnson's push for the top job in 2016, and some lawmakers feared the consequences for the party of a vicious fight between the old rivals. By early evening it was announced that Mr. Hunt had pushed Mr. Gove into third place in the final ballot, with 75 votes, eliminating him from the contest.

Though Mr. Hunt opposed Brexit in the 2016 referendum campaign, he now supports it. But lingering suspicions about the depth of his commitment, coupled with his decided lack of charisma on the campaign trail, have led opponents to call him "Theresa May in trousers."

Mr. Hunt's public utterances have not always been as vanilla as his critics claim. He once likened the European Union to the Soviet Union, and caused some astonishment when he accidentally described his Chinese wife as Japanese.

But foreign policy analysts say that he performed significantly better in his post than Mr. Johnson, who never looked comfortable at the Foreign Office and whose careless language was widely blamed for worsening the plight of Nazanin Zaghari-Ratcliffe, a British-Iranian woman who is being held in prison in Iran.

Mr. Hunt will now have the opportunity to make his pitch for the top job and subject Mr. Johnson to some scrutiny in a series of debates for party members around the country.

(…)

A businessman before he went into politics, Mr. Hunt argues that he is well equipped to negotiate a new Brexit agreement with the European Union. And he showed his soothing manner and political skills by surviving a long stint as the health secretary — a difficult job for a Conservative politician, particularly at a time of squeezed public spending.

One big question is how tough Mr. Hunt will be on Mr. Johnson and whether he will raise doubts about his honesty, reliability and competence for the position of prime minister. Although Mr. Hunt criticized Mr. Johnson for ducking out of one TV debate, it was another candidate, Rory Stewart, the international development secretary, who was the most vocal in attacking the front-runner.

The other central focus of the next few weeks will be what Mr. Johnson says about Brexit, given that he is very likely to emerge as the next prime minister.

Although hard-line Brexit supporters believe that he has promised them that Britain will leave the European Union, with or without an agreement on the next deadline of Oct. 31, Mr. Johnson has been less explicit in public.

During a BBC debate on Tuesday, Mr. Johnson described that timeline as "eminently feasible," a phrasing that left significant room for maneuver.

More from The Guardian, including more details about what appears to have been tactical voting by some Johnson supporters among Tory MPs in the hopes of helping Hunt and preventing a final two that consisted of Johnson and Gove:
Boris Johnson and Jeremy Hunt will battle it out to become Britain's next prime minister after a day of drama at Westminster that saw Johnson's team accused of conniving to knock his bitter rival Michael Gove out of the race.

The environment secretary drew narrowly ahead of Hunt in the fourth round of voting among Tory MPs on Thursday, which saw Sajid Javid knocked out.

But when the results of the fifth and final round were announced at 6pm, Hunt had narrowly beaten Gove, by 77 votes to 75.

Suspicions were raised by the fact that Johnson's vote increased by just three MPs between the rounds, from 157 to 160 – despite the fact that at least four Javid supporters had publicly declared their backing for Johnson, during a nail-biting afternoon of lobbying in Westminster's wood-panelled corridors.

Johnson's camp also believe remain-voting Hunt, whom some at Westminster dub "Theresa in trousers", will make a less formidable adversary than Gove, who along with Johnson was one of the leading figures in the Vote Leave campaign.

However, Conor Burns, the Bournemouth MP and a key member of the Johnson team, dismissed the idea that they had deliberately aided the foreign secretary by lending him votes.

He said: "The message came from Boris: if people want to support me they vote for me, no pissing around. We wanted at every stage to make progress. We wanted to go to the members with more than half of the party voting for Boris. That's a really strong mandate and message from our parliamentary colleagues to our members in the country – get onboard and let's bring it all together."

Gove's campaign manager, Mel Stride, the leader of the House of Commons, said he was not concerned about skulduggery from the Johnson camp. "It would appear to me everybody has behaved pretty much as one would hope," he said.

Hunt himself hit the phones in his Westminster office in the afternoon, to warn his colleagues that allowing Gove into the final pair would turn the race into a "psychodrama" between the two faces of Vote Leave.

Johnson and Hunt's names will now go forward to the Tory membership of around 140,000 – with Johnson the overwhelming favourite to take possession of the keys to No 10 next month

Before they get the chance to test their support in the House of Commons, the candidates will first have to face 16 hustings events for party members, at which the pair's plans for Brexit will come under scrutiny.

And they will also take part in a head-to-head televised debate, on ITV.

A source from Johnson's campaign team said they were looking forward to the "battle of ideas". They dismissed the idea that he could struggle to command a majority, saying, "he's shown the breadth of his appeal across the party, from Matt Hancock to Steve Baker".

Johnson used an interview with the Evening Standard on Thursday to signal that he will continue to rein in his usual flippancy, as he tries to demonstrate that he is ready for Downing Street.

"I do think it is time we had some excitement back into politics, I do, but there's also quite a serious job of work to be done," he said.

Hunt, the son of an admiral who was head boy at Charterhouse School and president of the Oxford University Conservative Association, described himself as the underdog.

"I've been the underdog right from the start and I like to prove people wrong. And the way I'm going to win this race is by showing that the best way to Brexit is by sending the European Union a prime minister they can engage with, a tough negotiator, someone who has a bottom line and won't give up until I get what is right for our country. But also someone who is prepared to walk away.".
As this chart from The Guardian shows, Johnson was the favorite among Tory MPs from the start with Hunt and Gove fighting it out for second place through all five ballots: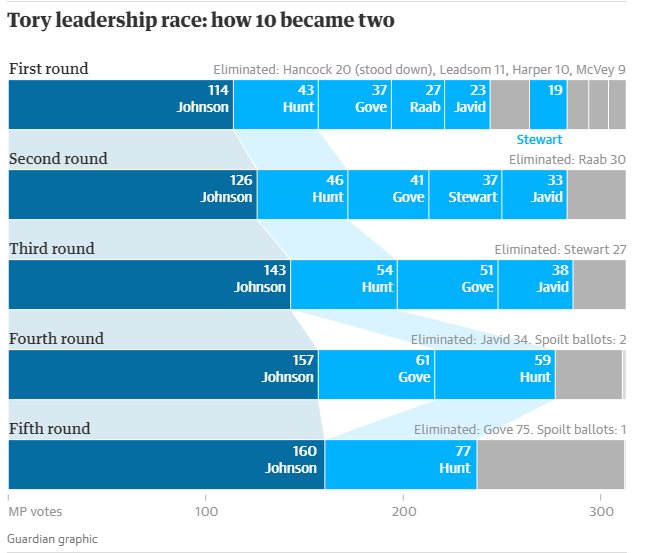 Both candidates enter the final round of the race with extensive political resumes.
Boris Johnson, for example, was born in New York City to British parents and, until he officially renounced his American citizenship in 2016, held dual American and British citizenship. In addition to attending Eton College, one of the top boarding schools in the United Kingdom, he graduated from Oxford University. He was first elected to the House of Commons in 2001 and served there until 2008 when he stepped down after a scandal-plagued second term that included allegations of wrongdoing on the job as well as an affair. Shortly after leaving Parliament, Johnson was elected Mayor of London, a position he held until 2016. In 2015, he was re-elected to Parliament and he's held that position ever since. As noted above, he served as Foreign Secretary from 2016 until he resigned in 2018 in protest over Theresa May's Brexit strategy. Since leaving the Cabinet, Johnson has obviously been waging a behind the scenes campaign to become the next Prime Minister, a goal he may now only be a few weeks away from acheiving.
Jeremy Hunt meanwhile, has an equally impressive resume. He has been a member of Parliament since 2005 and has held a number of high-ranking posts over the years. During the time that former Labour Party leader Gordon Brown was Prime Minister, Hunt served in the Tory Shadow Cabinet as Shadow Minister for Disabled People, Shadow Minister for the 2012 London Olympics, and Shadow Minister for Culture, Media, and Sport. When David Cameron became Prime Minister in 2010, Hunt became the Minister for the 2012 Olympics and Secretary of State for Culture, Media, and Sport. Under both Cameron and May, he served as Secretary of State for Health and Social Care until being elevated to Foreign Secretary in 2018 after Johnson's departure.
As things stand, it seems clear that this is Johnson's race to lose and that the best chance for Hunt to pull off a win would be if Johnson ends up pulling off a gaffe that endangers his candidacy. Absent that, which given Johnson's sometimes erratic history is entirely possible, it seems clear from this side of the Atlantic that Johnson is more likely to get the support of grassroots party members. The main reason for this is Johnson's more enthusiastic support for Brexit to the point where it seems clear that he would be fine with a hard Brexit without a deal between the United Kingdom and the European Union notwithstanding the economic and political risks associated with that kind of messy exit.
If all goes as planned, we should know the winner of the canvas of Tory membership in about six weeks or so. Whoever wins will be working on a tight timeline. The current deadline for a Brexit deal is October 31st, and if no deal is reached by then, and assuming there isn't an additional extension, then it will be a hard, no-deal, Brexit with all that entails for the United Kingdom. That means that the winner will need to hit the ground running on Brexit from the minute they take over because those three months or so that they'll have are going to go by very fast.