Clinton And Trump Clash In First Presidential Debate
It wasn't exactly Lincoln-Douglas but, in the end, Hillary Clinton clearly outperformed Donald Trump last night.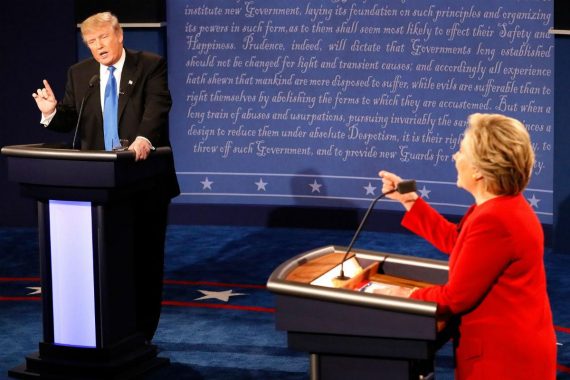 Heading into last night's first Presidential debate between Donald Trump and Hillary Clinton, one of the many questions that talking heads and pundits were batting around was which version of each candidate would show up at Hofstra University last night, and what it would mean for the election as a whole. Would we see the 'new' Donald Trump that we've seen in the past month or so, who has largely stuck to the campaign's message, avoided saying anything controversial, and basically managed to control himself, or would we see the aggressive, out of control, and 'meaner' Trump that was the focus of Republican debates for the Autumn and Winter of 2015 and the better part of 2016 through the remainder of the race for the 2016 and the beginning of the General Election cycle. On Hillary Clinton's side, the question if whether we'd see the Hillary who we had seen for most of the 2016 race, of if her recent battle with pneumonia would make it hard for her to make it through a ninety minute debate during which there would be no breaks and any repetition of the coughing fits that she had been experiencing on the campaign trail would lead to more questions about her health status. In the end, what we got was a debate in which Clinton clearly outperformed Trump, but it's not clear at all what impact that will have on the race as a whole:
In a relentlessly antagonistic debate, Donald J. Trump and Hillary Clinton clashed over trade, the Iraq war, his refusal to release his tax returns and her use of a private email server, with Mr. Trump frequently showing impatience and political inexperience as Mrs. Clinton pushed him to defend his past denigration of women and President Obama.

Mr. Trump repeatedly interrupted Mrs. Clinton and at times talked over her throughout the 90-minute debate, making slashing attacks that surely pleased his Republican base but may have been off-putting to women and undecided voters. He also left unchallenged her assertion that he paid no federal taxes for years.

For her part, Mrs. Clinton repeatedly chided Mr. Trump for bungling his facts while accusing him of hiding information about his debts to Wall Street and foreign banks.

Mr. Trump's strongest moments came early in the evening, when he put Mrs. Clinton on the defensive over her support for free trade agreements that he argues have cost Americans jobs.

But on issues of race and gender, Mr. Trump was less sure-footed. When he was pressed about what he would say to people offended by his years of questions about whether Mr. Obama was born in the United States, Mr. Trump did not respond directly, instead claiming credit for Mr. Obama's releasing his birth certificate.

"I say nothing because I was able to get him to produce it," he said of the birth certificate.

Mrs. Clinton also tried to drive a wedge between Mr. Trump and the president, whose approval ratings are on the rise. "Barack Obama is a man of great dignity, and I could tell how much it bothered him," she said of the controversy, in a clear appeal to voters who deeply admire Mr. Obama but are less enthusiastic about her.

She also broadened the issue beyond so-called birtherism, which she called a "racist lie," and accused Mr. Trump of having "a long record of engaging in racist behavior." She singled out his family's real estate company for being sued by the Justice Department in 1973 for racial discrimination.

Mr. Trump did little to rebut her charges of racism. He instead said that he had recently watched some of her debates with Mr. Obama in the 2008 Democratic primary and that she had been quite harsh on her then-rival. "You treated him with terrible disrespect," he said. But Mr. Trump himself repeatedly demeaned Mr. Obama in the debate, at one point telling Mrs. Clinton that he was "your president" and, at another, mocking Mr. Obama over his penchant for golf.

Later, Mrs. Clinton recalled Mr. Trump's stream of insults to women over the years, a determined effort by her to rally female voters to her side.

"This is a man who has called women pigs, slobs and dogs, and someone who has said pregnancy is an inconvenience to employers, who has said women don't deserve equal pay unless they do as good a job as men," Mrs. Clinton said. Referring to a be`ty pageant contestant, she continued: "He called this woman Miss Piggy. Then he called her Miss Housekeeping, because she was Latina. Donald, she has a name."

Mr. Trump did not have a forceful rejoinder, saying that most of his insults had been aimed at the comedian Rosie O'Donnell, with whom he had feuded. "I said very tough things to her, and I think everybody would agree that she deserves it, and nobody feels sorry for her," he said.

But Mr. Trump said mysteriously that he had "something extremely rough" to say about "Hillary and her family," then added, "I can't do it, I can't do it." He told CNN afterward that he was proud of "holding back" on Bill Clinton and his extramarital affairs because the Clintons' daughter, Chelsea, was in the audience.

The debate took on a surreal quality at times, with more discussion of insults like "slobs" than immigration or the Affordable Care Act. Mrs. Clinton came off as a classically prepared debater who used Mr. Trump's record and words against him at 19 separate moments, while Mr. Trump seemed to be improvising on stage much of the time. And Mr. Trump was stunningly personal in his attacks, such as questioning Mrs. Clinton's stamina.

She fired back: "As soon as he travels to 112 countries and negotiates a peace deal, a cease-fire, a release of dissidents, an opening of new opportunities in nations around the world, or even spends 11 hours testifying in front of a congressional committee, he can talk to me about stamina."

Mr. Trump also targeted Mrs. Clinton for not taking a sufficiently hard line on crime, chastising her for refusing to say "law and order."

Blacks and Hispanics, he said, "are living in hell because it's so dangerous."

He attacked Mrs. Clinton from the right on policing, suggesting that she supported "stop-and-frisk" policies but was not saying so for unstated political reasons. But in an attempt to damage her with black voters, he also invoked her use of the word "superpredator" in the 1990s to describe youthful criminals. "I think it was a terrible thing to say," he said.

The debate was like no other in the television era: The first female presidential nominee of a major party facing off against an alpha male businessman with no political experience, both of them world-famous and both of them deeply unpopular, with a potential record-setting audience of 100 million watching and hoping to see their preferred candidate blow the other to smithereens.
To be fair, Clinton did not utterly defeat Trump last night to the point where he is likely to be fatally wounded going forward. While she did score several good points on foreign policy, race relations, economic policy, and Trump's basic lack of knowledge about issues one would think a President would be well-informed about, Trump also scored his own points that at the very least likely pleased his supporters. For example, although I emphatically disagree with his policy positions when it comes to international trade and agreements such as NAFTA and the Trans Pacific Partnership, Trump used a question about job creation to effectively address those issues and to speak to an ethos that seems quite common in the Rust Belt that these agreements have been one sided and have harmed American manufacturing. He did not do quite as well when the question shifted to how he would create new jobs and precisely how he could fulfill his promise to bring back American jobs that have gone overseas, In response to a question on the second issue, for example, Trump cycled back to his trade position even though it's rather obvious that the issue of manufacturing moving overseas is more about the reality of American business taking advantage of lower costs overseas than it is about the details of international trade, Of course, Trump's argument on trade is emotional rather than fact-based to begin with so it's likely that the people with whom it resonates aren't really going to give much consideration to facts such as this.
Beyond the issue of trade, though, Trump seemed largely unprepared in a way that was readily apparent in a two-person debate during which there were no commercial interruptions. While this strategy may have worked well for him during the multi-candidate debates that took place during the race for the Republican nomination, it didn't come across well at all in a two person debate where he could not fade into the woodwork as he often did during those events, and especially not when he was being frequently and effectively challenged by an opponent who was obviously better prepared than he was. On economic policy, for example, Clinton's responses regarding what she would do to create jobs were far more detailed and precise than Trump's general-isms about trade and stopping American companies from moving overseas, something he's never really explained how he would accomplish. After about the first half hour or so, it became clear that Trump was very much a fish out of water and his lack of specificity was made apparent at several points throughout the debate thereafter. For example, this response to a question about nuclear weapons policy late in the debate made no sense whatsoever, while Clinton came across as fully prepared and knowledgeable on the subject, as you'd expect a former Secretary of State to be.
For the most part, I'd say that Lester Holt did a fine job as debate moderator, the first time he's performed such a role on the national stage that I'm aware of, but there were several issues with the format of last night's encounter that likely made it less than useful for prospective voters. Far too much time was spent, for example, on non-substantive issues such as Clinton's email server and Trump's past comments about women to the detriment of a broader discussion of issues that voters are likely most concerned about. Additionally, while detailed discussions about substantive issues did take place, there were several occasions during which Holt simply lost control of the debate. Given that he was dealing with two 'Alpha' personalities on the stage, I suppose it isn't surprising that this would happen but it did mean that there was less time for discussion and that the debate did not even come close to discussing all of the subject areas that Holt had said he wanted to touch upon before the debate began. The three people who will moderate the remaining debate would be well-advised to learn from Holt's mistakes in this area and do a better job of controlling the time so that more issues can be touched upon in the limited amount of time available.
If I had to pick a 'winner' from what James Joyner correctly referred to as a low expectations debate that fully lived up to its lack of potential, I would give Clinton the edge simply because she was the one who came across as prepared, well-informed, most at ease, and, well, Presidential, while Trump ultimately came across as if he were, in the words of one of the people I follow on Twitter, "a sixth grader bullshitting an oral report about a book he didn't read." Most of Trump's responses to questions that asked for detail were little more than repetitions of the same talking points we've heard from his speeches in the past. While that may have had his supporters cheering, it's not the kind of thing you want to hear from a candidate for President and it seems unlikely to impress voters. Additionally, Trump's return to the aggressive persona we'd seen in previous debates, while it may be something his supporters will appreciate, seems unlikely to work to Trump's advantage with the electorate as a whole. In the end, of course, how you evaluate the debate is going to depend significantly on what you thought about the candidates headed into the affair. In that regard, my own avowed disdain for Trump is likely influencing my opinion of his performance. In the end, what matters is what the voters thought, and we won't really know that for sure until the first round of post-debate polling starts rolling in later this week. My suspicion is that we'll see a slight turn back toward Clinton that will be sufficient to blunt his momentum at the national and state levels. By then, though, we'll be getting ready for the Vice-Presidential debate next Tuesday, October 4th and the next Presidential debate on Sunday October 9th.
If you missed last night's debate, you can read the transcript or watch the video below: