With One Week To Go, The Presidential Race Tightens But Clinton Still Has The Advantage
Seven days from now, millions of Americans will be headed to the polls. So far at least, Hillary Clinton is still the front runner.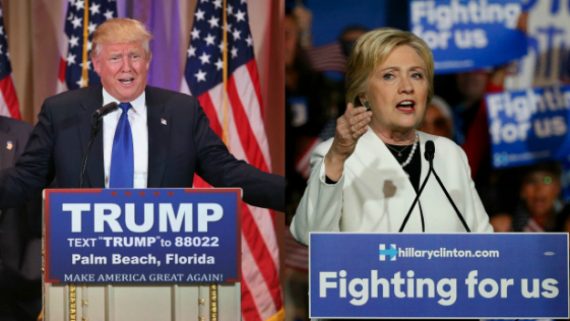 Well, here we are folks. A Presidential race that began way back in November 2014 when former Virginia Senator Jim Webb announced the formation of a Presidential Exploratory Committee, thus becoming the first prominent politician to announce their intentions regarding the 2016 election, we've come to the final week of the campaign to determine who will become the nation's 45th President, Given the fact that this has been one of the most bizarre, unique affairs in recent history, it's perhaps not a surprise that this final week looks like it's going to be marked by what's likely to be virtual non-stop obsession in the media over what's going on inside one of the Federal Government's more secretive organizations, the Federal Bureau of Investigations. The letter released late Friday by F.B.I. Director James Comey that the bureau was examining a set of emails that apparently were discovered during an investigation of former Congressman Anthony Weiner, who is accused of inappropriate conduct of a sexual nature with a minor, has dominated the headlines for three days now and seems likely to do so for a good part of this week. While it's still unclear that these emails have anything to do with Hillary Clinton or Weiner's estranged wife, and top Clinton aide, Huma Abedin, the story has nonetheless become part of the campaign and threatens to drown out the closing messages of both campaigns as the week goes on. The question overriding all of this, of course, is whether the story will have the kind of impact that would really impact Clinton to the point where the election outcome, which has been seemingly apparent for weeks, could be thrown into doubt. If early polling is any indication, the answer to that question is no, but with six days of campaigning it's anyone's guess as to what impact all of this will have.
Looking at the race from the national level, it's clear that the race is tightening again but it's unclear whether that's part of the natural tightening we've seen in past elections or whether it's something more being propelled by the news about the latest twist in the Clinton email story. Turning first to the RealClearPolitics national averages, we see that tightening that seemed to start two weeks ago has continued. In a two-way matchup, Clinton now leads Trump 47.5% to 45.3% for an average lead of 2.2 points. This is a drop from last week when she led by 5.1 points and the week before when her lead was at  7.1 points, In a four-way match, Clinton stands at 45.3% to 43.2% with Libertarian nominee Gary Johnson averaging 4.6% and Green Party nominee Jill Stein averaging 2.1%, giving Clinton an average 2.2 point lead over Trump. This is down from an average lead of 5.4 points last week and 6.0 points the week before. Pollster also shows tightening in both a two-way and a three-way race, but not to the same extent as the RCP averages.  In the RealClearPolitics polling average of the Favorable/Unfavorable question for both candidates, where we might expect to see some evidence that the email story is having an impact, both candidates continue to be viewed unfavorably but Clinton remains in a far better position than Trump, For Clinton an average of 53. 4% of respondents saying they have an unfavorable opinion of her versus 44 .1% who say they have a favorable opinion. This leaves her with an average deficit of -9.3 points, which is actually an improvement over where she was at this point last week and suggest that, at least immediately, the email story may not be having the impact some might think. This compares quite favorably to Donald Trump who stands at 59.0% unfavorable and 38.0% favorable and an average deficit of -21,0 points, which is also a slight statistical improvement for Trump. In both cases, this may be attributable to the fact that people who have made up their mind about one candidate or the other have become more favorable toward that choice.
The tightening of the race can be seen easily in this chart for the two-way race: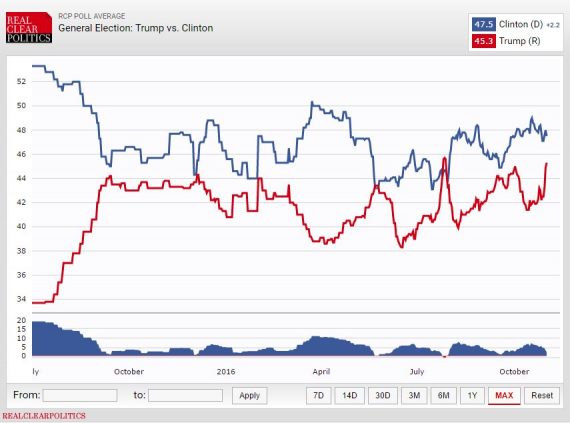 And, to some extent, in the four-way chart: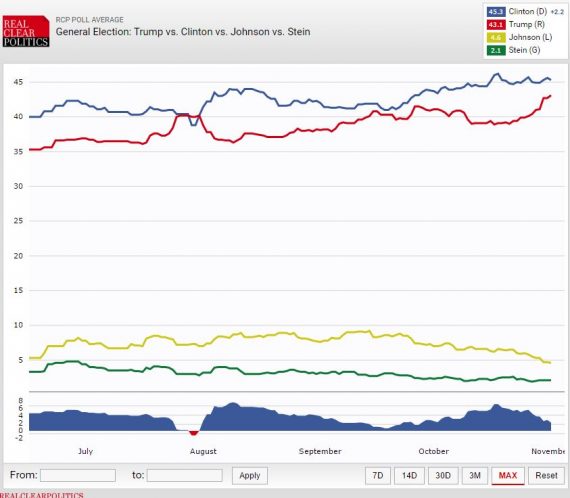 To look at the numbers and the charts, one might think that Clinton has something serious to worry about, and it may turn out as the days go on this week that we'll discover that she does, but, as I noted yesterday, it's also possible we're just seeing this year's version of end-of-race tightening. Four years ago, the last week or so of polling indicated tightening between Barack Obama and Mitt Romney at almost precisely this same time four years ago and yet when all was said and done. Similarly, the polling in 2004 showed John Kerry closing the gap with President George W. Bush to within 1.5 points. In both of those cases, the candidate leading heading into the last week of the race (Bush and Obama respectively) ended up winning the election. So, it's possible we're seeing similar tightening here but that it won't be enough to derail Clinton's campaign at the last minute. The only way to know for sure will be to keep an eye on the direction of the race, and I'm sure there will be plenty of polling data to help with that task.
For all the tightening in the national polls, Hillary Clinton's position looks far better when you look at it from the position of the Electoral College, where so far at least there have been only small changes between the candidates. The RCP Electoral Map currently gives Clinton 263 Electoral Votes, just seven fewer than needed to win, to 164 Electoral Votes for Trump and 111 Electoral Votes from seven states and one Congressional District in Maine listed as toss-ups. This is a slight loss for Clinton, and a somewhat larger gain for Trump, over last week due to shifts of a handful of states from the toss-up column to the column of one candidate or the other, but the advantage obviously still lies with Clinton since she has more apparent paths to victory than Trump does. Without toss-ups, Clinton has 304 Electoral Votes to 234 for Donald Trump. This is a slight loss for Clinton due to the fact that both Ohio and Florida have moved to slightly favor Trump at this point in the race, one of several times that one or both of these states has moved between the candidates. The most significant thing about this, of course, is that Clinton still has the possibility of a significant Electoral College win even if she loses both of those states, whereas Trump most likely cannot win without winning both states.
In the projections, Clinton's turnaround continues to be reflected there as well. Nate Silver's polls-only forecast, for example, projects a 73.8% likelihood of a Clinton victory and a 26.2% chance of a Republican victory while the 'Polls-Plus' forecast gives Clinton an 72.1% chance of winning versus 27.9% for Donald Trump and the "Now-cast," which purports to project would happen if the election were held today, showing a 72.7% chance of a Clinton victory and a 27.2% chance of a Trump victory. (Keep in mind that 538's forecast numbers can change throughout a given day as they factor newly published polls into their forecast model, these numbers represent what was displayed at the time the post was written.) These are all slips for Clinton over last week, which isn't surprising given the extent to which the race has tightened in the polls. As was the case last week, Clinton fares slightly better in Sam Wang's forecast and in Larry Sabato's forecast. The New York Times, meanwhile, gives Clinton an 88% chance of winning the race while DailyKos gives Clinton a 96% chance of winning. These are largely consistent with Clinton's position last week.
Over the next week, every poll that comes out will be scrutinized closely, and it will be easy for someone watching the coverage to get confused as we go from one "Breaking News" poll to another and it seems like one candidate is leading one day and another is leading on another. Rather than paying attention to each of those polls as if they were definitive, though, it's best to watch the national and state averages to see where the trends may be heading. For example, while it may look from the data as though Trump is closing or possibly even taking a lead, the state polls remind us where the numbers really matter and that we're still at the point where Clinton seems to be far better situated for a win than Trump does. By the time we get to the weekend, we should have a much better idea where things stand, but right now I don't see any reason to change my expectation that Clinton will ultimately be victorious, even if it is by a smaller margin than might have been thought when this process started.
Previous Posts:
With Eleven Weeks To Go, Hillary Clinton Appears To Be Unstoppable
Ten Weeks Out: The Presidential Race Tightens A Bit, But Clinton Still Lead
With Nine Weeks To Go, Clinton's Post-Convention Bounce Seems To Have Disappeared
With Eight Weeks To Go, A Tighter Race But It's Still Advantage Clinton
Presidential Race Continues To Tighten With Seven Weeks To Go
Presidential Race Remains Tight Heading Into First Debate
With Five Weeks To Go, Clinton Appears To Have Momentum
Clinton Keeps Pulling Ahead Heading Into Second Presidential Debate
With Three Weeks To Go, Clinton's Momentum Appears To Be Surging
It's Two Weeks Until Election Day, And Things Are Looking Very Good For Hillary Clinton