I'm A Political Junkie, But 2016 Has Burned Me Out
I've been something of a political news junkie for 40 years now. This year has burned me out.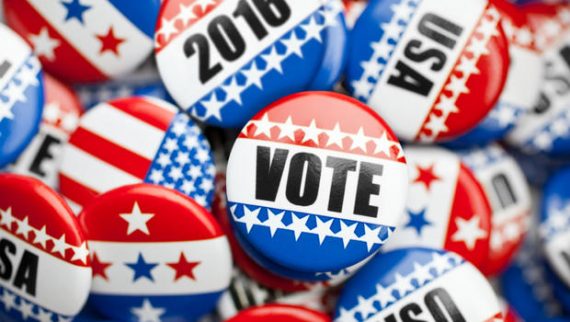 If there's anyone to blame for the fact that I turned into a "political junkie" as someone once called me, it would be my Third Grade teacher Miss Williamson. I started Third Grade in the fall of 1976 and she spent much of our time on what used to be called "Civics" and which schools by the mid-70's had started calling "Social Studies" by teaching about how a President is elected and what elections were all about by using news from the campaign between President Ford and Georgia Governor Jimmy Carter as examples. Before long I recall that I was watching news about the campaign on the nightly news — Walter Cronkite on CBS most of the time since my Grandmother, who was living with my parents and I, liked him the best — and while I can't say I fully understood everything that was going on I enjoyed the fact that I could go to school the next day and be part of the classroom discussion. Of course, the Yankees were in the World Series that year so there were some distractions, and the fact that I was only eight meant I never did get to see the debates between Ford and Carter, or the Vice-Presidential debate between Bob Dole and Walter Mondale, but by the time Election Night came I was hooked. I also wasn't able to stay up late enough to learn who won the election but, considering that the 1976 elections weren't officially called until about 3:30am Eastern time Wednesday morning, I probably wasn't alone in that respect. We spent several days after the election learning about what happened, and about what having a new President meant, and when Inauguration Day came on January 20, 1977 we got to have a television in our classroom so we could watch it. (For the younger generation, having a television in the classroom was quite uncommon when I was in public school even in the 1980s so this was a treat). That was the first Presidential Inauguration I'd ever seen, or at least that I could remember.
In any case after that, I soon found that I was really interested in politics and in what was going on in the nation. Unless I was doing something outside the house, I watched the nightly news almost every night and remember watching several Presidential speeches that President Carter gave throughout his time in office, especially after the Iranian Hostage Crisis began. By the time we got to the 1980 election, I was four years old, had more liberal rules about how late I could stay up and that gave me a chance to follow the race among Republicans to take on President Carter. The older I got the more my interest grew. I still remember staying up late on Election Night that year, and then again in 1984, watching as state by state fell into Ronald Reagan's column in his races against President Carter and Walter Mondale. (At some point during the 1984 campaign, I asked my parents if we could get a subscription to The New York Times. I'm sure they looked at me wondering what the heck I was thinking). After that, my involvement in politics became more direct. I volunteered on local campaigns, helped stuff envelopes at campaign offices, went door to door with candidates for Town Council and other local offices and the like, all before I was old enough to vote myself. When I turned 18 in 1986, I made sure to get up early so I could vote before my first class that at Rutgers. In the years that followed, I interned at a Congressional Office over the summer, spent the better part of the summer of 1988 working on a re-election campaign, worked on a campaign for New Jersey Governor and, when I moved to Virginia to go to Law School, a campaign for Congress. After Law School, the lack of as much free time as I used to have and the lack of a desire to pursue a career in politics meant that I ended up being mostly a spectator to the politics of the Clinton Era, but that was more than enough and one of my favorite activities was hanging out with a circle of friends who shared my interest and talking politics, usually while imbibing adult beverages. It was only natural, then, that when I finally got bit by the blogging bug that I would end up in the world of political blogging. Over the past eleven years, I've written more about campaigns, elections, and the mess on Capitol Hill than I ever thought I would, and the fact that my interests have extended beyond the United States to elections in the United Kingdom, Canada, and Israel in recent years doesn't really surprise me very much.
I go through this introductory if only to make clear the extent to which political news, politics, and the day-to-day fluctuations of something as large scale as an American Presidential Election has been a part of my life. It's also to put in context what I'm about to say, which is that the 2016 Presidential election has soured my opinion of politics more than any other election since I began following them some forty years ago from a desk in Miss Williamson's classroom. Even with a week to go, nothing before this has done more to make me feel depressed for the future of the country, questioning the motives and integrity of many of my fellow of Americans, and genuinely concerned about the fact that we appear to be stuck in something of a rut where both sides do nothing but shout at each other, investigate each other, make horrible insinuations about opposing candidates, and accuse each other of being a 'traitor,' or a 'racist,' simply because of which candidate they are supporting. This sense has been building for some time now, to be honest. The visceral reaction that many conservatives I knew had to the Clinton Administration was probably the first time I really had a negative reaction to the direction the country was moving, but I was still generally a Republican back then so I didn't let it bother me too much. Once the impeachment crisis rolled around, it seemed as though a lot of people had gone off the deep end, though, and the fact that I had generally become more of a libertarian by then meant that I gradually felt less and less at home in the GOP. I still followed elections, and polls, and all that fun stuff, but my investment in whether the red side or the blue side won was already starting to wane by the time the 2000 elections rolled around. When the September 11th attacks happened, there was a time for awhile when it seemed like the partisan hyperbole had gone out of style, but that didn't last long. The Bush Administration's foolish push for a war in Iraq, combined with a Congress that seemed more concerned with pursuing a far right social agenda than governing, made it easy to fall back on cynicism. Despite that, I kept eagerly following elections, especially at the national level, and when the chance came to write about the subject on a regular basis I found that becoming something of an analyst rather than a cynical GOP expatriate was perfect for me. Then, 2016 rolled around.
Without question, it has been the entry of Donald Trump into the race that has done the most to turn me off this time around. Having grown up in the New York City tri-state area, the Donald Trump sideshow was something that I'd become rather used to by the time he had 'reinvented' himself as the host of a reality show on NBC, but the idea of someone like him being a serious candidate for President was so bizarre to me that I simply dismissed the idea as ridiculous. When he was teasing the media about running for President in 2012 by going around the nation raising the ridiculous notion that President Obama wasn't born in the United States it seemed clear to me that, as he had many times in the 80's and 90's, he was trolling the media in an effort to draw attention to himself and his television show. When it became clear that this wasn't the case this time around, and that he was actually resonating among Republican voters, I found myself getting more disheartened with every poll result and every primary victory. Why couldn't people see what this guy was really about? Why didn't any of Trump's rivals attack him more directly? Why was the media giving him all of that free air time when he just kept saying the same thing over and over again? And, most importantly, who were these people who showed up at his rallies and cheered at everything he said no matter how venal, xenophobic, or quasi-racist it actually was? On the Democratic side, there's a party stuck on advocating policy ideas that have as little basis in reality and a nominee whose judgment leaves much to be desired based both on her record and on repeated indications that electing her would likely mean a continuation of foreign policy ideas that have been failing for a decade now and one of the least transparent Presidencies in recent memory. Indeed it seems as if, for many people, the only reason they can come up with for why they support Hillary Clinton is the fact that they don't support Donald Trump. Those of us who don't support either one of them, meanwhile, are accused of being irresponsible because we've decided that neither one of these candidates deserve our support.  Yes, I will admit that I will be happy if Donald Trump loses, especially if that loss turns out to be massive enough to send a message to the party that nominated him to stop playing with fire. However, the prospect of four or eight years of Hillary Clinton, which likely means four to eight years of more gridlock, Congressional hearings on topics that have already been covered by previous hearings, and failure to do any of the things that could get done if the people only Capitol Hill stopped letting themselves be manipulated by the fringe elements of their party doesn't give one much to look forward to, especially when it means that our problems will only get more serious as time goes on. Now, here we sit with one week left before Election Day, the polls are tightening, and the media at least is acting as if there's still either one of these candidates could win even those it seems apparent that isn't the case. It's enough to make anyone sick, even someone for whom following these elections has been second nature for the better part of forty years.
Make no mistake, I'll still be following the polls this week, and I'll be watching on Election Night as the results pour in, but the excitement just isn't there anymore and this past year has been the main reason why.