Former President Carter Warns His Party Against Drifting To The Left
Former President Jimmy Carter is warning his party against drifting too far left as we head into the midterms and, beyond that, the 2020 campaign cycle.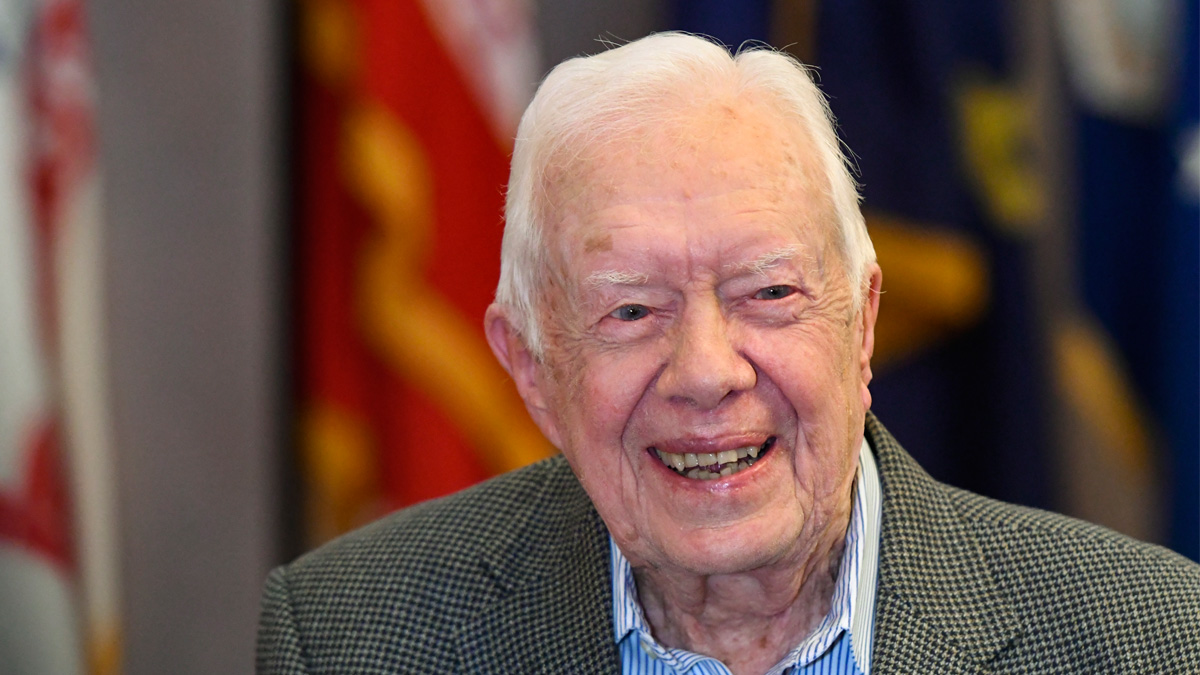 Former President Jimmy Carter has a warning for his fellow Democrats, don't move too far to the left:
Jimmy Carter has issued a warning to his fellow Democrats looking to oust the Trump administration: don't go too far to the left.

"Independents need to know they can invest their vote in the Democratic party," the former US president said in an annual address he gives at his post-presidential center and library in Atlanta.

Carter advised caution about the political consequences should Democrats"move to a very liberal program, like universal health care".

That is delicate and, Carter acknowledged, even contradictory advice coming from the 93-year-old former president, and it underscores the complicated political calculations for Democrats as they prepare for the November midterms and look ahead to the 2020 presidential election.

"Rosie and I voted for Bernie Sanders in the past," Carter noted.

He was referring to his wife, Rosalynn, and their support for the Vermont senator, the independent who identifies as a Democratic socialist, over Hillary Clinton in the 2016 Democratic presidential primary.

In his address on Tuesday, Carter also said he sees little hope for America to change its human rights and environmental policies as long as Donald Trump is in the White House.

He singled out Trump's policy of separating immigrant families at the border, including those seeking asylum.

"America is inherently committed to human rights, and I think in the future we will let that prevail," Carter said, "but for the next two years, I can't predict the imprisoned children are going to be any better off unfortunately."

(…)

Meanwhile Carter stressed that Democrats nationally must "appeal to independents", who he warned are souring on the current administration.

There is some historical irony in Carter's analysis. He came to the White House in 1976 from the moderate wing of the Democratic party. He clashed with party liberals and was later unable to win over independents – who voted Republican and helped deliver a landslide victory for Ronald Reagan in 1980.
These remarks come just about a week after the former President said that Democrats should avoid basing the 2018 campaign on impeachment:
WASHINGTON – Former President Jimmy Carter said Tuesday that talking about impeaching President Donald Trump is "the wrong thing for Democrats to do."

"I don't talk about impeachment," the Georgia Democrat told anchor Neil Cavuto in an interview on the Fox Business Network. "I think that's the wrong thing for Democrats to do."

Carter was elected president after the Watergate scandal forced former President Richard Nixon to resign rather than face impeachment.

Carter made his comments in response to a question from Cavuto about Democrats "salivating" at their prospects of winning control of the House from Republicans in November. The Fox anchor said that "many" Democrats are talking about impeaching Trump if they gain the majority.

In reality, most Democrats have shied away from the controversial subject this election year while special counsel Robert Mueller continues his investigation of Russian interference in the 2016 election and possible collusion between the Trump campaign and the Kremlin.

Republicans, however, have been warning voters that Democrats will try to impeach Trump if Democrats wins the majority in the House. But, even if the House were to impeach Trump, he would have to be tried in the Senate. Few analysts believe that Democrats will win control of the Senate this year.

Cavuto also asked Carter about Trump's claims that the stock market would collapse if Democrats impeached him. Carter expressed skepticism about Trump's assertion.

"You know, I think the president has much less influence over the economy than is certainly publicized by the president himself," Carter said. "But whenever the economy goes up, the president always wants to take credit for it. Whenever the economy goes down, the president wants to avoid responsibility. And I think it's been that way in our country ever since we started.
In evaluating these comments, it's worth remembering that, Republican rhetoric notwithstanding, Jimmy Carter was not and is not someone who can fairly be said to come from the left-wing of the Democratic Party. When he was nominated in 1976, and before that when he served as Governor of Georgia, he was widely seen as a counter-argument to the forces on the left that had taken over the nomination process in 1972 and led the party to nominate George McGovern. More or less, Carter was a party of the tradition of centrist to somewhat conservative Democrats that came out of the South in the years before the Republican Party completed its takeover of politics in that era. This also comes notwithstanding the fact that he ended up supporting Bernie Sanders in the 2016 Presidential election, a fact that can largely be explained by the fact that Carter had never been an enthusiastic fan of the Clinton wing of the party going back to the years when Bill Clinton was President. To some extent, this explains Carter's words of warning to his party as they head toward the 2018 midterms and the 2020 Presidential election.
Regardless of what wing of the Democratic Party the former President comes from, though, Democrats would do well to heed his advice both regarding the warning not to drift too far to the left and the warning against concentrating too much on the idea of impeaching President Trump should they gain control of one or both houses of Congress in November. On the first element, Carter's advice would seem to be axiomatic. If Democrats are going to win in November or beyond, they are going to have to attract voters beyond their base and beyond the vocal elements of the so-called "progressive" wing of the party that seem to be trying to take over party messaging at this point. This means finding a way to have a party that includes candidates such as Doug Jones, Joe Manchin, and Heidi Heitkamp as well as candidates like Alexandria Ocasio-Cortez, Andrew Gillum, and Ayanna Pressley.
On the second point regarding not focusing on impeachment, Carter is correct for two reasons.
First of all, talk of impeachment prior to the midterms is just as likely to stir up enthusiasm among Trump supporters as it is to energize the Democratic base. This could be the difference between winning and losing in marginal districts and states. Instead of focusing on impeachment per se Democrats ought to focus on the fact that the Republicans in Congress have utterly failed in their Constitutional duty to act as a check and balance on the Executive Branch and have instead, with a handful of notable exceptions that mainly consist of Congressman and Senators who are retiring at the end of their terms, acted as political toadies willing to look the other way as this President undermines political norms, attacks freedom of the press and the Rule of Law, and seeks to undermine the investigation being conducted by Special Counsel Robert Mueller. This is in addition, of course, to running on the issues that they believe will resonate in their particular districts and states, but the overall message ought to be one in which Democrats as a whole focus on the idea of being the kind of check that the Constitution intended for an out-of-control Executive.
The second reason not to concentrate on impeachment as a campaign message is the fact that, ultimately, it's not likely to result in Trump's removal from office. Obviously, if Democrats win control of the House they will have enough votes to approve Articles of Impeachment against the President, but that's as far as it's likely to get. Even if Democrats do win back control of the Senate, they aren't going to have enough votes to convict and remove the President. For that to happen, they'd need the support of up to a dozen Republican Senators, and that's unlikely to happen absent clear and convincing evidence of laws having been broken that makes it impossible for the GOP to deny reality. As a result, we'd end up with the same situation we saw with the impeachments of Andrew Johnson and Bill Clinton, an acquitted President who would likely take the result of any Senate trial as vindication and victory. Heck, it could even mean to the public rallying behind the President just as we head into the 2020 election cycle. At that point, Democrats will have to deal with both a failed effort at impeachment and a disappointed base that very well could take their frustrations out on their own party.
Will Democrats listen to Carter? That remains to be seen, but they'd be wise to do so.