Jim Webb Announces Presidential Exploratory Committee
Former Senator Jim Webb is the first Democrat to kinda, sorta, throw his hat into the ring for 2016.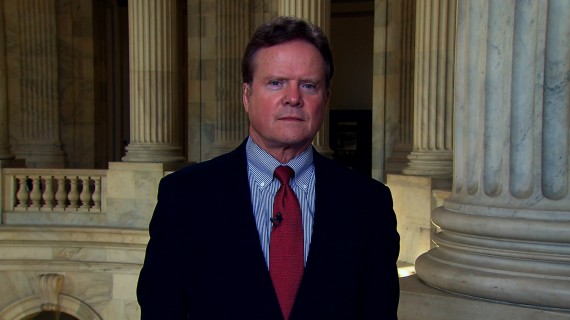 Former Virginia Senator Jim Webb, who retired from the Senate after one term at the end of 2012 rather than running for re-election, has become the first Democrat to take steps toward running for President in 2016:
Former Virginia Sen. Jim Webb became the first well-known Democrat to launch an exploratory committee to run for president on Wednesday night, saying the nation is at a "serious crossroads."

"I have decided to launch an Exploratory Committee to examine whether I should run for President in 2016," Webb said in a four-page letter on his website, Webb2016.

"I made this decision after reflecting on numerous political commentaries and listening to many knowledgeable people. I look forward to listening and talking with more people in the coming months as I decide whether or not to run."

The Vietnam veteran added, "A strong majority of Americans agree that we are at a serious crossroads. In my view the solutions are not simply political, but those of leadership. I learned long ago on the battlefields of Vietnam that in a crisis, there is no substitute for clear-eyed leadership."

Webb, who was Ronald Reagan's Navy secretary and who has held centrist views on a number of issues, has been bolstered by progressive news outlet The Nation as a potential challenge from the left to Hillary Clinton, the dominant front-runner who hasn't yet said if she will launch a second national campaign.

"With enough financial support to conduct a first-class campaign, I have no doubt that we can put these issues squarely before the American people and gain their support," said Webb, acknowledging his underdog status against a likely Clinton fundraising juggernaut.
Bloomberg's David Weigel notes that Webb has long been a critic of his own party, but gave no real indication until recently that he might be interesting in running for President:
After the Democrats' 2010 election rout, Webb spoke out with unusual candor about the ways the party had lost working class white voters. He announced just three months later that he would retire from the Senate, clearing a path for the much more electorally-inclined Tim Kaine to run for his seat. In 2012, a liberated Webb kept on criticizing the way Democrats had governed under Barack Obama. He returned to the campaign trail to stump for the president anyway.

Still, until this summer, Webb gave every indication that he was finished with politics. His memoir, I Heard My Country Calling, began with a vignette from the day Webb cleaned out his Senate office.

"I heard my father's voice:  If you're going to miss it, then maybe you should have stayed, Sonny Boy," wrote Webb. "No. It was definitely time to go."

Yet while promoting that book, Webb gave an interview to USA Today's Susan Page in which he refused to rule out a presidential run. Six months later, he is the first kind-of candidate for president of either party.
Weigel notes that, in his announcements video, Webb doesn't necessarily make it clear which party's nomination he's considering running for, but it seems clear that he still considers himself a Democrat and that he would be seeking the Democratic Party's nomination. Obviously, with Hillary Clinton most likely running as well and pretty much everyone assuming that the nomination is hers absent some truly serious mistakes on her part, a Webb candidacy would be somewhat quixotic, but to be fair that's something that could be said of anyone else who gets into the race against Hillary this time around. Webb no doubt recognizes this fact, as do the other potential Democratic candidates, but as we've seen many times in the past running to win is only one of the many reasons that someone might run for President, or in this case set up an exploratory committee. In Webb's case, some of that reasoning can be seen in earlier coverage of his trips to Iowa during the midterm campaign when he often his on populist themes such as income inequality but also emphasized foreign policy issues, which is an area where other "alternative" Democratic candidates such as Bernie Sanders, Elizabeth Warren, and Brian Schweitzer are notably lacking. Granted, this is also a policy field where Clinton herself has quite an extensive resume thanks to her time as Secretary of State, but if Webb did run on a campaign of questioning much of the foreign policy record that Clinton is quite obviously going to claim as an asset then that could create quite an interesting conflict between the two candidates.
All that being said, as I said when the possibility of a Webb candidacy first came up earlier this year, the idea of Jim Webb running for President does seem kind of odd given his own political history. Webb was not, as Virginia's own Larry Sabato has noted, a particularly good politician even if one classifies him as a good Senator. Most notably, it's worth remembering that he was a reluctant candidate against George Allen in 2006, requiring some significant coaxing from Virginia Democrats before he finally jumped into the race, and he has never really seemed to enjoy the day-to-day slog of actually campaigning for office. Considering that this is exactly what Webb would be committing himself to for the next year or more at least in states like Iowa, New Hampshire, and South Carolina where face-to-face campaigning rather than speeches at big rallies and television appearances are not only expected but very much required of serious candidates for President, one has to wonder just how committed he would be to running if this exploratory committee actually turned into a campaign at some point in the future. Additionally, some media reports describe Webb coming across as gruff in personal interactions with voters, and that's not necessarily something that is going to go over well in the early states where, if his campaign was going to turn into something more than a vanity exercise, he would need to do better than expected against a candidate that everyone assumes is going to be the nominee in a walkaway. Inevitably, there is going to be someone running on the Democratic side that the media will focus on, even for a brief period of time, only because coverage of what looks like a Clinton coronation is going to get very boring very fast. Whether Webb is that person or not is going to depend a lot on whether or not he can put aside much of his seeming aversion to retail politics, because if he can't then it will be a very short campaign for him.
In any case, here's the video where Webb launches his committee: