Jim Webb For President?
The former Virginia Senator is talking about running for President.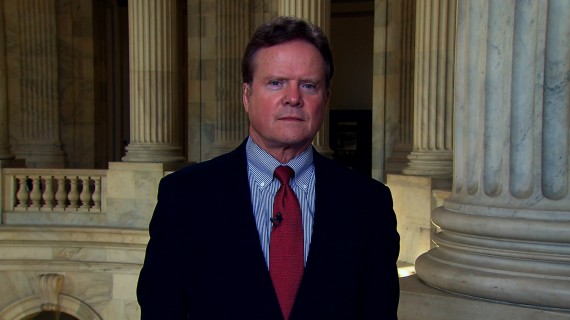 Former Virginia Senator Jim Webb, who declined to run for re-election after serving just one term after expressing frustration with the way Washington is run, seems to be seriously considering the idea of running for President as a Democrat in 2016:
Former Virginia Sen. Jim Webb said Tuesday that he is "seriously looking at the possibility" of running for president in 2016, in a speech to a roomful of reporters in which he laid out a set of policy concerns and goals for government.

Should he follow through, Mr. Webb, a Democrat, would make an intriguing challenger to the party's presumptive front-runner, Hillary Clinton. A former senator who chose not to seek a second term, Mr. Webb also has been secretary of the Navy and served in combat in Vietnam. Democrats would have a second option for a nominee seasoned in international affairs at a time when national security is again a major issue.

Mr. Webb, 68 years old, spoke of income inequality and other domestic issues, but he devoted the bulk of his address at the National Press Club in Washington to U.S. involvement abroad. He offered a harsh assessment of the Obamaadministration's foreign policy, calling the country "adrift."

"Our foreign policy has become a tangled mess in many cases of what can only be called situational ethics," he said. "In the area of international relations, it's not a healthy thing when the world's dominant military and economic power has a policy based on vagueness."

He said the lack of a clear foreign policy had caused the U.S. to become entangled in a series of crises in the Middle East.

Mr. Webb, who was elected to the Senate in 2006, did not explicitly criticize the U.S. airstrikes against Islamic State militants in Iraq and Syria. But he quoted advice he was given while in Beirut in the 1980s to "never get involved in a five-sided argument," and he cautioned against U.S. forces getting overly involved. "We should never become an occupying force in that part of the world," he said.

On President Barack Obama's decision to order airstrikes in Syria, he said, "The question of judgment will remain to be seen."
If Hillary Clinton does run for the Democratic nomination, which seems fairly certain at this point, then Webb would obviously not be in any better position to challenge her seeming inevitability than any other candidate, and if she doesn't run than Webb would be a very small player in what would quickly become a very crowded Democratic field. Assuming Hillary runs, though, Webb seems to be suggesting that he would play the role of the alternative candidate pushing issues that Clinton would likely avoid in her campaign and, in some way, perhaps pushing Clinton to tackle those issues herself. This has also been the idea behind the speculation that people like Elizabeth Warren, Brian Schweitzer, and Bernie Sanders might toss their own hats in the ring, notwithstanding the fact that at least on of them, Warren, has explicitly said that she's not running on several occasions, The difference between these candidates and Webb, though, is that each of them has some appeal among the liberal base of the Democratic Party that seems to be pushing for something more than a coronation in 2016. Webb doesn't really have those links. He's somewhat of a populist like Schweitzer, I suppose, but politically he's far more middle of the road than any of those three and, indeed, perhaps to the right of Clinton on some issues, which isn't really the path to any kind of success in the Democratic Party.
There are other negatives when it comes to a Webb candidacy. As Larry Sabato noted when Webb declined to run for re-election in 2012, while he may have been a good Senator, Webb isn't a particularly good politician and he clearly doesn't enjoy the kind of campaigning that someone running for President would need to do on a daily basis if their candidacy is going to go anywhere at all. This was something that was, quite honestly, evident even when Webb first ran for Senator in 2006, especially given the fact that it reportedly took a significant amount of cajoling from state and national leaders for him to agree to run in the first place. Many saw the fact that he didn't run for re-election as a reflect of this disdain for the "meat and potatoes" of politics as well. If you're going to run for President, you'd better like campaigning because that's all you're going to be doing for the better part of a year. Additionally, Webb has said things in the past that are likely not going to go over well with Democrats, such as his stated fondness for his Confederate ancestry and denunciation of attacks on the Confederacy and his statement in 2004 that John Kerry should be condemned for his actions after returning him from the Vietnam War. Finally, as Aaron Blake notes, Webb is not exactly the most charismatic person on the planet, and while this is arguably not something that should matter when picking a President, it does matter and it's not something that is easily fixed.
So, Webb may be thinking about running for President, but at this point it's hard to see how he'd be a serious challenger to Hillary Clinton.