No, Jim Webb Probably Would Not Be A Viable Independent Candidate For President
Jim Webb's recent criticism of Hillary Clinton is renewing speculation about an independent bid for the White House, but he hardly seems like a viable candidate for such a run.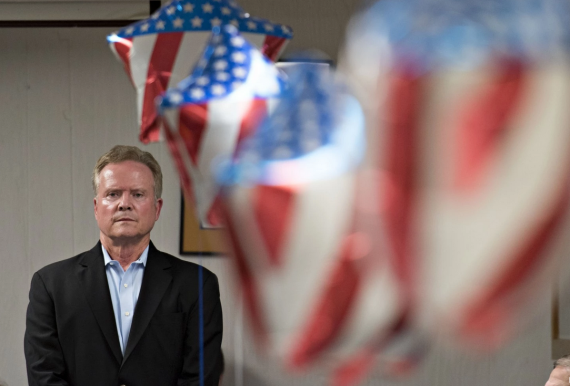 Former Virginia Senator Jim Webb, who briefly ran a quixotic bid for the Democratic nomination for President before dropping out shortly after the first Democratic debate amid speculation that he might take up an independent bid for the White House is getting attention again for criticism directed at Hillary Clinton leading to another round of speculation that he might run for President in the fall after all:
When Jim Webb quit the Democratic presidential race on Oct. 20 amid low poll numbers and a minimal debate presence, the former Virginia senator left open the possibility he'd return for a White House run in a different political guise. Now he appears to be edging closer to making good on it.

On Saturday morning, Webb used Twitter and his Facebook page to attack Democratic front-runner Hillary Clinton for her handling of Libya during her time as secretary of state.

The lengthy condemnation on Facebook, which said, among other things that "Clinton should be called to account for her inept leadership that brought about the chaos in Libya," came just days before the end of the year, which his team had previously told CNN would be reasonable time for them to make a decision about an independent bid.

Since dropping out of the race for the Democratic nomination, Webb has continued to maintain his Webb2016 website, which he has updated with posts about the possibilities of an independent run. On Twitter, he and his fans have been promoting a #WebbNation hashtag.

A run by Webb, who often manages his own social media accounts and has also used them recently to promote a petition in favor of his run and to deliver kudos to Bernie Sanders in his battles with the Democratic National Committee ("nothing more than an arm for the Clinton campaign," Webb tweeted), could further complicate the already unpredictable 2016 election.

While observers typically have analyzed the prospect of a third-party or independent run by Republican front-runner Donald Trump—or even one from Sanders—Webb could still alter the dynamics of the race even with his smaller profile.

A recent CNN poll, for instance, forecast tight races between Clinton and several Republican contenders in hypothetical match-ups for the general election. Webb's campaign has told Bloomberg Politics it would concentrate on mobilizing voters in the ideological middle, along with people who have become dissatisfied with politics.

In a tight race, even a small base of support could make him a factor. Ralph Nader, for instance, famously won only small percentages of the vote in many states in the 2000 presidential election, yet that arguably helped tip the Electoral College vote to then-Texas Governor George W. Bush, denying Democratic Vice President Al Gore, the winner of the popular vote, the presidency.

Webb could also get a boost from the organizers of the general election debates, who arepreparing for the possibility of three candidates onstage, albeit ones who thus far, have managed to command far more support than Webb the roughly one percent of Democratic support Webb managed to muster by the time he quote the race.

There's no ensuring that Webb would be a spoiler for Clinton even as he attacks her. Although he ran as a Democrat to serve in the Senate, he is a highly decorated Vietnam veteran who also served for a time as President Reagan's secretary of the navy and haswon conservative plaudits. Even Saturday's attack echoed the talking points of Republican candidates and groups.

His public statements, meanwhile, have focused economic populism and breaking the monopoly of the two-party system.

Despite the apparent escalation of his interest in an independent bid and his aides previously stated interest in making Webb's intentions known by the beginning of 2016, history suggests he could toy with voters for quite some time. Webb missed his own self-imposed deadline for getting into the Democratic race and blatantly disregarded conventional wisdom on political timing when finally declared hours before the beginning of the July 4 holiday.

In addition, the earliest state deadline for submitting signatures for an independent presidential run is May 9 in Texas, according to Ballot Access News. Given that most filing deadlines occur in August, Webb's post-Christmas social activity could be another trial balloon.
You should be able to read Webb's rather long Facebook post at the link as well as additional coverage of his comments from John Fund at National Review, who focuses on the political impact that a Webb independent run might actually have on what appears at least for the moment to be the same kind of closely fought General Election battle that we've become used to over the past several election cycles. Others, such as Taylor Millard at Hot Air, have also argued that Webb could potentially meld the populism that both Donald Trump and Bernie Sanders have tapped into in their respective, and seemingly completely nonidentical campaigns for their party's nominations. And, of course, the cable news media has speculated many times about the impact that a Webb independent bid could have on the electoral calculus that will decide who the next President will be.
In the end, though, this all strikes me as an utterly pointless endeavor, especially in the case of a candidate like Jim Webb.
First of all, it's hard to see exactly where Webb would draw support from in a closely fought campaign between Hillary Clinton on the one hand and whomever the Republican nominee is on the other. When he was running for President, Webb's platform was an odd mixture of economic populism not too dissimilar from what one hears from Bernie Sanders and criticism of the foreign policy of the Bush and Obama Administrations combined with some distinctly right-wing positions on issues such as gun control and the Confederate flag. Some might argue that a candidate like this could potentially draw support from both a Republican and a Democratic candidate, but given how polarized our political system has become, it strikes me as unlikely that a candidate who is seemingly trying to "bridge the divide" between left and right is unlikely to attract people who are already going to be committed to voting for one candidate or another, whether its because they support that candidate or (more likely) because they so vehemently despise the other candidate that they are willing to vote for the most viable alternative candidate, and that's not going to be Jim Webb.
The bigger issue that a Jim Webb independent campaign would face, though, is the fact that it's not at all clear that Webb would even be able to mount a viable campaign to begin with. As I've noted when discussing the possibility of an independent bid by Donald Trump, running as an independent for President is not an easy affair, it requires the resources necessary to get on the ballot in fifty-one separate jurisdictions. They'd need the resources for a nationwide campaign that would be independent of any type of party organization that being the nominee of a major, or even minor, party would provide. And, of course, they'd need money to run a media campaign that would at least be somewhat competitive with that of the two major party candidates. Finally, if they fail to hit something close to 15% in national polling, then it's unlikely that an independent candidate would be invited to any of the televised Presidential debates. Given the fact that Webb raised less than one million dollars during the time he was a Democratic candidate, and that he never got above one percent in the polls, it's difficult to see how Webb could pull any of this off.