Jim Webb Is Running For President For Some Reason
Former Virginia Senator Jim Webb is running for President for reasons I would assume make sense to him.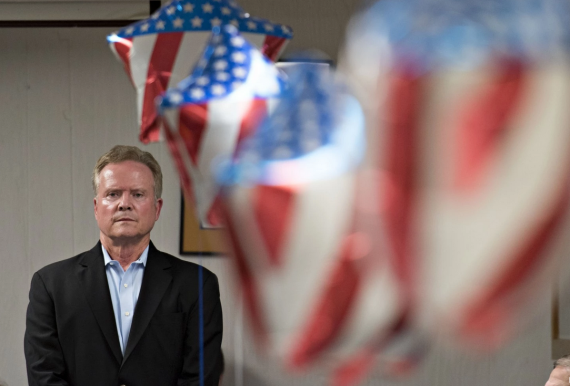 Former Virginia Senator Jim Webb has announced his candidacy for the Democratic nomination for President:
Democrat Jim Webb, the former Virginia senator, jumped into the presidential race with an email announcing his candidacy on Thursday afternoon.

"I understand the odds, particularly in today's political climate where fair debate is so often drowned out by huge sums of money," Webb wrote in the roughly 2,000-word email. "I know that more than one candidate in this process intends to raise at least a billion dollars – some estimates run as high as two billion dollars – in direct and indirect financial support."

Webb is a long-shot for the nomination in a field dominated by Hillary Clinton, and which also features a surging Bernie Sanders — not to mention Martin O'Malley and Lincoln Chafee. While Webb has traveled to early-voting states and begun to build a bare-bones political operation, he remains near the bottom of Democratic polls in Iowa, New Hampshire, and nationwide.

"Our country needs a fresh approach to solving the problems that confront us and too often unnecessarily divide us. We need to shake the hold of these shadow elites on our political process," Webb wrote. "And at the same time our fellow Americans need proven, experienced leadership that can be trusted to move us forward from a new President's first days in office. I believe I can offer both."
The fact that Webb is announcing on the day before a long holiday weekend is, of course rather odd given the fact that he is essentially giving up any opportunity for positive news coverage that usually accompanies these announcements. Then again, there's been a lot about Webb's journey today that has been quite odd. He announced the formation of a Presidential Exploratory Committee back in November, long before any other Democratic President and before most Republican candidates had even started venturing onto their own crowded field. In the nearly eight months that followed, he has spent a lot of time on the ground in Iowa and New Hampshire, apparently, but he has been something of a non-entity on national news coverage to the point where he's probably about as well known as fellow candidates Martin O'Malley and Lincoln Chafee. This is evidence by his standing in the polls nationally, as well as states such as Iowa, New Hampshire, South Carolina, and Florida, where he's basically down at the bottom pack while Hillary Clinton and Bernie Sanders suck up the oxygen in the race. Most recently, he seemed to signal that he wasn't running by becoming the only candidate or potential candidate for President in either party to defend the Confederate flag in the wake of the Charleston murders. While this was consistent with things that Webb has said in the past on the issue, it was an odd position to take at the time and one that Webb's fellow Democrats are likely to have many questions about going forward. Add into this fact that Webb has clearly never been a fan of electoral campaigning, as evidence by how difficult it was to get him to run against George Allen in 2006 and then his decision not to run for re-election in 2012, and the idea of Jim Webb as a candidate for President is just very strange.
Perhaps there's an opening for Webb that I'm missing. As it stands, though, the only viable route for someone running against Hilary Clinton is to campaign to her left on economic issues such as income inequality, trade, and taxation. While Webb has been hitting many of these themes on the trial in Iowa over the past months, at the moment that position is being dominated by Bernie Sanders, who announced just today that he had raised a rather impressive $15,000,000 in the FEC reporting quarter than ended on Tuesday. Just last night, Sanders drew a crowd estimated at 10,000 people to an auditorium in Madison, Wisconsin. Clearly, he's hitting a nerve with at least some segment of the Democratic Party. Webb might have been able to do that himself had he gotten into the race sooner, but at this point it seems like the position of principal opponent to Hillary Clinton has been taken and I don't think Webb is going to be able to take away from Sanders by himself.