Jim Webb: The Last Of The Reagan Democrats
Virginia Senator Jim Webb is the last of a dying breed of Democrats, but his party may need him if it wants to remain competitive anywhere outside of a Blue State.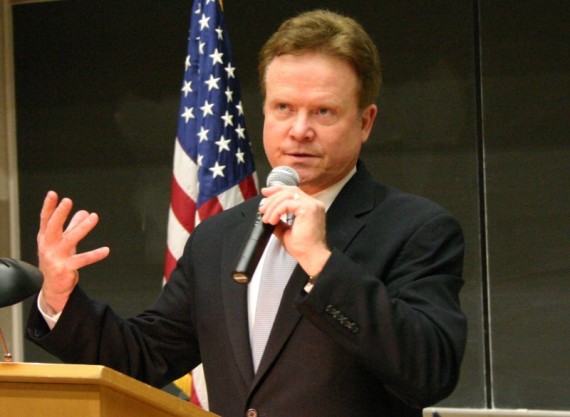 RealClearPolitics' David Paul Kuhn has an interesting profile of Virginia's Senior Senator Jim Webb, who seems to be rather alone in the Senate right now:
Jim Webb went to the White House last September. The Virginia senator was meeting with the president to discuss Guantanamo detainees. The conversation soon shifted to healthcare. "I told him this was going to be a disaster," Webb recalls. "The president believed it was all going to work out."

Democratic leaders broadly believed it was all going to work out. The stimulus, healthcare, cap and trade. Americans were to come around to the left side.

We're talking about why voters didn't come around. Webb is weighing my report the morning after the election: Democrats won the smallest share of white voters in any congressional election since World War II.

"I've been warning them," Webb says, sighing, resting his chin on his hand. "I've been having discussions with our leadership ever since I've been up here. I decided to run as a Democrat because I happen to strongly believe in Jeffersonian democracy. There needs to be one party that very clearly represents the interests of working people … I'm very concerned about the transactional nature of the Democratic Party. Its evolved too strongly into interest groups rather than representing working people, including small business people."

This is a decades-old rebuke, one uttered today by moderate Democrats like Webb. The balkanized coalition never came to recognize the vice of its virtues. Diverse interests sometimes severed it from the majority's interests. That fissure moved political tectonics by the 1980s. And we came to know these migrating voters by the president who won their favor.

Webb is a Reagan Democrat who returned home. He was Ronald Reagan's Navy secretary. Almost two decades later, he was the Democrat who scrapped out a win in Virginia.

(…)

Webb represents an endangered species. It's more than his red state Democratic stature, although that would be reason enough. The moderate House Democratic coalition lost more than half its lawmakers last week. But that Blue Dog set is still more common than Webb.

Webb's one of the last FDR Democrats. An economic populist. A national security hawk. His Democratic politics are less concerned with social groups than social equality (of opportunity, not outcome). His values were predominant in the Democrat Party from FDR to JFK, the period in the twentieth century when Democrats were also dominant.

Webb walks to this older Democratic beat. Today's Democrats' are more McGovern than JFK. (Could a John Kennedy win the Democratic nomination today?)

Democrats looked like McGovern on Tuesday. It was that bad historically, for congressional elections. The election's passage has liberated Webb (a little). He's privately raised issues throughout Barack Obama's tenure. Some frustration is tactical. He told Rahm Emanuel last June that the president should provide a "very specific format" for his vision of healthcare reform. It would have offset the, in Webb's words, "complex amorphous leviathan that bubbled up out of five committees."

"A lot of people in this country, when they look up here, they want to see leadership. They want to see credibility. And they are not always the same thing," Webb says. "The healthcare issue really took away a lot of the credibility of the new leadership–Obama particularly–the Reid-Pelosi-Obama trio."
In many ways, Webb represents the type of Democrat we used to see during the Cold War. Not just JFK, but also men like Henry "Scoop" Jackson and Sam Nunn, who were too liberal on economic and social issues to be considered Republicans, but were equally uncomfortable sitting next to the anti-war liberals that came to power in the 80's, and then again in the 2000's. In many ways, though, it was only because he is a Reagan Democrat that Jim Webb was able to mount a serious challenge to Senator George Allen in 2006.
What isn't clear, though, is whether he's running again:
But is Webb running again?

"Still sorting that out," he replies. "I'm not saying I'm not."

That is not a rousing assurance that he is, however.
Indeed not, and Democrats would have a very tough time running another candidate in Webb's place against George Allen, who many expect will run for his old seat in 2012, and is widely expected to be able to easily win the GOP nomination if he does. Barack Obama may have won the state in 2008, but Democrats have not had much success in the Old Dominion since then. They lost all three statewide races in 2009, and at least three Congressional races last Tuesday. The prospects for anyone other than Webb in 2012 would be grim, and even Webb wouldn't be a lock given the extent to which the state has shifted to the GOP over the past four years. Losing Webb would be bad news for Democrats:
Liberals often seem to view Webb's breed of Democrat more like frenemies. There was Glenn Greenwald, typical among many liberal writers the morning after the election, explaining why he viewed "last night's Blue Dog losses with happiness." This is par for partisan flanks. We saw it on the right this year, when tea party activists savored the defeat of Delaware moderate Republican Mike Castle, though it cost Republicans a critical Senate seat.

But Democrats' problem remains their proximity to their flank. Last week, independents continued their turn against Democrats since 2008. The results were foreseeable. Independents skepticism of big government has long placed them nearer to Republicans than Democrats. These matters led the majority of independents to tell Gallup pollsters last summer that Democrats are "too liberal."

This independent problem returns Democrats to their white problem. Most non-aligned voters are white. White males constitute the plurality of independents. These are the Reagan Democrats. Webb does not see himself as their spokesman. But he is one of the few Democrats able to speak as one of them.
In this sense, Webb seems similar to West Virginia's new Senator Joe Manchin, who spent most of his campaigning making clear how different he is from the Obama-Pelosi-Reid triumvirate. Perhaps having someone like Manchin in the Senate will convince Webb to stay, or perhaps the two of them together will end up becoming a thorn in the side of the Democratic Party. Either way, it should be interesting to watch.