Jim Webb May Turn Pathetic Democratic Primary Campaign Into Pathetic Independent Candidacy
Jim Webb's campaign for the Democratic nomination has been largely forgettable, so now he's apparently threatening to run as an Independent.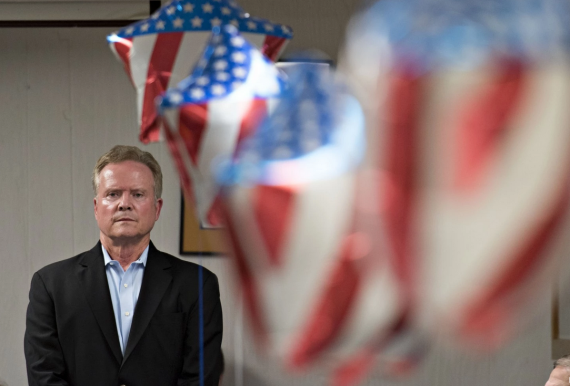 Former Virginia Senator Jim Webb, who is floundering in the polls and made a name for himself last week largely due to complaints about the lack of time he received in the first Democratic debate, is allegedly threatening to mount an independent bid for the Presidency:
RICHMOND —  Jim Webb announced Monday that he is thinking about turning his Democratic bid for president into an independent one.

"Jim Webb to Consider Independent Run," the campaign said Monday in an e-mailed statement.

Webb is scheduled to hold a news conference about his plans in Washington on Tuesday.

"Senator Jim Webb will hold a press conference on Tuesday, October 20, 2015, to discuss his candidacy, the campaign and his views of the political parties in the current election cycle," the e-mail said.

Officials with Webb's campaign did not immediately respond to requests for comment.

Webb, secretary of the Navy under President Ronald Reagan and a one-term senator from Virginia, has struggled to win a following among Democrats with a political message that defies easy categorization.

He is by some measures one of the most conservative Democrats in the race, supporting gun rights and opposing cap-and-trade policies and coal plant regulations. But he also is an economic populist who was an early and ardent opponent of the Iraq war.

One of  his most prominent supporters in Virginia, political operative David "Mudcat" Saunders, said that Webb spokesman Craig Crawford called him Monday to alert him that Webb might convert his campaign to an independent one.
To date, Webb's campaign for the Democratic nomination has been known for, well, pretty much nothing. After a long period during which he was apparently pondering running for office, he has run a mostly invisible campaign for the Democratic nomination to the point where most Americans realized he was running was when he was introduced at last weeks debate. While his time during that debate was understandably as limited as you'd expect it to be for a candidate sitting at one percent in the polls, he managed to catch some public attention thanks to his response to questions about gun control and his seemingly deadpan retelling of the story in which he killed an enemy soldier in the incident that led to him being awarded the Navy Cross. In the aftermath of the debate, though, Webb seemed to return to the same cantankerous, angry politician that many remember from his days as a Virginia Senator as he attacked debate moderators and the Democratic National Committee for what he contends was a "rigged" debate. This will apparently be the focus of his press conference today, and whether or not Webb actually announces some kind of independent bid or not, it's clear that all of this is just another example of the former Senators odd behavior.
In reality, of course, a threat by Webb to leave the Democratic Party and mount an independent bid for the White House is largely full of sound and fury, signifying nothing. In addition to being at the bottom of the polls — a status he continues to have in post-debate polling from CNN, Monmouth University, NBC News, and ABC News —- Webb also raised an utterly pathetic $696,972 in the third fundraising quarter, putting him in the same league as Martin O'Malley and Lincoln Chafee. There's really no reason to believe that Webb would do any better running as an Independent, or indeed that he'd be a better candidate outside the Democratic field. Nonetheless, this press conference will be the most press that Webb has gotten since entering the race, so I guess that's something for him to enjoy.
Update: The New York Times is now reporting that Webb will drop out of the race for the Democratic nomination today and that earlier reports about an independent bid for the White House should be dismissed:
Former Senator Jim Webb is expected to announce on Tuesday that he is dropping out of the presidential race after his bid for the Democratic nomination failed to gain traction.

Mr. Webb is expected to share his intentions to end his campaign at a 1 p.m. news conference at the National Press Club in Washington. His plans, first reported by Fox News, come as Mr. Webb's standing in Democratic polls hovered near zero and his fund-raising efforts produced paltry results compared with his rivals.

The campaign said on Monday evening that Mr. Webb was considering a bid as an independent, but that is no longer expected. Independent campaigns are notoriously difficult because of financial and ballot access obstacles.

"Jim will have the first word at 1 p.m., not me," said Craig Crawford, a spokesman for Mr. Webb's campaign.
No word yet on which Democratic candidate might gain the support of former Senator Webb's supporter.
Update #2: In his announcement today, Webb was quite scathing toward the Democratic Party and left the door as to what might happen in the future:
Former Virginia senator Jim Webb announced Tuesday afternoon that he would no longer pursue the Democratic presidential nomination, telling reporters that instead he will gauge support in the coming weeks for a possible White House bid as an independent candidate.

"More people in this country call themselves political independents than Republicans or Democrats. I happen to agree with them," Webb told reporters at a news conference at the National Press Club in Washington.

"I am withdrawing from any consideration of being the Democratic Party's nominee for the presidency," he said. "This does not reduce in any way my concerns for the challenges facing the country … or my intentions to remain fully engaged in the debates that are facing us."

During a question-and-answer session with reporters following Tuesday's announcement, Webb said he has yet to decide if he will remain a registered Democrat. Acknowledging the tall odds facing an independent presidential bid, he said he and his team would explore whether there is an opening for him to launch such a candidacy. He said he would spend "the next couple weeks talking with people I have not felt comfortable talking with as a Democratic Party candidate…. I feel much freer now, having cleared the air to do that."

"Some people say I'm a Republican who became a Democrat but that I often sound like a Republican in a room full of Democrats," he said. "Actually, I take that as a compliment. More people call themselves independents than either Republicans or Democrats … Our country is more important than a label."
That may be true Senator Webb, but they're unlikely to support a poor candidate like you.