Jim Webb Defends The Confederate Flag
If Jim Webb runs for President, he will be the only candidate in either party who is on record defending the Confederate Battle Flag. And he's thinking of running as a Democrat.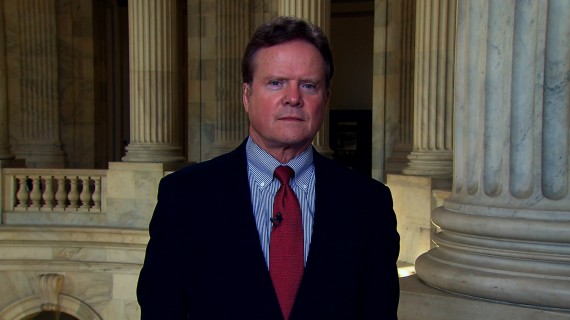 Former Virginia Senator Jim Webb has become pretty much the only nationally known Democrat to defend the Confederate flag:
Former Sen. Jim Webb (D-Va.), a possible 2016 presidential candidate, said on Wednesday that Americans should rethink rushing to ban displays of the Confederate flag at state Capitols.

Webb, a former secretary of the Navy, defended the historic emblem's use in a post on hisFacebook account.

The Confederate Battle Flag has wrongly been used for racist and other purposes in recent decades," Webb said. "It should not be used in any way as a political symbol that divides us."

"Honorable Americans fought on both sides in the Civil War," he added.

Webb was the first potential candidate to launch an exploratory committee for next year's White House race, though he'd face a steep climb to a Democratic nomination. Front-runner Hillary Clinton has strongly backed recent moves to remove the Confederate flag from positions of prominence.

Webb urged Americans to respect the bravery and heroism of individual Confederate and Union soldiers during the Civil War.

"It was in recognition of the character of soldiers on both sides that the federal government authorized the construction of the Confederate Memorial 100 years ago, on the grounds of Arlington National Cemetery," Webb said.
Not surprisingly, Webb's fellow Democrats have criticized him:
"As one of your most enthusiastic supporters, I have to disagree with you on this issue," David Dickerson wrote in a comment on Mr. Webb's post. "As a fellow Southerner, I prefer to take Robert E. Lee's path and disassociate from that flag and what it stands for."

Others, such as Jordan Genso, expressed disappointment.

"I don't need to agree with you on every issue in order to support you, but this should be low-hanging fruit for you to be on the right side of," Mr. Genso wrote. "And there's no reason not to state that the Confederate battle flag represents a quasi-nation whose short existence was spent trying to fight for an immoral cause."

Mr. Webb has a history of defending the confederacy. In a 1990 speech at the Confederate Memorial in Arlington, Va., he said, "I am not here to apologize for why they fought, although modern historians might contemplate that there truly were different perceptions in the North and South about those reasons, and that most Southern soldiers viewed the driving issue to be sovereignty rather than slavery."

In 2008, Politico reported that Mr. Webb's book "Born Fighting" seemed to sympathize with the Confederate cause, potentially giving pause to then Senator Barack Obama as he was vetting potential running mates. In Mr. Webb's book, Born Fighting, he wrote about acquiring a Confederate headstone through the Veterans Administration for a great-great-grandfather.
While other candidates such as Bernie Sanders, Martin O'Malley, and Lincoln Chafee have already jumped into what seems like a very quixotic campaign against the seemingly inevitable nominee Hillary Clinton, Webb has demurred when asked about whether or not he's actually running for President. He may have been the first Democrat to form an exploratory committee and he has been on the ground in Iowa for some time, he has yet to jump into the race. Many have suggested that Webb's historic aversion to retail politics, which seems to have been one of the reasons he declined to run for re-election in 2012, would ultimately result in his declining to run. That may well end up being the case, but there have also been signs that he will indeed enter the race in the coming weeks. These comments, which are different from everything that most Democrats and Republicans who have spoken in public on the issue of the Confederate flag have been saying since last week, seem to suggest that he may not be running after all. Largely, this is because it would be  odd for someone to run for the Democratic nomination after having taken a position on the Confederate flag that even Republicans aren't willing to take anymore. If he does run, it will be interesting to see how his fellow Democrats in Iowa and elsewhere react to comments like this. Something tells me it won't be a very positive reception. The comments are even more awkward considering that previous statements seemed to indicate that Webb would attempt to run to Hillary Clinton's left,although to be fair it's not easy to conceive of how a Democrat could run to Clinton's right in a primary and be at all successful.
We should know in the coming weeks what Webb will do. Personally my guess for some time now had been that he would enter the race, but these comments are causing me to reconsider that. If he does run, he's going to have to find a way to explain this to Democratic voters at the very least and may need to retract his comments at some point, which will be awkward considering his history on this issue. In any case, Webb's comments are somewhat ironic given the fact that it was a Confederate flag that played a role in the undoing of former Senator George Allen, who Webb defeated in the 2006 Senate Election.