Republicans Abandon Trump Over Lewd Remarks
Republicans are abandoning Donald Trump in droves after last night's revelation of lewd remarks he made in 2005.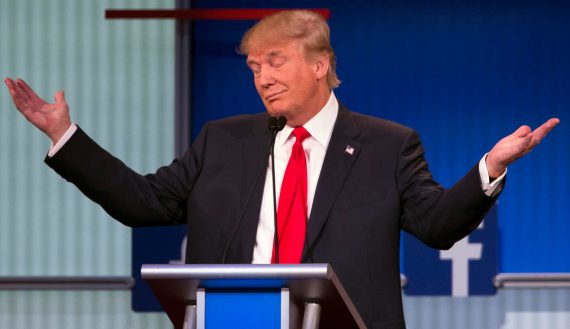 As James Joyner alluded to in his post about the newly released tapes showing Donald Trump making lewd and offensive comments about a married woman back in 2005, many of Trump's fellow Republicans have come out to condemn his remarks, with several Members of Congress going so far as to withdraw their previous support, Just a perusal of the morning headlines, for example finds reports of such condemnations from RNC Chairman Reince Priebus, Mitt Romney, Jeb Bush, Jon Huntsman, Colorado Congressman Mike Coffman, Utah Congressman Jason Chaffetz, Utah Senator Mike Lee, Utah Governor Gary Herbert, and Virginia Republican Congresswoman Barbara Comstock. Additionally, Speaker of the House Paul Ryan, who is hosting an event in his Congressional District scheduled to included an appearance from Trump alongside Ryan, RNC Chairman Reince Priebus, and Wisconsin Governor Scott Walker has withdrawn the invitation to Trump and made clear that he is not welcome on the stage. Trump's running mate Mike Pence will appear at the event in his stead. No doubt, there will be further condemnation of Trump from Republicans as the days go on, but the odds that Trump actually steps aside are essentially non-existent and the odds that the GOP takes the highly unusual step of removing Trump from the ticket are even lower:
The RNC rule that authorizes a replacement nominee gives the committee power "to fill any and all vacancies which may occur by reason of death, declination, or otherwise." The word 'otherwise' has been interpreted by some to give the RNC wiggle room to force out a sitting nominee if it chooses. A majority vote of the committee would then choose a new nominee.

Conservative attorney Jim Bopp, a close ally of the RNC, said he doesn't believe the word "otherwise" authorizes the RNC to drop Trump proactively.

"This sentence only empowers the RNC to fill vacancies, not create them," he said, suggesting that the removal of a candidate by a court would fit the description. "The power to create a vacancy is a separate and independent power from the power to fill vacancies and that power would have to be conferred on the RNC by a specific rule, which does not exist.

But even if it were an option, any interest in that option faces a daunting reality: People are already voting.

Absentee ballots have been mailed by the hundreds of thousands — if not millions — already, and early voting has begun in a handful of states. Trump's name is on the ballot in all of them. In addition, there are just 31 days left until Election Day — and it would take time for the RNC to convene a meeting, which would have no guarantee of consensus.

If RNC members did replace Trump, voters would still likely have to cast their ballots for him and let members of the Electoral College reconcile that with the party's replacement nominee.
In other words, the fantasies that these latest remarks would be the impetus for an effort to knock Trump off of the ticket even at this late date are just that, fantasies. As I've said numerous times in the past, the time for Republicans to stop Donald Trump came and went a long time ago when establishment Republicans and mainstream Republicans failed to challenge him effectively as his popularity within the party rose notwithstanding a plethora of remarks about racial and ethnic groups, women, and countless other categories of people became a regular part of his rhetoric. Instead, they essentially waited until it was far too late to mount a series of half-hearted efforts to block Trump from claiming the nomination that were never going to work. Trying to move against Trump at this point, with only a month to go until Election Day, is the kind of cloak-and-dagger political plot best left to the writers on House Of Cards or The West Wing. Additionally, the idea that Trump is simply going to give up at this point is a similarly foolish fantasy. Despite the fact that these revelations are likely to have a serious impact on his campaign, and may well guarantee that he loses the election, Trump clearly isn't the the kind of person who runs away even in the face of what would be disastrous press coverage for any other candidate. The best example of that can be seen in the apology that Trump issued late last night, which included a hint of how he intends to handle this matter at tomorrow's debate:
For hours on Friday night, the political world waited for the rarest of expressions from Donald J. Trump — a heartfelt apology.

What viewers got was anything but.

During a 90-second videotaped appearance, Mr. Trump, the Republican presidential nominee, offered a strikingly brief articulation of regret for a decade-old audiotape in which he boasted about grabbing women's genitals and said he could have his way with women because of his fame.

But his real message, which appeared early Saturday, was one of defiance. He described the controversy that upended the Republican Party for most of Friday as a mere "distraction," and said that his vulgar remarks captured on the tape were nothing compared with the way Bill andHillary Clinton had mistreated women.

If anything, Mr. Trump's videotaped statement was a truncated version of a speech that he had given countless times. And it did not reflect the several hours of conference calls and strategy meetings among his top aides, who were at first stunned and then nearly paralyzed by the revelation of the tape, which they worried would be fatal to his White House hopes.

"That took 10 hours?" an incredulous Kevin Madden, a Republican strategist, asked on CNN immediately after the statement.

With his brow furrowed and his face a tight scowl, Mr. Trump sat hunched in a chair inside Trump Tower on Fifth Avenue, with the glittering nighttime New York City skyline behind him.

"I've never said I'm a perfect person, nor pretended to be someone that I'm not," said Mr. Trump, a 70-year-old real estate developer and former reality television star.

Then came the apologetic part.

"I've said and done things I regret, and the words released today on this more-than-a-decade-old video are one of them," Mr. Trump said of the hot-mike recording of him bragging to Billy Bush, then the host of NBC's "Access Hollywood," about his groping and uninvited kissing of women.

"Anyone who knows me knows these words don't reflect who I am," Mr. Trump continued.

"I said it, I was wrong, and I apologize," he said.

(…)

Before the release of the short statement, advisers to Mr. Trump had huddled with him at Trump Tower, along with his daughter Ivanka and son-in-law Jared Kushner, to discuss how to respond to the crisis. The advisers cautioned against holding a news conference, something that had been discussed, because it could become unwieldy and spin out of his control. They realized they needed to address the issue quickly, at a minimum to try to stop the defections of Republican officials who had begun to shun and loudly denounce him.

But one adviser to Mr. Trump cautioned before the statement that if the candidate mentioned Mrs. Clinton, it would fail.

Mr. Trump did just that.

"Hillary Clinton and her kind have run our country into the ground," Mr. Trump said. "I've said some foolish things, but there's a big difference between the words and actions of other people. Bill Clinton has actually abused women, and Hillary has bullied, attacked, shamed and intimidated his victims."
Here's the video:
Here is my statement. pic.twitter.com/WAZiGoQqMQ

— Donald J. Trump (@realDonaldTrump) October 8, 2016
All of this is occurring, of course, less than forty-eight hours before the second Presidential Debate on Sunday evening. Given the fact that it will likely be dominating the news cycle between now and then, it is inevitable that this issue will come in some way during the debate, and Trump's comments seem to guarantee that he intends to respond to the tape and what are clearly his own words by diving into the mud to bring up decades-old allegations against Bill Clinton and his relationships with women, as well as Hillary Clinton alleged role in seeking to discredit these women over the years. If that happens, I suspect it will backfire against Trump for two reasons. First of all, attacking Hillary Clinton for what her husband is alleged to have done is likely to only make her a more sympathetic figure in the eyes of voters just as it did in the closing years of the Clinton Administration. Second, given that the format of this debate is a "town hall" debate, it seems incredibly unlikely that a defiant tone from Trump will go over well with the two hundred or so people who will be in the audience and prepared to ask the candidates questions. As it was, it has been clear since the first debate that Trump was in trouble in the polls and in danger of falling into a death spiral. This latest controversy is only going to make that worse, and the wrong response from Trump's campaign will just make a Trump loss inevitable.