Al Franken Says He's Not Running For President
Minnesota Senator Al Franken says he's not running for President. Is this a real denial, or a non-denial denial, though?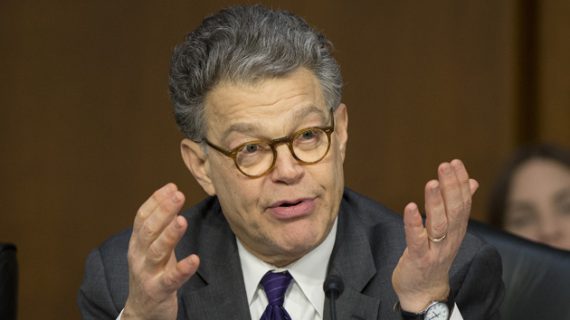 Minnesota Senator Al Franken, who has been mentioned as a potential candidate for the Democratic Presidential nomination in 2020, is telling reporters that he's not running for higher office:
Sen. Al Franken (D-Minn.) pushed back on presidential speculation in a new interview, saying he won't run for the White House in 2020.

"Yeah, I'm not going to do that," he said in a People magazine interview published Wednesday.

The former "Saturday Night Live" star told People that he remains focused on improving ObamaCare and fighting the GOP's "just dreadful" bill to repeal and replace it.

Franken added that he hopes special counsel Robert Mueller's appointment to probe possible ties between President Trump's 2016 bid and Russia will explain the "pretty alarming stuff" there.Franken's family told People that the Minnesota lawmaker will not aim for the White House in 2020.

"It's very flattering, really," Franken's wife, Franni, said. "It's kind of an affirmation that Al did exactly what he said he would do, be a work horse and not a show horse."

Franken's daughter, Thomasin, echoed those remarks, arguing a 2020 run for her father is "not going to happen."

"There's nothing to hedge," she said. "I understand how people are feeling."

"I was just at a party with people I hadn't seen in a long time and they were asking if he was going to run and they were hoping he would. No thanks."

Franken told USA Today in an interview released Wednesday that there is a "very decent chance" that Trump remains in office by May 30, when Franken's new memoir will be released.

"This book is coming out May 30, so I still think there's a very decent chance he'll still be interested," he said.

"That was kind of a joke, but it's kidding on the square," Franken continued, saying that's the kind of joke "that you also mean."
Franken's name has been mentioned by several pundits and top Democrats in the months since the 2016 election, and his profile in Washington has been enhanced thanks to his membership on several of the committees that have held hearings connected to the ongoing Russia investigations. Additionally, while Franken's initial election in 2008 was controversial due to the election disputes that kept the outcome of the contest between him and former Senator Norm Coleman in dispute until the mid-summer of 2010, was close, he was overwhelmingly re-elected in 2014 and has proven to be quite popular in his home state. He's also one of the few prominent Democrats on Capitol Hill that seems to have good relationships with both the progressive wing of his party and the more establishment wing of the party. That, combined with the fact that he's fairly well known to the general public thanks to his career as a comedian, writer, and actor on Saturday Night Live, there have been many Democrats who have suggested that he would make an ideal national candidate if he chose to make the attempt.
Many observers will note, of course, that denying that you are running for President is often the first step toward actually running for President. When he was a Senator, for example, Barack Obama frequently denied that he was considering a run for President and said that he would serve out the full six-year term he had been elected to. In reality, looking back from the perspective of many years later, it was clear that Obama and his supporter were at the very least laying the groundwork for a potential campaign if not essentially planning for one that would not be announced until a much later date. Other politicians who have run for President have played they same game. The reason they do so, of course, is because American voters generally don't like to see politicians who seem overly eager to run for higher office almost as soon as they are elected to Congress or the Senate. Additionally, acknowledging that you are running for President could have legal consequences as far as the Federal Election Commission is concerned. This is why many candidates set up "exploratory committees" many months, if not years, prior to actually entering the race, Such committees allow a candidate to raise funds and engage in other campaign-like activity without actually being a candidate.
Could Franken be taking a similar strategy? It's possible, I suppose. It's far too early to be starting a 2020 campaign in any case, and Franken does have to keep in mind the fact that he faces a re-election campaign in Minnesota that year, so it's to his advantage to not appear to be campaigning for national office even if he is still at least considering the possibility. One thing is for sure, though. As long as Franken continues to play a prominent role at nationally televised hearings like he has been over the past three months, people are going to continue mentioning his name as a potential candidate in 2020 no matter how much he denies it.