Michigan Congressman John Conyers Retires Amid Sexual Harassment Claims
The longest-serving member of the House has retired amid allegations of sexual misconduct.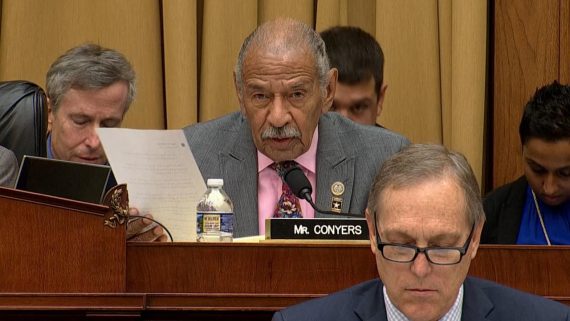 Michigan Congressman John Conyers, who has been a Member of Congress since 1965, retired from Congress today in the wake of reports that he had sexually harassed numerous women during his time in Congress:
WASHINGTON — Representative John Conyers Jr., who faces allegations that he sexually harassed former employees, announced Tuesday that he will leave Congress immediately, and he endorsed his son, John Conyers III, to replace him.

Mr. Conyers, the longest-serving current member of the House and the longest-serving African-American in history, called into a local radio show on Tuesday to break the news.

"I am retiring today," Mr. Conyers said from a hospital in Michigan. "I am in the process of putting together my retirement plans. I will have more on that soon."

He continued to deny that he has harassed any of his former employees and said he did not know where the allegations came from.

"My legacy can't be compromised or diminished in any way by what we are going through now," Mr. Conyers said. "This too shall pass. My legacy will continue through my children."

The decision sets up a battle within the Conyers family for his Detroit-area House seat. Ian Conyers, a Michigan state senator and the grandson of Mr. Conyers's brother, said he also plans to run for the seat held by his 88-year-old great-uncle.

"His doctor advised him that the rigor of another campaign would be too much for him just in terms of his health," Ian Conyers said.

The congressman, who took his Michigan seat in the House in 1965, has already stepped aside as the top Democrat on the Judiciary Committee amid swirling allegations of sexual improprieties. He has been facing intense pressure to resign.

Speaker Paul D. Ryan and Representative Nancy Pelosi, the Democratic leader, have each said Mr. Conyers should resign after a woman who settled a sexual harassment claim against him said on television that the congressman had "violated" her body, repeatedly propositioned her for sex and asked her to touch his genitals. Other former staff members have since come forward to say he harassed them or behaved inappropriately.

The younger Mr. Conyers said that despite the accusations, he believes Michigan voters will reward his family's work in politics by electing him.

The congressman "still enjoys healthy support in our district," Mr. Conyers said.

He added, "People are ready to support our dean and to support our family as we continue to fight, as we have for leading up to a century, for people from Southeast Michigan."

He said he believed his great-uncle should have due process but stopped short of defending him.

"I stand with my uncle in terms of his belief of no specific wrongdoing," Mr. Conyers said. "However, those things need to have their day in court."

The state senator, who has been in office for about a year, said he had planned to run for re-election next year for his current statehouse seat but would give up that race to run for his great-uncle's seat in Washington.

"I'm absolutely going to file for his seat. The work of our congressional district, where I come out of, has to continue," he said. "We have got to have someone who has depth and experience but also historical understanding of what it takes to fight this type of evil in Washington."
The allegations of sexual misconduct to implicate members of the House of Representatives and Senate in the wake of the increasing trend of women who have come forward to accuse powerful men of having harassed or assaulted them in a sexual manner in the past. In the beginning, these allegations impacted mainly men in the entertainment and news media such as Harvey Weinstein, Kevin Spacey, filmmaker Bruce Ratner, George Takei, Charlie Rose, political pundit Mark Halperin and Matt Lauer.
Slowly, though, the reports also started stretching into the political world.  For example, California Congresswoman Jackie Spier, who recently shared her own story of having been sexually harassed in the past, stated that she is aware of at least two currently serving men on Capitol Hill, one from each party, who have been accused of sexually inappropriate contact toward female staffers or other women.  Alabama Republican Senate candidate Roy Moore, of course, has been accused of several instances of sexually inappropriate behavior, including two women who accuse him of having sexually assaulted them when they were under sixteen years old. Additionally, a number of women have come forward to accuse Minnesota Senator Al Franken of groping and other inappropriate advances. The allegations against Conyers, several of which came from women who decided to violate the confidentiality provisions of their settlements with the Congressman to come forward, put significant pressure on Democratic leaders to call on Conyers to step aside. By late last week, the entire House Democratic Leadership had done just that and amid those reports, Conyers returned to his home in Michigan and was later reportedly hospitalized due to what his family claimed was stress.
After the retirement of fellow Michigan Congressman John Dingell Jr., Conyers assumed the title of the largely symbolic post "Dean Of The House Of Representatives," meaning that he was the longest-serving member currently sitting in the House. Dingell had held the position for twenty years and had held his seat in Congress since 1955 when he succeeded his father, who had died while in office. Much like the fight that is now shaping up between Conyers' son and Grand-Nephew, Dingell was succeeded by his wife, meaning that a member of the Dingell family has held that seat in Congress since Dingell's father was first elected in 1932. Given the fact that Conyers district is considered safely Democratic, whoever ends up winning the Democratic Primary will effectively win the seat at whatever point a Special Election is held. Succeeding Conyers as Dean Of The House is Alaska Republican Congressman Don Young, a Republican. Young is the first Republican to hold this position since Iowa Congressman Gilbert Naugen, who held the position from 1928 to 1933.