NBC Fires Matt Lauer After Sexual Misconduct Allegations
The latest domino to fall in the ongoing wave of sexual harassment and abuse revelations is Matt Lauer.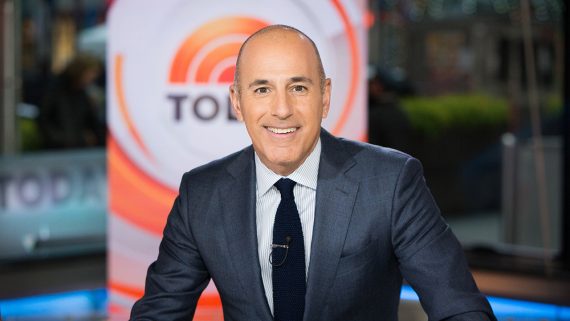 Morning television viewers woke up this morning to the news that Matt Lauer, who has co-hosted the Today Show on NBC for the past twenty years, had been fired after an employee came forward to accuse him of as-yet unspecified sexual misconduct, making him the latest icon to fall in the ongoing revelations about sexual assault and harassment that have swept through a number of industries:
The reckoning over sexual harassment in the workplace claimed another leading television personality on Wednesday when NBC fired its leading morning news anchor, Matt Lauer, over a sexual harassment allegation.

"On Monday night, we received a detailed complaint from a colleague about inappropriate sexual behavior in the workplace by Matt Lauer," Andrew Lack, the NBC News president, said in a memo to the staff.

He said the allegation against Mr. Lauer "represented, after serious review, a clear violation of our company's standards. As a result, we've decided to terminate his employment."

"While it is the first complaint about his behavior in the over 20 years he's been at NBC News, we were also presented with reason to believe this may not have been an isolated incident," Mr. Lack said.

Ari Wilkenfeld, a civil rights lawyer with the firm Wilkenfeld, Herendeen & Atkinson in Washington, said he represented the woman who made the complaint to NBC, but declined to publicly identify her. In a statement provided to The New York Times, he said:

"My client and I met with representatives from NBC's Human Resources and Legal Departments at 6 p.m. on Monday for an interview that lasted several hours. Our impression at this point is that NBC acted quickly, as all companies should, when confronted with credible allegations of sexual misconduct in the workplace.

"While I am encouraged by NBC's response to date, I am in awe of the courage my client showed to be the first to raise a complaint and to do so without making any demands other than the company do the right thing."

The Times met with the woman Monday afternoon, but she said she was not ready to come forward and tell her story publicly.

Mr. Lauer's co-host, Savannah Guthrie, announced the news on "Today" on Wednesday morning. Appearing on the verge of tears, Ms. Guthrie said, "All we can say is we are heartbroken; I'm heartbroken.

She described Mr. Lauer as "a dear, dear friend," and said she was "heartbroken for the brave colleague who came forward to tell her story."

Calling Mr. Lauer's dismissal part of a national reckoning, she continued, "How do you reconcile your love for someone with the revelation that they have behaved badly?"

Mr. Lauer's termination was just the latest in a string of firings involving the very top stars in television news — coming after the ouster of Bill O'Reilly, of Fox News, last April and Charlie Rose, of CBS, earlier this month.

But it also involves the most important part of the NBC News franchise, "Today," which is a profit driver and highly rated morning program. Mr. Lauer, a co-anchor since 1997, was the centerpiece of the show.
Here's the video of Trump's former co-host Savannah Guthrie announcing the news, which she apparently had just learned about this morning before going on the air, at the start of the show:
Matt Lauer has been terminated from NBC News. On Monday night, we received a detailed complaint from a colleague about inappropriate sexual behavior in the workplace by Matt Lauer. As a result, we've decided to terminate his employment. pic.twitter.com/1A3UAZpvPb

— TODAY (@TODAYshow) November 29, 2017
And here's a copy of the "Dear Colleagues" letter that NBC News President Andy Lack sent out this morning:
Breaking: Matt Laurer terminated from NBC in wake of detailed complaint about "inappropriate sexual behavior." Here's the memo from NBC News chairman Andy Lack sent out this morning: pic.twitter.com/fJITa6HDw1

— Emily Steel (@emilysteel) November 29, 2017
Subsequent reports have indicated that both The New York Times and Variety have been working independently on stories about alleged sexual misconduct by Lauer, so it's likely that there will be more coming out than just the single report that apparently served as the basis for NBC's decision to fire the star anchor on one of their most valuable products. Those reports will no doubt be coming out in the coming days and weeks. With regard to the report that was brought to the attention of NBC News, though, at least one media outlet is reporting that the allegation includes a charge that Lauer committed a sexual assault on an NBC News staffer while he was in Sochi, Russia as part of the network's coverage of the 2014 Winter Olympics. There have also been some suggestion that there may have been a similar incident during the Summer Olympics in Rio de Janeiro in 2016. Whatever the nature of the allegations, though, it seems clear that they must have been serious and substantiated enough for the network to move quickly, and to take the step of firing Lauer rather than suspending him pending an investigation as has happened in several other recent cases.
All of this comes amid what has seemingly turned into a torrent of new allegations from across industries and across the political spectrum, all of them involving men in positions of power using their authority to mask serious sexual misconduct on their part. The trend actually began last year with the revelations coming out of Fox News Channel regarding people such as Roger Ailes and Bill O'Reilly, both of whom were ultimately removed from their seemingly untouchable positions. The trend began to pick up steam, though, in the wake of a round of revelations that began last month. It started, not surprisingly, in the entertainment industry with allegations against people such as Bill Cosby, Hollywood producer Harvey Weinstein and actors such as Kevin Spacey and George Takei. From there it spread into the world of politics as women came forward with accusations against people such as political pundit Mark Halperin as well as accusations that such activity has been common on Capitol Hill for years. For example, California Congresswoman Jackie Spier, who recently shared her own story of having been sexually harassed in the past, stated that she is aware of at least two currently serving men on Capitol Hill, one from each party, who have been accused of sexually inappropriate contact toward female staffers or other women.  Additionally, a number of women have come forward to accuse Minnesota Senator Al Franken of sexually inappropriate conduct, charges which he has not denied and has attempted to apologize for. Most recently, the allegations have extended to Michigan Congressman John Conyers, the longest-serving member of Congress, who has apparently settled at least two claims against him in recent years, is facing other allegations from other women, and is now coming under pressure even from fellow Democrats to resign from office. Lauer is also not the first co-host of a morning news show to see his career brought down due to sexual misconduct charges. Just weeks ago, Charlie Rose was fired as host of CBS's morning show and host of his own show on PBS after at least eight women came forward to accuse him of sexual misconduct on the job. Finally, of course, there are the allegations against Alabama Senate candidate Roy Moore that include sexual assault against two women who were under sixteen at the time the incidents occurred.
The good news is that these allegations are finally seeing the light of day and that women who have been victimized and taken advantage of by powerful men are starting to feel more free to tell their stories and confront their accusers rather than being intimidated into silence. Hopefully, it leads to real changes in the corporate world that spreads down to lower-level positions where the power dynamics are even more unbalanced. It's one thing for a woman who works in a big corporate environment like NBC News or as a staffer in a government position to come forward to the appropriate Human Resources official. It's quite another thing if we're talking about something that happens in a small business situation or in a situation where a low-paid woman is being taken advantage of by her manager or boss and is afraid of losing her job if she tells anyone about what he did to her. Indeed, in some small business situations, there may not be anyone to report misconduct to other than the person committing the misconduct itself. For these women, there aren't multi-million dollar settlements or the ability to retain high-priced attorneys to represent them. Of course, all of this wouldn't be a problem if men were to just treat women respectfully and professionally, but that's a lesson that many men apparently haven't learned and it's going to take a lot more Matt Lauer's for that lesson to sink in.