Debbie Dingell, Political Dynasties, And The Problem With Long-Term Incumbency
Debbie Dingell is set to continue an 80 year legacy of Dingells occupying the same seat in the House of Representatives. That's not a good thing.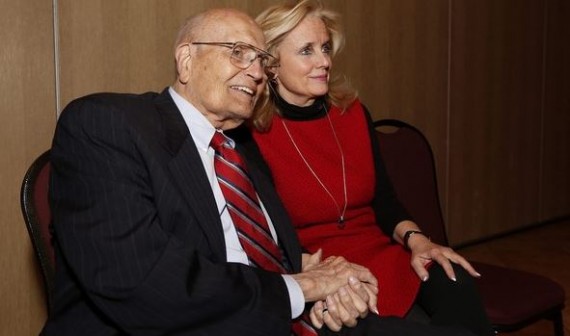 On Tuesday, to the surprise of absolutely nobody, Debbie Dingell won the Democratic Primary to succeed her husband John Dingell, who is retiring at the end of the year after serving in Congress since 1955:
Debbie Dingell has won the Democratic primary to succeed her husband, Rep. John Dingell (D-Mich.), the Associated Press reports.

Dingell easily won Tuesday's contest against attorney Raymond Mullins in Michigan's 12th District. She will face Republican Terry Bowman in the general election.

John Dingell is the longest serving congressman in U.S. history. In February, the 88-year-old announced that he would retire from Congress after nearly 60 years on Capitol Hill, citing frustrations with how "obnoxious" Congress has become.

"I find serving in the House to be obnoxious," Dingell said. "It's become very hard because of the acrimony and bitterness, both in Congress and in the streets."

Just days after her husband's announcement, Debbie Dingell announced she would run for his seat.

"There is no one in this district — no one — who has a better sense of just how big his shoes will be to fill, because I'm the one who does the shoe shopping," she said of her decision to seek her husband's seat. "So let's be clear: I'm not running to replace John Dingell. I think he's irreplaceable. I wouldn't run if I didn't think I could do a good job for my friends and neighbors and for the men and women of labor that I've worked side-by-side to fight for the jobs and businesses of Michigan."
Given that the district Dingell represents is solidly Democratic, there is really no doubt that Mrs. Dingell will win her election in November. This means that, when she takes office in January she would be the third member of the Dingell family to hold the seat since John Dingell's father, John Dingell Sr. won election to Congress in the election of 1932. As I have noted in the past, there really wasn't anything admirable about Dingell's five decades of service and, indeed, the fact that he has not faced a serious challenger in decades stands as a perfect argument for Congressional term limits. Now, though, we have an excellent example of yet another problem in American politics, political family dynasties. There is simply no good reason why the same family should hold the same seat in Congress for more than eighty years, a streak that could end up being as a long as 100 years depending on how long Mrs. Dingell decides to stay in office, because it's rather obvious that she will find it as easy to get re-elected to this seat as her husband and late father did.
As a general rule, there is something unhealthy about both political dynasties and long-term incumbency, and the Dingell case provides ample examples of both. The fact that Congressman Dingell has not faced a serious challenge in decades is, in and of itself, a major problem both because of what it says about the ability of an incumbent to stifle internal challenges in his own party and because it stands as another excellent example of how, through redistricting, Congressional seats such as Dingell's are made virtually immune from challenge by the opposing party. Additionally, as I said above, there is just something distasteful about the fact that the same family has held the same Congressional seat since Franklin D. Roosevelt was first elected to the Presidency. These things are not supposed to be viewed as entitlements, and yet it is quite obvious that this is how the Dingell family views the matter. After Debbie Dingell does finally retire, which again may not happen before 2033 when the seat will have been in the family's hands for 100 years, it wouldn't be at all surprising to see one of Dingell's four children run for the seat, or perhaps one of his grandchildren. Voters being what they are, they will probably reflexively vote for whatever Dingell happens to be on the ballot, and the legacy will continue. Some people may consider this to be a good thing, but I do not. Instead, it is, along with the fact that we could very well end up with another President Clinton or President Bush in the White House, a sign of how clannish our politics has become. In some sense, Barbara Bush was right when she said that it was time for other families to contribute to the country, and that applies as equally to a seat in Congress as it does the Oval Office.
There are several changes that ought to be made to deal with problems such as this, of course. Redistricting needs to be a far less partisan process than it is today, although accomplishing that is quite obviously a far harder task than saying that it ought to be done. Additionally, as I've stated before, it seems quite apparent to me that Congressional Term Limits are an idea whose time has come. Twenty four years in the House and the Senate, seems to me like a perfectly reasonable limit on the amount of time that any single person should be serving in Washington. Contrary to what the advocates of long-term incumbency would tell you, there is no single person in Congress who is indispensable, and our political system would do well to bring in fresh blood on a continuous basis. Indeed, that is what the Founding Fathers envisioned Congress would become. None of them anticipated that we would have people like Dingell, Robert Byrd, John Coyners, Ralph Hall, Don Young, or Orrin Hatch, who have served in Congress longer than some other members of Congress have been alive. Congress will do just fine with John Dingell in office, and it would do fine without Debbie Dingell as well, and our political system will be better off if we eliminate the factors that lead Representatives and Senators to believe that they are entitled to their seats.