Trump Unleashes Disgusting Attack On John Dingell And His Widow
Last night, Trump decided it would be a good idea to attack a dead Congressman and his widow.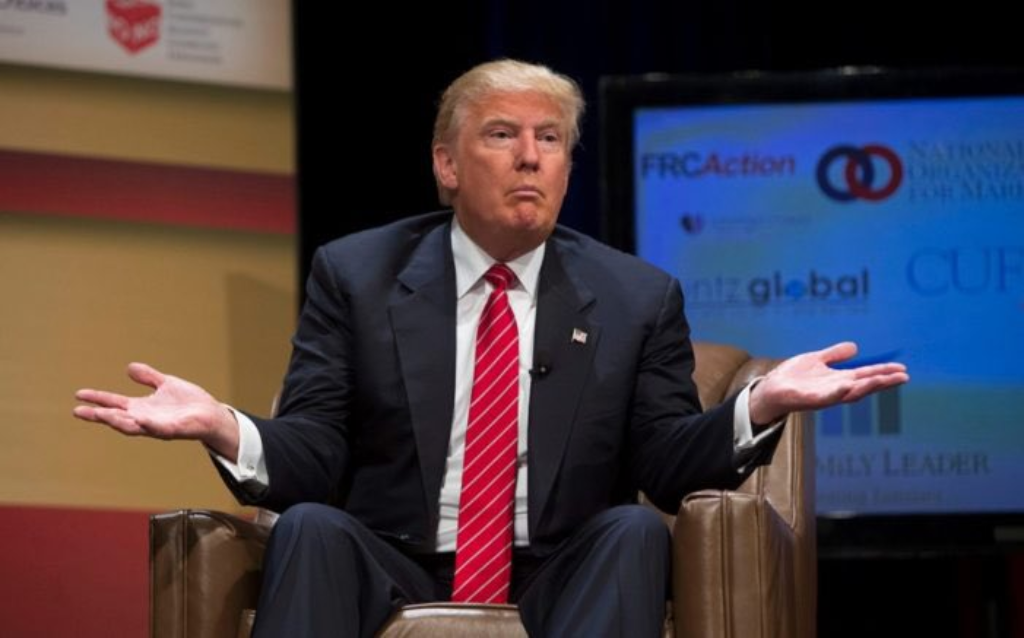 While the House was voting on impeachment last night, President Trump was at another one of his political rallies in Michigan and for some reason decided it would be a good opportunity to mock the memory of one of the states most well-known politicians and attack his widow:
Less than an hour after being impeached, President Trump suggested during a campaign rally that the late Michigan congressman John Dingell might be "looking up" from hell — remarks that Dingell's widow said "really hurt."

"Mr. President, let's set politics aside," said Rep. Debbie Dingell (D-Mich.), whose husband, a World War II veteran and the longest-serving member of Congress in U.S. history, died in February at age 92. "My husband earned all his accolades after a lifetime of service. I'm preparing for the first holiday season without the man I love. You brought me down in a way you can never imagine and your hurtful words just made my healing much harder."

Dingell appeared Thursday morning on CNN, and host Alisyn Camerota queued a clip of Trump's incendiary remarks with Dingell on a split screen. Her face remained stoic through Trump mimicking her voice in a phone call he made to Dingell after her husband died.

But her eyes closed tightly for a moment when Trump arrived at the line she knew was coming.

"John Dingell loved this country. He believed in bringing everybody together. He believed in our democracy. And my family's still hurting," she said.

But Dingell declined to escalate the war of words with Trump, telling Camerota that going "tit-for-tat" would descend to "his level."

"I don't want to politicize his death. It is still something that I'm really grieving over," she said

Trump made the comment while complaining that the congresswoman had voted to impeach him, even though he purportedly gave John Dingell "A-plus treatment" during his memorial services. Trump insisted he did not expect anything in return for such treatment. But he nevertheless expressed disbelief that Debbie Dingell would support impeaching him after she thanked him in a February phone call. At the time, Trump had ordered flags lowered to half-staff.

"So she calls me up: 'It's the nicest thing that's ever happened, thank you so much,' " Trump said at the rally, mocking the congresswoman's voice while recounting their call. (Dingell challenged Trump's recollection Thursday and said he called her.)

" 'John would be so thrilled. He's looking down.' … I said, 'That's okay. Don't worry about it.' "

And then: "Maybe he's looking up, I don't know."

The crowd seemed unsure how to respond to Trump's insult. Some groaned. Some cheered and clapped. Trump quickly added, "But let's assume he's looking down."
Here's the video:
Meanwhile, White House Press Secretary Stephanie Grisham justified the President's remarks this way:
There really isn't a whole lot to say about this. Coming from another President it would be shocking and require an immediate apology. Coming from Trump, who started out his candidacy by attacking John McCain's military service and went on to attack Mexicans, Muslims, disabled people, a Federal District Court Judge who happened to be Mexican-American and a Gold Star Family who happened to be Muslim. He also attacked women like Megyn Kelly, Carly Fiorina, and Heidi Cruz in the crassest and most demeaning manner. In the month before the election, he was caught on tape bragging about an apparent sexual assault and conquest and was later accused of sexual harassment and assault by nearly two dozen women. Most recently, he lashed out at Greta Thunberg, the teenage girl named Time's Person of The Year for her climate activism. Given this, attacks like this are just part for the course.
At the same time, though, I agree with CNN's Chris Cillizza that we should not normalize behavior like this:
[W]hy did Trump stoop so incredibly low? Because Debbie Dingell has joined all but three of her Democratic colleagues to vote for both articles of impeachment against him Wednesday evening. That she did so wasn't a surprise to anyone except perhaps Trump since Dingell has given no signal that she was even considering breaking with her party on either impeachment article.

Trump, it appears, believed Dingell owed him for giving her late husband the "A+" treatment upon his death. It's not entirely clear what Trump means by "A+" treatment. Dingell did lie in state at the U.S. Capitol — a massive honor, to be sure, but one conferred on him by Congress, not the president. He is apparently hanging his entire claim of "A+ treatment" of Dingell's passing on the fact that he ordered flag to fly at half-staff. And that he sent a tweet calling Dingell a "highly respected man."

Which, well, ok.

While Trump's words are shocking, they aren't terribly surprising. This is who he is and what he does. He is a bully. With a wicked victim complex. He views the world as divided between people who love him and people who hate him — and he will say and do anything to that latter group because he believes them to be barely human.

What's far more depressing — and corrosive to our broader culture — is that while some people in the Michigan audience groaned when Trump suggested John Dingell might be in hell, plenty of other laughed and applauded. Trump has so denigrated political speech and so stretched the limits of acceptable conduct that people in that audience felt either the freedom or the compulsion to laugh and applaud when he viciously attacked a dead person.

This isn't trolling the media. Or the Democrats. Or anyone being a "snowflake" or suffering from "Trump Derangement Syndrome." This is just gross. And unacceptable.

And it has zero to do with party politics or partisanship. That there are people out there who can't see that truth is deeply concerning.
Indeed it is. Donald Trump isn't just changing our politics for the worse, he's changing our culture for the worse, and Republicans who know better are letting him get away with it. They ought to be ashamed of themselves, but obviously they aren't.