Congressman John Dingell To (Finally) Retire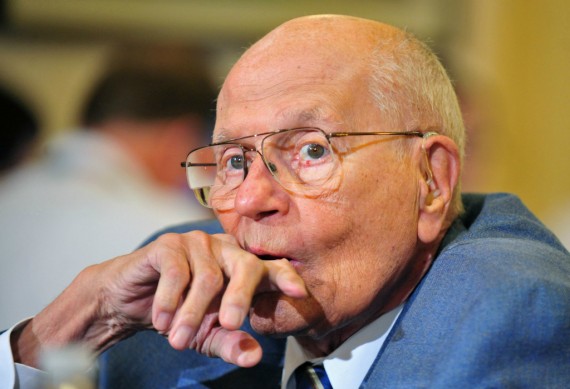 John Dingell, who has served in Congress longer than any other person in American history, announced this morning that he w0uld not be standing for re-election in 2014:
Rep. John Dingell is leaving the Congress he's served for longer than anyone else in United States history.

At a luncheon Monday in his beloved Downriver, the Dearborn representative says he will announce he won't seek re-election this fall to the seat he's held since 1955.

"I'm not going to be carried out feet first," says Dingell, who will be 88 in July. "I don't want people to say I stayed too long."

Dingell says his health "is good enough that I could have done it again. My doctor says I'm OK. And I'm still as smart and capable as anyone on the Hill.

"But I'm not certain I would have been able to serve out the two-year term."

More than health concerns, Dingell says a disillusionment with the institution drove his decision to retire.

"I find serving in the House to be obnoxious," he says. "It's become very hard because of the acrimony and bitterness, both in Congress and in the streets."

That's a jarring assessment from a man who last summer surpassed the late West Virgina Sen. Robert Byrd as the longest-serving member of Congress.

But he says poisonous partisanship and a growing disregard for serving the interests of the people have taken the joy out of the job.

"This is not the Congress I know and love," he says. "It's hard for me to accept, but it's time to cash it in."

The question now becomes who will succeed Dingell. He won the seat at age 29 after the death of his father, a Depression-era New Dealer who served the district for 20 years.

An open congressional seat draws lots of interest. It's no secret the congressman would like to see the Dingell tenure continue. While she won't announce her candidacy Monday, his wife of 38 years, Debbie, a Democratic National Committee member and former General Motors executive, will almost certainly run.

"We've accomplished a lot together," Dingell says. "I couldn't have done it without her. She's been my guide, my counsel, my friend and my closest adviser."
It wouldn't be too surprising if Dingell tried to shove his wife in as his successor. Such a move would be entirely consistent with the fact that he succeeded his father in the House and that, since 1932, what is essentially the same House seat in Michigan has been held by someone with the last name Dingell. Why not continue with the tradition? As I noted when Dingell set his less than admirable record, though, it seems clear that there comes a time when every member of Congress outlives his welcome. Nearly six decades was too long for John Dingell Jr., and more than 80 years has been way too long for a Dingell family that seems to think it is entitled to a seat in Congress. In additi0n to term limits that would make the kind of record that Dingell set impossible in the future, we need an end to the kind of nepotism that he represents.