Minnesota Governor Names Lt. Governor Tina Smith To Replace Al Franken.
As expected, Minnesota's Governor has named his Lt. Governor to replace Al Franken in the Senate.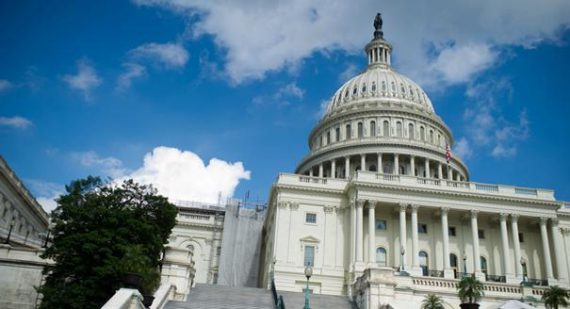 Minnesota Governor Mark Dayton has named his Lt. Governor Tina Smith to replace Al Franken in the Senate:
DFL Gov. Mark Dayton on Wednesday appointed Lt. Gov. Tina Smith to the U.S. Senate, where she'll replace Sen. Al Franken following his planned resignation following a sexual harassment scandal.

"First and foremost, I want to appoint the person who I believe will best represent the people of Minnesota in the United States Senate," Dayton said at a Capitol news conference, with Smith standing at his side. He said Smith "will be a senator of whom all Minnesotans can be proud."

Smith accepted the appointment, thanking Dayton and calling it a "great honor."

"Though I never anticipated this moment, I am resolved to do everything I can to move Minnesota forward," Smith said. "I will be a fierce advocate in the U.S. Senate for equity and fairness."

Smith also said she would run in the special election in November 2018 to choose a candidate to serve the final two years of Franken's current term.

"I will run in that election and I will do my best to earn Minnesota's support and I believe I can do that by being the best senator I can be," Smith said.

In selecting Smith, the governor is choosing one of his most trusted advisers and someone who has worked for years traveling the state and building relationships with influential DFLers and business leaders.

The pick sets in motion an election cycle that could dramatically alter the state's political landscape. For the first time in a generation, Minnesota voters will select a new governor and two U.S. Senators, high-stakes races in 2018 that are expected to cost tens of millions of dollars.

The selection also means Minnesota will have two female U.S. Senators for the first time in history.

For now, Smith must figure out what she wants to accomplish and how to mesh with other members in Congress, where Democrats are trying to push back against President Donald Trump and GOP majorities in both houses.

A DFL operative dating to the 1990s, Smith was Dayton's chief of staff for most of his first term. In 2014, he pulled her into elected politics by making her his running mate, replacing first-term Lt. Gov. Yvonne Prettner Solon with someone who would come to be seen as perhaps his closest adviser.

Smith, 59, lives in southwest Minneapolis with her husband, Archie Smith, an investment manager. They have two adult sons. She moved to Minnesota in the 1980s for a marketing job at General Mills and later founded a marketing and public relations firm.

That led to work on a series of DFL campaigns, including as manager of Ted Mondale's 1998 bid for governor, and as an adviser to Walter Mondale's last-minute campaign for U.S. Senate in 2002 following the death of Paul Wellstone. The following year, Smith was recruited to become vice president of public affairs for Planned Parenthood Minnesota, North Dakota, South Dakota.

"She's got a pretty strong legacy around here," Sarah Stoesz, the organization's president and CEO, said in a 2015 interview.

Smith left Planned Parenthood in 2006 to take over as chief of staff for then-Minneapolis Mayor R.T. Rybak. Rybak competed in the 2010 race for governor, tapping Smith to run his campaign. When Dayton emerged victorious, he recruited Smith to join his campaign on the advice of his ex-wife, Alida Messinger, a major Democratic donor.

In recent years, Smith has become nearly as much the face of the administration as Dayton himself and has transformed the often obscure role of lieutenant governor. She is in the room when Dayton makes his biggest decisions, and was at the negotiating table — sometimes sitting in for the governor himself — during the high-stakes legislative talks.

With Smith's elevation, a Republican state senator is in line to become Minnesota's new lieutenant governor — a strange set of political circumstances for Dayton's last term in office. Sen. Michelle Fischbach, R-Paynesville, is the current Senate president — which under the state constitution is next in line of the lieutenant governor resigns. That in turn could trigger a state Senate opening with the potential to upset the GOP's slim majority in that chamber.
Smith's name had been near the top of the list from the moment that Franken announced his impending resignation last week. As noted, she will have to run in a Special Election next November, at which point Minnesota's other seat, currently held by Senator Amy Klobuchar, who will be running for re-election to her third term a race she is likely to win. Smith will likely face challenges in her own bid for re-election, both in the primary for the Democratic-Farm Labor nomination and in the General Election itself. Given the fact that Minnesota hasn't had a Republican Norm Coleman, who served a single term from 2002 through 2009, though, it's likely that Smith will win the Special Election easily. Of course, whoever wins that Special Election will have to run again in 2020 for a full term in their own right. Senator Franken, meanwhile, has not announced when he would formally resign, but it was anticipated when he made the announcement that he intended to do so by the end of the calendar year. This would mean that Smith would take office when Congress returns from the holiday break.
Hot Air's Ed Morrissey, a Minnesota resident, comments:
Smith was clearly Dayton's favorite all along, but her lack of political ambition almost aced her out of the running. Dayton appeared ready to appoint her as a neutral DFL caretaker and allow the party to hold an open primary to determine the 2018/2020 nominee. Chuck Schumer, facing a 26/8 imbalance in seats to defend next year, wanted a nomination that would resolve it without an open primary. Smith's decision to run for office next year and again in 2020 if successful shows that Schumer won the argument, forcing Dayton into the role of kingmaker.

(…)

That doesn't mean that Smith will get a pass entirely next year. She'll run as an incumbent with the advantages that confers, but political ambitions in Minnesota have very few outlets. Other DFL figures may not want to wait for either Smith or Amy Klobuchar to retire, so 2018 is the window that some simply can't resist — or at least that's what the Strib thought this morning:
Morrisey also made this observation on the possibility of Congressman Keith Ellison, who was the first Muslim-American Member of Congress, either being appointed by Dayton or running for the DFL nomination:
The idea that Ellison would get a boost from Franken's departure simply ignores realities on the ground in Minnesota. Ellison isn't going to win a statewide general election, and it's doubtful that he'd win a statewide primary unless he was the only candidate running, and even Ellison seems to realize this. While Minnesota is a fairly blue state, Ellison's radical past and nature won't play well outside of his MN-05 district. Running against an incumbent woman with significant credibility inside the DFL only makes that problem worse.

Smith might have more trouble beating Lori Swanson and/or Rebecca Otto, both of whom have won statewide elections as Attorney General and state auditor, respectively, and both of whom are eyeing the gubernatorial race next year. If one of them decides to peel off and aim for the US Senate, Smith might run into trouble — but she won't lose to Ellison, or to a state legislator, unless she fumbles badly in Washington. And Klobuchar will be on hand to make sure that doesn't happen.
As for the Republican side of the aisle, since it's unlikely that anyone will be able to beat Klobuchar next November it's likely that there will be more interest in running for the Republican nomination to take Smith on given the fact that she will be running for election in her own right statewide for the first time in her political career. So far there are no declared candidates for the 2018 Special Election, but several potential names have been mentioned, including sitting Members of Congress such as Tom Emmer and Erik Paulsen as well as a handful of members of the state legislature, including the current Speaker of the state's House of Representatives. Another name that has been mentioned is former Congresswoman Michele Bachmann, who of course was a candidate for the Republican Presidential nomination in 2012. Bachmann has never stood for election outside the District she represented in Congress, though, and it seems unlikely that she would be successful statewide even in a Republican primary. Minnesota does not have runoff elections for primaries, though, so it would not require a majority for someone to win the nomination of their party. If the field for the nomination to take on Smith is crowded, then, it wouldn't be beyond the realm of possibility that Bachmann could win the nomination if she ran. That being said, given the fact that the two potentially strongest Republican candidates, former Senator Norm Coleman and former Governor Tim Pawlenty have already ruled out running for the seat, the odds that any Republican will stand a chance in 2018 seem low indeed.
Update: Congressman Keith Ellison has announced that he will not be running for the Senate next year, so that takes his name off the table completely.