Keith Ellison Wins Minnesota Attorney General Primary Despite Abuse Allegations
Congressman Keith Ellison won his party's nomination for Minnesota Attorney General notwithstanding last-minute allegations of abuse against a former girlfriend.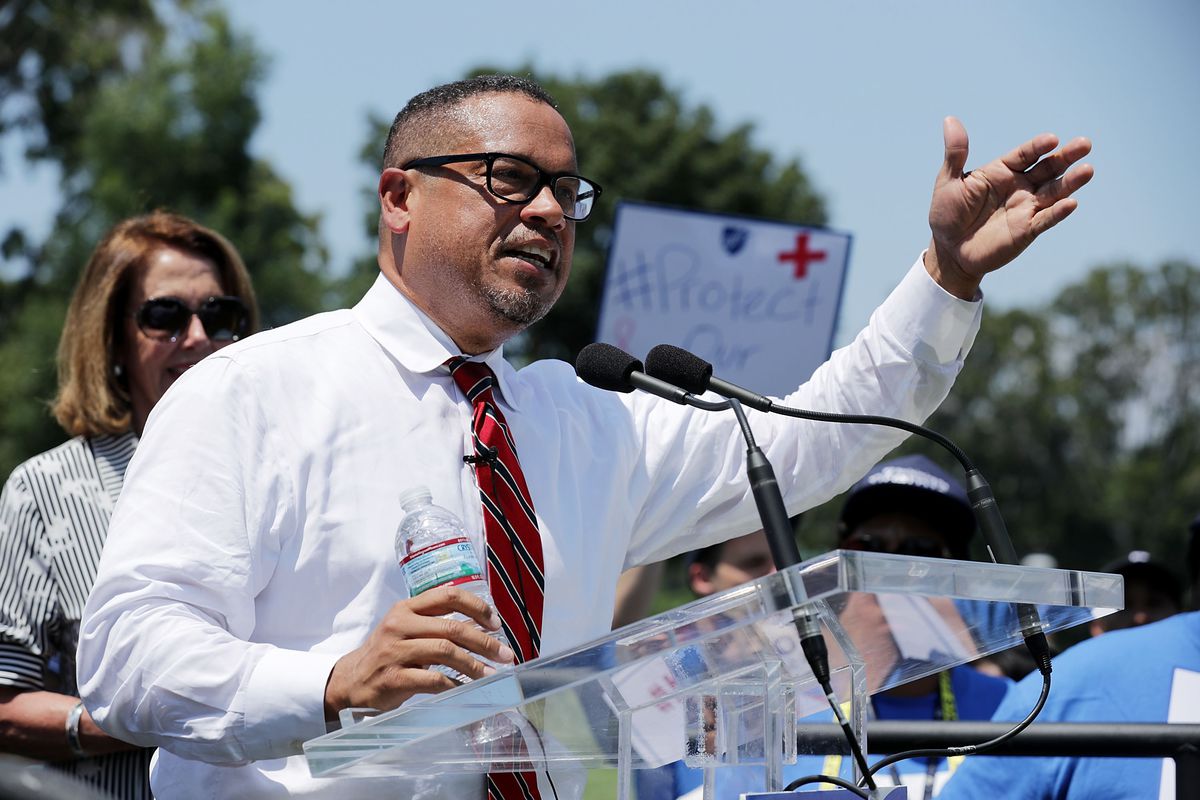 Congressman Keith Ellison easily won the nomination of Minnesota's Democratic-Farmer-Labor Party last night notwithstanding the fact that he has been the focus of abuse allegations from two women over the closing weeks of the campaign:
Rep. Keith Ellison (D-Minn.) on Tuesday won his party's nomination in his bid to be Minnesota's next attorney general, days after the son of an ex-girlfriend accused Ellison of emotionally and physically abusing her.

Ellison, a six-term congressman who also serves as the deputy chairman of the Democratic National Committee, defeated a crowded primary field for the position. Austin Monahan, the son of Ellison's former girlfriend Karen Monahan, posted on Facebook on Saturday that he discovered a cache of messages and a video on his mother's computer, which allegedly showed Ellison "dragging my mama off the bed by her feet, screaming and calling her" profane names.

Ellison denied the allegations in a statement.

"Karen and I were in a long-term relationship which ended in 2016, and I still care deeply for her well-being," Ellison said. "This video does not exist because I never behaved in this way, and any characterization otherwise is false."

Monahan on Monday stood by her son's account, tweeting "What my son said is true. Every statement he made was true." She told CNN she would not release the alleged video.

Ellison had 53 percent of the vote with more than one-third of precincts reporting when the Associated Press called the attorney general primary. His closest opponent, state Rep. Debra Hilstrom, had 16 percent of the vote in the primary. Ellison jumped into the race late, after current Attorney General Lori Swanson lost the state party's endorsement for reelection and decided to run for governor instead.

Before the abuse allegations came out and dominated the campaign, Ellison hoped to leverage his progressive bonafides and ran on a platform of using the attorney general's office to challenge the policies of the Trump administration.

One of the defining issues of the primary, according to the Minneapolis Star Tribune, was whether the eventual winner should use the office of the attorney general to act as a backstop against contentious White House policies. Other candidates argued that the office should focus primarily on state and local issues.

Ellison was among a group of congressional Democrats who in March faced pressure from Republican officials and religious groups over ties to Nation of Islam leader Louis Farrakhan and his anti-Semitic rhetoric.
These election-eve abuse allegations against Ellison aren't unprecedented. In 2006, the Congressman faced similar allegations from another former girlfriend. These allegations of emotional and physical abuse were similar to those being made by Monahan and her son, but have not had any appreciable impact on Ellison's political career. Since those first allegations, Ellison went on to be elected and re-elected to Congress on multiple occasions and most recently was elected to a top position in the Democratic National Committee during which the previous abuse allegations do not appear to have any impact at all. At the same time, though, it's worth noting that all of those allegations came before the rise of the "MeToo" movement and the allegations that have been made against a range of powerful men ranging from Hollywood producer Harvey Weinstein to Minnesota Senator Al Franken. In this case, the new allegations, which came just days before the election itself, likely came too late to have any real impact on the outcome of the race. This is especially true given the fact that the Ellison has denied the allegations and Monahan, at least for the moment, refuses to make public tapes which apparently contain evidence supporting her allegations. Of course, this last fact could be interpreted as a sign that Monahan is being less than truthful, but it's hard to tell at this point.
In any case, Ellison will go on to face Doug Wardlow, a former member of the Minnesota House of Representatives who currently serves as counsel for a conservative group called the Alliance For Defending Freedom that has taken on a number of conservative legal causes, including opposition to same-sex marriage and the defense of various vendors who have been accused of discriminating against same-sex couples in violation of public accommodation and anti-discrimination law. On paper, this likely means that Ellison is likely favored to win this race, but that could depend on the fate of these abuse allegations and whether or not other charges are made public. If Ellison does manage to win, though, he's likely to continue his course of becoming a rising star in the Democratic Party that could lead to higher office in the future at either the state or Federal level.