PGA, LIV, and World Tour Merging
If you can't beat 'em, join 'em?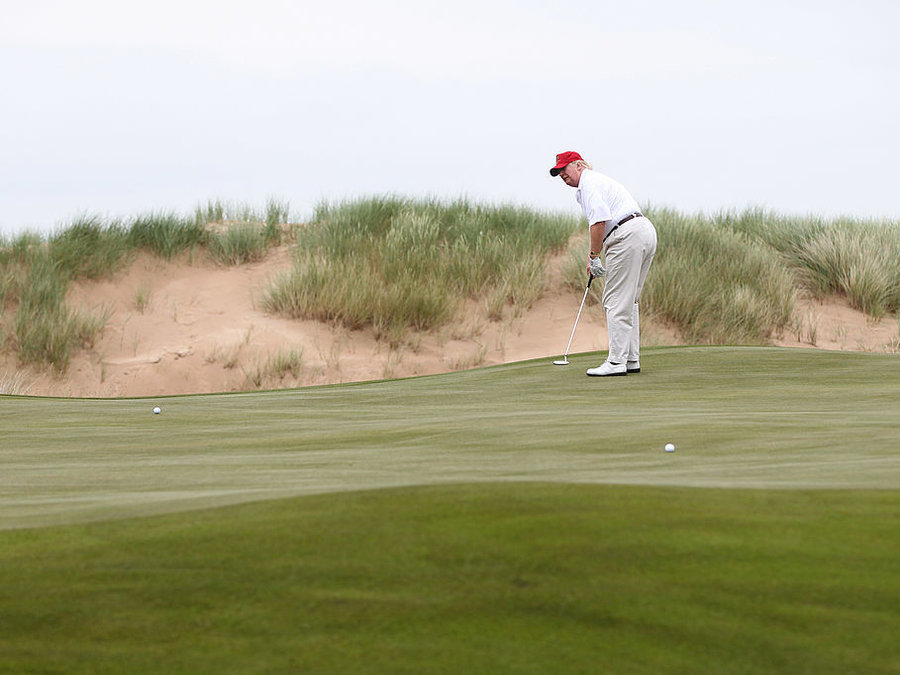 After two years of accusations of "sportswashing," collusion, and a slew of lawsuits, the three world golf tours are forming a partnership backed by Saudi blood money.
Mark Schlabach, ESPN ("PGA Tour, LIV Golf, DP World Tour unify 'under one umbrella'"):
The PGA Tour, DP World Tour and LIV Golf League, which have been embroiled in a bitter legal battle for more than a year, have agreed to unify and move forward in a larger commercial business, the circuits announced Tuesday.

The tours called the stunning development "a landmark agreement … on a global basis."

"There's been a lot of tension in our sport over the last couple years," PGA Tour commissioner Jay Monahan told CNBC on Tuesday. "What we're talking about today is coming together to unify the game of golf, and to do so under one umbrella.

"… We've recognized that together, we can have a far greater impact on this game than we can working apart. … The game of golf is better for what we've done here today."

The landmark deal between the tours and Saudi Arabia's Public Investment Fund (PIF) was reached without the knowledge of many PGA Tour members and LIV Golf players and agents.

Said one PGA Tour player reached by ESPN on Tuesday, "No f—ing way."

A golf agent, who represents a couple of high-profile LIV Golf players, told ESPN that he was unaware of the merger.

"You just made my heart skip a few beats," the agent said, before the deal was officially announced.

Said Phil Mickelson on Twitter: "Awesome day today," with a happy face emoji.

In a statement, the circuits said the parties have signed an agreement that "combines PIF's golf-related commercial businesses and rights (including LIV Golf) with the commercial businesses and rights of the PGA Tour and DP World Tour into a new, collectively owned, for-profit entity to ensure that all stakeholders benefit from a model that delivers maximum excitement and competition among the game's best players."

The circuits said the agreement ends all pending litigation between the parties.

The three tours said they will work "cooperatively and in good faith to establish a fair and objective process for any players who desire to reapply for membership with the PGA Tour or DP World Tour following the completion of the 2023 season."

"After two years of disruption and distraction, this is a historic day for the game we all know and love," Monahan said in a statement. "This transformational partnership recognizes the immeasurable strength of the PGA Tour's history, legacy and pro-competitive model and combines with it the DP World Tour and LIV — including the team golf concept — to create an organization that will benefit golf's players, commercial and charitable partners and fans."

Monahan held a players meeting Tuesday afternoon in Toronto, the site of this week's RBC Canadian Open. A player told ESPN that the PGA Tour's player advisory committee met with United States Golf Association officials in Columbus, Ohio, on Sunday. Monahan and other PGA Tour executives attended the meeting as well, but there was no discussion about a potential merger with LIV Golf.

In a memo to PGA Tour players Tuesday, a copy of which was obtained by ESPN, Monahan wrote that in addition to making a financial investment in the new entity, PIF would become a premier corporate sponsor of the PGA Tour, DP World Tour and other international tours. Monahan wrote that PIF will make investments to "build an even stronger and more robust commercial business, together" and was committed to "significant financial support toward causes that positively impact the game on a global basis."

Monahan wrote that the PGA Tour would evaluate how "best to integrate team golf into the professional game." He said LIV Golf would complete its 2023 schedule, which resumes later this month in Spain.

"They were going down their path, we were going down ours, and after a lot of introspection you realize all this tension in the game is not a good thing," Monahan said in a phone interview with The Associated Press.

Another PGA Tour member reached by ESPN on Tuesday, questioned why the merger needed to happen when, in his opinion, the PGA Tour was beating the LIV Golf League on the course and in the courts.

"It's insanity," the PGA Tour player said. "The LIV tour was dead in the water. It wasn't working. Now, you're throwing them a life jacket? Is the moral of the story to just always take the money?"

"It's disappointing being a PGA Tour member," Callum Tarren, who is ranked No. 159 in the world, told the Golf Channel. "… The guys who've stayed loyal to the PGA Tour, it's kind of a kick in the teeth for them. Obviously, Rory [McIlroy] was a huge advocate of the PGA Tour, and now it looks like all of this hard work and sticking up for the PGA Tour was just left by the wayside."
From my perspective as, at best, a casual fan of the game these days, it only makes sense to bring all the world's players under a single umbrella while exploring ways to innovate the game for spectators. But Monahan spent two years questioning the morality of Mickelson and other players who took the LIV money, saying they were effectively siding with the people who financed the 9-11 attacks. Several players, with McElroy and a few others most prominent, backed his play. Now, the people who started the LIV tour are effectively running the new, combined entity.
Naturally, some players are calling him a hypocrite to his face and demanding new leadership.
PGA Tour commissioner Jay Monahan was called a hypocrite in a heated meeting with players at Oakdale Golf and Country Club in Toronto on Tuesday, hours after the tour announced it was forming a partnership with Saudi Arabia's Public Investment Fund and the DP World Tour.

Australian golfer Geoff Ogilvy told reporters that a player called Monahan a hypocrite during the meeting, which lasted for more than an hour at the site of this week's RBC Canadian Open.

"It was mentioned, yeah, and he took it," Ogilvy said. "He said, 'Yeah.' He took it, for sure."

PGA Tour winner Johnson Wagner told Golf Channel that there was plenty of anger in the room.

"It was contentious," he said. "There were many moments where certain players were calling for new leadership of the PGA Tour and even got a couple standing ovations."

In a news conference with reporters later, Monahan said he realizes he might be criticized for agreeing to form a new entity with Saudi Arabia's sovereign wealth fund after he had questioned the source of the LIV Golf League in the past.

"I recognize everything that I've said in the past and my prior positions. I recognize that people are going to call me a hypocrite," Monahan said. "Anytime I said anything, I said it with the information that I had at that moment, and I said it based on someone that's trying to compete for the PGA Tour and our players. I accept those criticisms, but circumstances do change. I think that in looking at the big picture and looking at it this way, that's what got us to this point."

At last year's RBC Canadian Open, Monahan was asked about the Saudi Arabian monarchy's connections to the Sept. 11, 2001, attacks during an interview with CBS Sports.

"I think you'd have to be living under a rock not to know there are significant implications," Monahan said at the time. "I would ask any player who has left or any player who would consider leaving, 'Have you ever had to apologize for being a member of the PGA Tour?'"
At the end of the day, professional golf is a business and this likely makes good business sense. All parties were spending huge sums on litigation that could have dragged on for months or years. And there's a really good chance that the PGA Tour would have lost in court.
Still, the optics are bad. Schlabach again:
PIF, with more than $600 billion in assets, will be the leading investor in the yet-to-be-named new entity, and it also will become a premier corporate sponsor of the PGA Tour, DP World Tour and other international tours.

For those who need a point of comparison, it was like Dusty Rhodes' girlfriend showing up on stage with Ric Flair at a World Championship Wrestling event in the 1980s and pledging her loyalty to the Nature Boy.

Or Alabama football coach Nick Saban taking the Auburn job.

No one saw it coming — not even the PGA Tour's biggest stars, who were kept in the dark.

After months of defending the PGA Tour and criticizing the source of LIV Golf's funding at every turn, Monahan made an abrupt eight-inch-heel turn, leaving golf fans and his own tour members to question everything they'd heard from him for more than a year.

[…]

In October, after Mickelson had suggested that the PGA Tour and LIV Golf needed to come together, Monahan told ESPN at the Presidents Cup in Charlotte, North Carolina, that it would never happen.

"Well, I think words and actions are important," Monahan said at the time. "I think it's impractical when you look at the fact that certain players have sued the PGA Tour, their employer has sued the PGA Tour. It's not in the cards. It hasn't been in the cards, and it's not in the cards. I think we've been pretty consistent on that front."

When Monahan was asked if the circuits could coexist, he said: "I'd provide the same answer. The answer to that is they've gone down their path, and I think we have been pretty consistent that we're going down."

So what changed? Sources told ESPN that the PGA Tour and LIV Golf have each spent tens of millions of dollars defending themselves in a federal antitrust lawsuit that LIV Golf and 11 of its players filed against the PGA Tour in August. The PGA Tour filed a countersuit, claiming LIV Golf interfered with its contracts with players.

On Friday, the U.S. Court of Appeals for the Ninth Circuit in California denied the PGA Tour's motion to dismiss LIV Golf's appeal over sovereign immunity. The case would have likely dragged on for several months, if not a couple of more years. Neither side wanted to share its secrets via required discovery, and neither wanted to keep spending money on lawyers.

Richard Sheehan, a professor emeritus of finance at Notre Dame's Mendoza College of Business who specializes in the economics of sports, said in a statement provided to ESPN that "economic interests do generally win out in the long term."

"Multiple lawsuits with potentially huge costs, very long potential timelines, and tremendous uncertainty regarding the legal outcomes have a way of focusing participants' attention on issues at hand and the financial and reputational stakes in the balance," Sheehan said.

"LIV and the Saudis may well have entered the golf arena in an effort to repair the Saudi Arabian monarchy's reputation on human rights. The lawsuits do not help on that end. And the PGA likely has no interest in trying to match Saudi/LIV funding of a protracted and expensive legal battle. Both had an incentive to settle, and the questions now revolve around the terms of that settlement."

Instead of spending tens of millions of dollars more on lawyers, Monahan might have figured it was more financially prudent to get in business with the Saudis rather than sue them.

"In terms of how did we get to this point and how did we go from a confrontation to now being partners?" Monahan said Tuesday. "We just realized that we were better off together than we were fighting or apart, and by thinking about the game at large and eliminating a lot of the friction that's been out there and doing this in a way where we can move forward."
There are still a ton of details to be worked out, so we don't know what the post-2023 picture looks like. But there are a lot of fences to mend.