University Of Maryland Football Coach Suspended Amid Reports Of 'Toxic Culture'
The head football coach at the University of Maryland has been suspended after reports of a "toxic environment" that led to the death of a student athlete in June.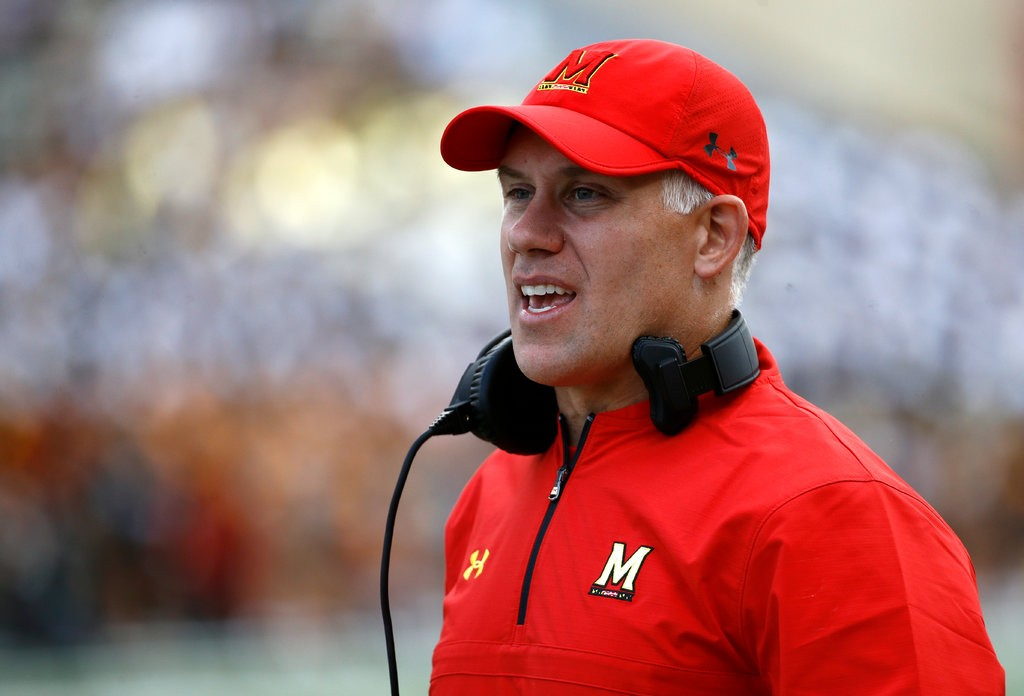 The head coach for the University of Maryland's football team has been suspended amid reports of a 'toxic environment' that surfaced after the death of a player during a team workout back in June:
The University of Maryland on Saturday placed its football coach, D. J. Durkin, on administrative leave while it investigates accusations about mistreatment of players that surfaced after offensive lineman Jordan McNair collapsed during a May workout and died weeks later.

The suspension came one day after an article by ESPN detailed a culture of fear and intimidation at Maryland, according to current and former players and staff members, who said that coaches and trainers commonly embarrassed and humiliated players. The sources of the accusations were anonymous.

Players' masculinity was mocked when they were unable to complete a workout or lift a weight, and one player was belittled after passing out, according to ESPN. Coaches forced one player to overeat to the point of vomiting, the article said, and another — whom the coaches wanted to lose weight — was forced to eat candy bars while watching teammates working out.

Maryland's president, Wallace D. Loh, said such behavior was unacceptable.

"Our responsibility as teachers is to inspire and enable students to perform at their best and expand the boundaries of their potential," Loh said in a statement. He added, "Humiliating and demeaning a student is not only bad teaching and coaching, it is an abuse of the authority of a teacher and coach."

According to ESPN, the college on Friday placed three others associated with the program on leave: the strength and conditioning coach, Rick Court; the director of athletic training, Steve Nordwall; and the athletic trainer, Wes Robinson.

Durkin is the second Big Ten football coach to be placed on leave this month while his school investigates allegations of abuse. Ohio State is examining whether its coach, Urban Meyer, properly handled domestic abuse allegations against a longtime assistant coach. Durkin served as an assistant under Meyer at Bowling Green and at the University of Florida.

Durkin, 40, had been preparing for his third season at Maryland. The school has hired Rod Walters, a former college athletic trainer, to investigate whether coaches and officials followed protocol when McNair, a 19-year-old redshirt freshman, collapsed during a workout on May 29. He died on June 13.

No cause of death has been released, but ESPN reported that McNair had died of heatstroke.

Billy Murphy, a lawyer for McNair's family, said that Maryland's 911 call for help, which was recorded at 5:58 p.m., did not come until nearly an hour after McNair had first had convulsions after a series of sprints, which happened around 5 p.m.

Such a delay, Murphy told ESPN, shows "an utter disregard of the health of this player, and we are extraordinarily concerned that the coaches did not react appropriately to his injury."

Maryland, in a statement, said that "no student-athlete, athletic trainer or coach reported a seizure occurring at 5 p.m."
The original report from ESPN is quite damning:
Several current University of Maryland football players and people close to the Terrapins program describe a toxic coaching culture under head coach DJ Durkin before offensive lineman Jordan McNair's death in June after a football workout.

McNair, who was 19, died two weeks after being hospitalized following a May 29 team workout. He collapsed after running 110-yard sprints, showing signs of extreme exhaustion and difficulty standing upright. No official cause of death has been released, but ESPN reported Friday that he died of heatstroke suffered during the workout and had a body temperature of 106 degrees after being taken to a hospital.

Over the past several weeks, two current Maryland players, multiple people close to the football program, and former players and football staffers spoke to ESPN about the culture under Durkin, particularly strength and conditioning coach Rick Court, who was one of Durkin's first hires at Maryland in 2015. Among what they shared about the program:

There is a coaching environment based on fear and intimidation. In one example, a player holding a meal while in a meeting had the meal slapped out of his hands in front of the team. At other times, small weights and other objects were thrown in the direction of players when Court was angry.
The belittling, humiliation and embarrassment of players is common. In one example, a player whom coaches wanted to lose weight was forced to eat candy bars as he was made to watch teammates working out.
Extreme verbal abuse of players occurs often. Players are routinely the targets of obscenity-laced epithets meant to mock their masculinity when they are unable to complete a workout or weight lift, for example. One player was belittled verbally after passing out during a drill.
Coaches have endorsed unhealthy eating habits and used food punitively; for example, a player said he was forced to overeat or eat to the point of vomiting.

Although grueling workouts, expletive-laced rants and hot-tempered coaches aren't unusual in college sports programs, those who have been at Maryland told ESPN that what they saw or experienced under Durkin has been excessive. The current players said they had talked with multiple players who described similar views about the team's culture but feared repercussions if they talked publicly. The two players spoke on the condition of anonymity.

A former Maryland staff member said: "I would never, ever, ever allow my child to be coached there."

A second former staffer said that while he has seen and heard coaches curse at players, he'd never been on another coaching staff with this kind of philosophy. "The language is profane, and it's demeaning at times," he said. "When you're characterizing people in such derogatory and demeaning terms, particularly if they don't have a skill level you think they need to aspire to, or they may never get, then it's rough to watch and see because if it was your son, you wouldn't want anybody talking to your son that way."

"The way they coach us at Maryland, tough love — it's really more tough than it is love," one former player said.

ESPN requested to interview Durkin and Court, but athletic department officials declined to make them available. The university issued an initial statement earlier Friday before announcing its personnel decision that reads: "The alleged behaviors raised in the ESPN story are troubling and not consistent with our approach to the coaching and development of our student athletes. Such allegations do not reflect the culture of our program. We are committed to swiftly examining and addressing any such reports when they are brought to our attention."

(…)

Several current football players and people close to the program say that because of the program's culture, players were all but forced to try to complete whatever workout came their way.

"It shows a cultural problem that Jordan knew that if he stopped, they would challenge his manhood, he would be targeted," one of the current players said. "He had to go until he couldn't."

Several current players and people close to the program described a sustained pattern of verbal abuse and intimidation of players. A former staff member said "verbal personal attacks on kids" occurred so often that everyone became numb to them.

"We always talked about family, but whose family talks to you like that, calls you a p—y b—-?" a third former staffer said. "There are so many instances."

Former Maryland defensive lineman Malik Jones, who transferred after last season from Maryland to Toledo, said he had an altercation with Durkin after Durkin took exception to Jones' smiling during a team meeting. Durkin and Jones went to another room and, according to Jones, Durkin accused him of "bad-mouthing the program" and encouraged him to leave.

"He basically got in my face, was pointing his finger in my face and calling me explicit names and things of that nature," said Jones, who appeared in six games last season for Maryland. "I'm not going to let a guy bully me. … He called me a b—- and stuff like that. I'm not going to tolerate that."

A former staff member recalled a time when one player was in a team meeting with food on a plate because he was rushing from a meal to get to the meeting, and Court smacked the plate of food out of the player's hands, yelling at him.

"It was embarrassing," the second former staffer said. "It was the ultimate of embarrassment."

He described Court as "a very aggressive, in-your-face, matter-of-fact" coach who "would use any language he deemed appropriate to get a response or move your needle."

"He's just a ball of testosterone all the time," one current player said. "He's really in your face. He'll call you [expletives], he'll challenge you in the weight room. He'll put more weight on the bar than you can do, ever done in your life, and expect you to do it multiple times. He'll single people out he doesn't like, which is a common practice here. Guys are run off. They'll have them do specific finishes at the end and do harder workouts or more workouts just to make their lives miserable here. He's kind of Durkin's tool to accomplish that. He's the guy people hate, and that way Durkin doesn't have to take the blow for it. Guys can't stand Coach Court."

Jones said he witnessed several "rants and outbursts" from Court.

"They did go by the philosophy of balls to the wall," Jones said. "Push to the extreme? That was an everyday thing. I've seen him get physical with guys sometimes, throw objects at guys sometimes, small weights, anything he had in his hand at the time. I don't think he was trying to intentionally hit them, but I know for a fact he purposely threw them in their direction."

Another former player alleged the staff made an injured player do a tug-of-war competition against the whole defensive back unit.
There's more at the ESPN link about the program itself and the circumstances that led to McNair's death, which is currently being investigated by an outside investigator hired by the school and, presumably, by law enforcement as well. There was a time, of course, when such treatment of players at the professional, college, or even the high school, level was not only not unusual but also pretty much par for the course. Head coaches and their assistants were given wide latitude in how they treated players, especially if they kept winning games and earning money for the institution in question, and much of it was seen as part and parcel of the testosterone-fueled environment that surrounds male sports in general. That era has passed, though, due in no small part to outside legal action, previous instances where players ended up being injured or even dying due to action or inaction on the part of the coaching staff, and the fact that we live in a far more litigious society that we used to be, it is fairly clear that treating players like this simply isn't acceptable anymore.
Durkin isn't the only college athletic program under investigation. Earlier this month, Ohio State placed Urban Meyer on paid administrative leave amid reports that he did not properly handle reports about domestic abuse charges against an Assistant Coach, something that Meyer has reportedly disputed. That matter remains under investigation and it is unclear if it will be resolved in time for the start of the season in September, but as things stand right now it seems likely that Meyer will walk away with, at most, a suspension for a handful of games rather than dismissal. In addition to the Meyer matter, of course, Ohio State is also dealing with a scandal involving sexual abuse at its wrestling program ten years ago that has swept Congressman Jim Jordan into the controversy amid charges that he failed to report incidents of abuse that he was, or should have been, aware of during the time he was a coach for the program. Up in Lansing, Michigan, Michigan State University is dealing with allegations that involve Larry Nassar, the former team doctor for USA Gymnastics who was sentenced to what effectively amounts to life in prison after more than 100 female gymnasts, including many Olympians, came forward to describe years of sexual abuse. Nassar also served as a team physician at Michigan State and there have been reports of sexual abuse of players in that program as well. Finally, the University of Southern California finds itself the subject of numerous lawsuits related to claims of sexual abuse by a university gynecologist, although this case deal with the health program for the entire university rather than just the athletic program. This, no doubt, just the tip of the iceberg.