Science Fiction Great Harlan Ellison Dies At 84
Harlan Ellison, who had a reputation for being as cantankerous as he was a great writer, has died at the age of 84.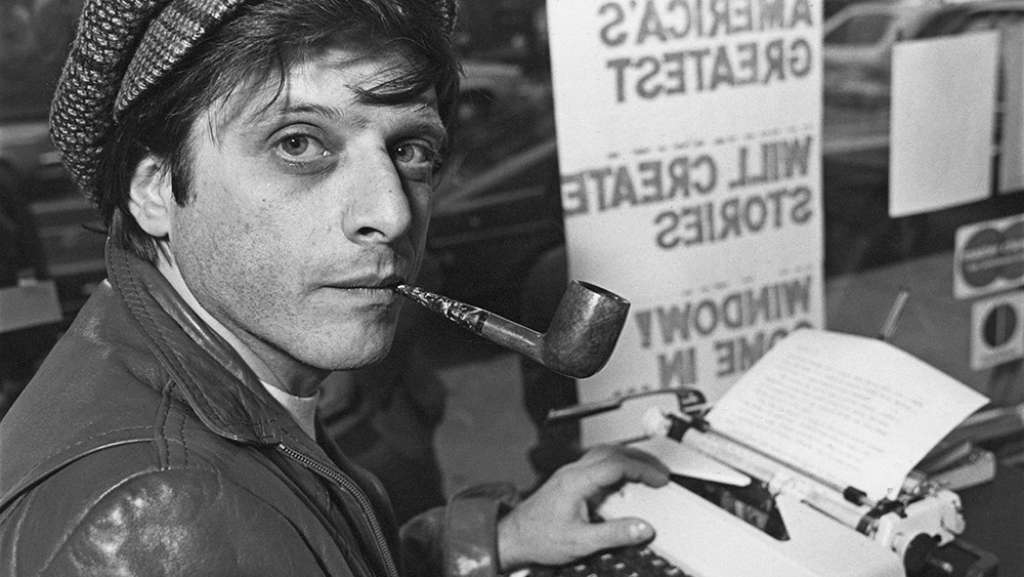 Harlan Ellison, an incredibly prolific Science Fiction author who was also responsible for the most well-known episode of Star Trek during its original run, has died at the age of 84:
Harlan Ellison, a furiously prolific and cantankerous writer whose science fiction and fantasy stories reflected a personality so intense that they often read as if he were punching his manual typewriter keys with his fists, died on Wednesday at his home in Los Angeles. He was 84.

His wife, Susan Ellison, confirmed his death but said she did not know the cause. He had had a stroke and heart surgery in recent years.

Mr. Ellison looked at storytelling as a "holy chore," which he pursued zealously for more than 60 years. His output includes more than 1,700 short stories and articles, at least 100 books and dozens of screenplays and TV scripts. And although he was ranked with eminent science fiction writers like Ray Bradbury and Isaac Asimov, he insisted that he wrote speculative fiction or, simply, fiction.

"Call me a science fiction writer," Mr. Ellison said on the Sci-Fi Channel (now SyFy) in the 1990s. "I'll come to your house and I'll nail your pet's head to a coffee table. I'll hit you so hard your ancestors will die."

Mr. Ellison's best-known work includes "A Boy and His Dog" (1969), a novella set in the postapocalyptic wasteland of the United States; "I Have No Mouth and I Must Scream" (1967), a short story about a computer that tortures the last five humans on earth; "The City on the Edge of Forever," a beloved back-in-time episode of the "Star Trek" television series in 1967; and " 'Repent, Harlequin!' Said the Ticktockman" (1965), about a futuristic society where time is regimented by a fearsome figure called the Ticktockman.

"But no one called him that to his mask," Mr. Ellison wrote. "You don't call a man a hated name, not when that man, behind his mask, is capable of revoking the minutes, the hours, the days and nights, the years of his life. He was called the Master Timekeeper to his mask."

Mr. Ellison was a fast-talking, pipe-smoking polymath who once delighted talk-show hosts like Merv Griffin and Tom Snyder with his views on atheism, elitism, violence and Scientology.

And he could be wild, angry and litigious. He said that he lost his job with the Walt Disney Company — on the first day — when he stood up in its commissary (with company executives watching) and described how he wanted to make an animated pornographic film starring Mickey and Minnie Mouse.

He is said to have sent a dead gopher to a publisher and attacked an ABC executive, breaking his pelvis.

He frequently accused studios and television producers when he believed they had copied his stories. One of his many lawsuits included one against the makers of the movie "The Terminator," which accused them of plagiarizing "Soldier," a script he wrote in 1964 for the television series "The Outer Limits."
More from Variety:
Speculative-fiction writer Harlan Ellison, who penned short stories, novellas and criticism, contributed to TV series including "The Outer Limits," "Star Trek" and "Babylon 5" and won a notable copyright infringement suit against ABC and Paramount and a settlement in a similar suit over "The Terminator," has died. He was 84.

Christine Valada tweeted that Ellison's wife, Susan, had asked her to announce that he died in his sleep Thursday.

The prolific but cantankerous author famously penned the "Star Trek" episode "City on the Edge of Forever," in which Kirk and Spock must go back in time to Depression-era America to put Earth history back on its rightful course, a goal that for Kirk means sacrificing the woman he loves (played by Joan Collins). The final script was rewritten by "Star Trek" staffers, leaving Ellison unhappy.

His 1995 book "The City on the Edge of Forever: The Original Teleplay That Became the Classic Star Trek Episode" contained two drafts by Ellison.

The author was still steaming over his experience more than four decades after the episode originally aired: In 2009 Ellison sued CBS Paramount Television seeking revenue from merchandising and other sources from the episode; a settlement was reached six months later.

The author of a 1980 L.A. Times profile declared, "Ellison is fiercely independent, proudly elitist, frequently angry, tenacious and downright vengeful."

Talking about the Hollywood establishment, Ellison told the author, "They've got to know that everybody isn't frightened and won't back down…. These people are not creators; they belong to the AAA — agents, attorneys and accountants. They aren't comfortable dealing with writers — they think we're madmen. They're really only comfortable dealing with numbers."

In a separate case, Ellison won $337,000 (later reduced a bit in a settlement) from ABC and Paramount Studios in 1980 for copyright infringement on a short story the author had penned with Ben Bova, "Brillo." Ellison and Bova had been asked to develop it at ABC, but the option there had lapsed; Ellison then showed it to Par execs, who said they weren't interested. ABC aired a Par-produced telepic called "Future Cop" in May 1976 and later a brief series of the same name. The premise, about the first android policeman, was identical to that in "Brillo."

(…)

Born in Painesville, Ohio, Ellison grew up in the only Jewish family in a small town where he said he had to defend himself in physical altercations on a daily basis. During the 1950s Ellison attended Ohio State U. for 18 months, served in the Army and began to sell sci-fi stories to pulp mags.

He moved to California in 1962.

Ellison was famously fired on his first day of employment as a writer at Walt Disney Studios after making highly irreverent suggestions about the company's beloved characters.

He penned scripts for "Route 66," "Burke's Law" and "Voyage to the Bottom of the Sea," "The Man From U.N.C.L.E." and even "The Flying Nun." For a 1964 episode of "The Alfred Hitchcock Hour," "Memo From Purgatory," he adapted his own nonfiction memoir about having joined a street gang in Brooklyn.

Ellison also penned the screenplay to tepidly trashy Hollywood melodrama "The Oscar," and the post-apocalyptic cult classic "A Boy and His Dog" (1975), starring a young Don Johnson, was based on an Ellison novella.

Ellison was also editor of the very influential sci-fi anthologies "Dangerous Visions" and "Again Dangerous Visions."

When he dealt with Hollywood, he fearlessly said exactly what he thought again and again — often causing fallout as a result. In the wake of the 1977 release of "Star Wars," a Warner Bros. executive asked Ellison to adapt Isaac Asimov's short story collection "I, Robot" for the bigscreen.

Ellison penned a script and met with studio chief Robert Shapiro to discuss it; when the author concluded that the executive was commenting on his work without having read it, Ellison claimed to have said to Shapiro that he had "the intellectual capacity of an artichoke." Needless to say, Ellison was dropped from the project. Ellison's work was ultimately published with permission of the studio, but the 2004 Will Smith film "I, Robot" was not based on the material Ellison wrote.

Perhaps Ellison's most famous story not adapted for the screen was 1965's "Repent, Harlequin! Said the Ticktockman," which celebrates civil disobedience against a repressive establishment. "Repent" is one of the most reprinted stories ever.

In September 2011, however, Ellison sued to block the release of New Regency's thriller "In Time," starring Justin Timberlake, claiming that the film hews too closely to "Repent," then dropped the suit. In the early 1970s, Ellison created his only TV series, the Canada-produced "The Starlost." He was so unhappy with the changes made by producers, however, that he took his name off the skein, which aired in 1973.

Ellison was a creative consultant for the 1980s edition of "The Twilight Zone," for which he wrote several episodes, and was conceptual consultant for the 1990s sci-fi series "Babylon 5." He also appeared in several episodes.
While notoriously cantankerous, Ellison was an extraordinary writer who seldom disappointed in the stories that he told, and he was able to tell many of them during his long career. For people who haven't read much Science, or I should put it Speculative, Fiction, his name probably isn't as familiar as those of other greats such as Isaac Asimov, Ray Bradbury, and Arthur C. Clarke, but as someone who grew up reading everything I could find in that genre I'd have to say that he ranks right up there with the other greats of the field even if he didn't achieve their fame outside the field. Even among non-genre fans, though, his work is at least somewhat known given that The City On The Edge Of Forever is one Star Trek episode that even non-fans are aware of in some way or another. So, even though the final script for that episode was changed from what Ellison intended, his work is remembered in some respect. In any case, while Ellison is gone, his writing will survive his passing so in some sense he'll always be with us.