Patrick Stewart To Reprise Role As Captain Jean-Luc Picard In New Star Trek Series
Make it so!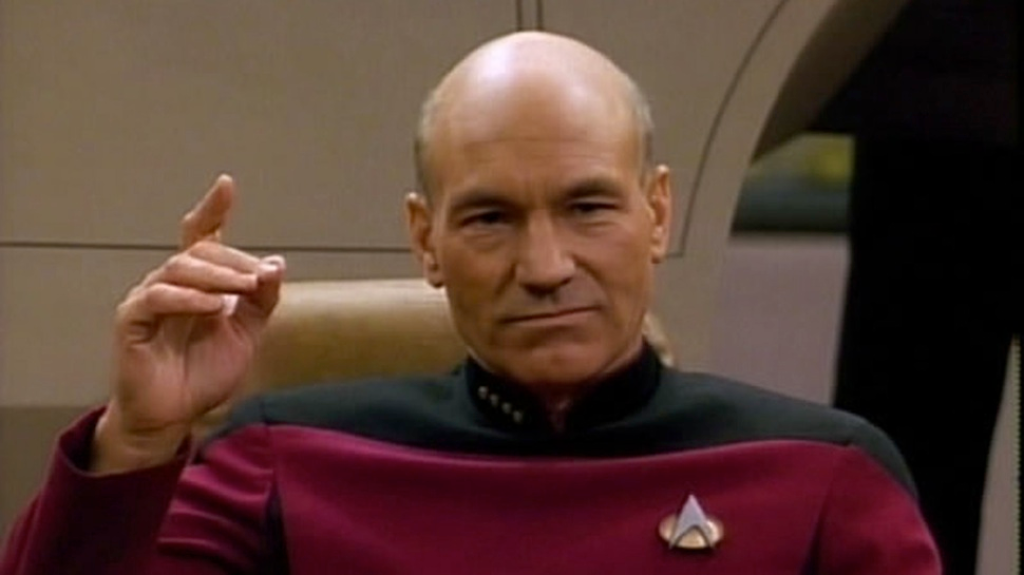 It's been sixteen years since Patrick Stewart last donned a Starfleet uniform to play the role of Captain Jean-Luc Picard in Star Trek: Nemesis, and twenty-four years since Star Trek: The Next Generation ended its television run. In the years since then Stewart has had a wide and varied career both via a return to his Shakespearean roots and other stage performances, and, of course, his role as Professor X in the hugely successful X-Men film series. Now, it looks like both Stewart and the character are headed back to television:
Adjust your uniform (tugging as needed) and make sure your tea — Earl Grey, of course — is hot.

"Jean-Luc Picard is back," Patrick Stewart told a jubilant audience in a surprise appearance at a "Star Trek" convention in Las Vegas on Saturday.4

Mr. Stewart played the celebrated captain of the Starship Enterprise on "Star Trek: The Next Generation," and in four films: "Generations," "First Contact," "Insurrection" and "Nemesis." Now, he is confirmed to lead a new "Star Trek" show on CBS All Access, the network's digital streaming service, which will explore the next chapter of Picard's life.

The rumors that Mr. Stewart would resurrect his most famous role had circulated for weeks, especially after Alex Kurtzman, an executive producer of "Star Trek: Discovery," signed a new deal with CBS.

The last time we saw Picard, he was saying a farewell of sorts to crew members of the Starship Enterprise E. For the first time in years, he had a new first officer, since William Riker, Picard's longtime deputy, and Deanna Troi, Riker's wife and the ship's counselor, were heading to the U.S.S. Titan. It was after Data, the trustworthy android, had died to save the ship.

That was in 2002's "Star Trek: Nemesis," the last film of the "Star Trek" franchise featuring the original cast of "The Next Generation." (A deleted scene from the movie shows Dr. Beverly Crusher at Starfleet Medical.) While it wasn't well received by the dedicated Trekkie fan base, it seemed a logical conclusion for the crew.

But Mr. Stewart and the "Star Trek" brass felt there was more of Picard's story to explore, much to Mr. Stewart's surprise.

(…)

In a statement, Mr. Kurtzman, an executive producer on the project, said: "With overwhelming joy, it's a privilege to welcome Sir Patrick Stewart back to the 'Star Trek' fold. For over 20 years, fans have hoped for the return of Captain Jean-Luc Picard and that day is finally here. We can't wait to forge new ground, surprise people, and honor generations both new and old."

It is unclear what part of Picard's story will be explored or when the project will begin production. It is also uncertain whether other "Next Generation" cast members will be a part of the project. Mr. Stewart, Rod Roddenberry, Akiva Goldsman, Heather Kadin, Trevor Roth, James Duff and Michael Chabon are also listed as executive producers.

And while "Star Trek" fans are excited about Mr. Stewart's return to the franchise, the move comes with a great deal of risk. Films involving "The Next Generation" have been met with mixed reviews, and critics accused the film writers of mangling Picard's character in comparison with the portrayal on the television show.

But at a moment when several legacy television shows have returned or are in the process of coming back to the screen, perhaps it is fitting that one of the most famous roles in science fiction history will return.
More from Variety:
Sir Patrick Stewart will reprise the role of Capt. Jean-Luc Picard in a brand new "Star Trek" series on CBS All Access, Variety has learned.

The exact plot details are being kept mostly under wraps, though the series is said to tell the story of the next chapter of Picard's life. That indicates that it will take place after the events of "Star Trek: The Next Generation" rather than being a prequel or reboot.

The untitled series hails from Alex Kurtzman, James Duff, Akiva Goldsman, Michael Chabon, and Kirsten Beyer. Kurtzman, Duff, Goldsman, and Chabon will also serve as executive producers on the series along with Stewart, Trevor Roth, Heather Kadin, and Rod Roddenberry. CBS Television Studios will produce. The new series does not currently have a premiere date.

"I will always be very proud to have been a part of 'Star Trek: The Next Generation,' but when we wrapped that final movie in the spring of 2002, I truly felt my time with 'Star Trek' had run its natural course," Stewart said. "It is, therefore, an unexpected but delightful surprise to find myself excited and invigorated to be returning to Jean-Luc Picard and to explore new dimensions within him. Seeking out new life for him, when I thought that life was over."

"During these past years, it has been humbling to hear many stories about how 'The Next Generation' brought people comfort, saw them through difficult periods in their lives or how the example of Jean-Luc inspired so many to follow in his footsteps, pursuing science, exploration and leadership," he continued. "I feel I'm ready to return to him for the same reason – to research and experience what comforting and reforming light he might shine on these often very dark times. I look forward to working with our brilliant creative team as we endeavor to bring a fresh, unexpected and pertinent story to life once more."

(…)

News of the series order comes less than two months after it was reported that CBS TV Studios was developing multiple shows set in the "Star Trek" universe. Other shows that were reported to be in development at that time include one set at Starfleet Academy from creators Stephanie Savage and Josh Schwartz as well as a limited series based around the "Wrath of Khan" story.

The studio also announced that they had signed Kurtzman to a new five-year overall deal that will see him supervise the expansion of CBS' "Star Trek" franchise.

During San Diego Comic-Con, CBS TV Studios also announced that they had ordered a four-part miniseries called "Star Trek: Short Treks." Launching this fall then rolling out on CBS All Access on a monthly basis, each of the four episodes will be approximately 10-15 minutes long, and dig deeper into specific characters and themes explored on "Discovery."
Stewart also posted the news on his Twitter and Facebook feeds:
It is an unexpected but delightful surprise to find myself excited and invigorated to be returning to Jean-Luc Picard and to explore new dimensions within him. Read my full statement in the photo. #StarTrek @cbsallaccess Photo: @shervinfoto pic.twitter.com/8Ynuj3RBNm

— Patrick Stewart (@SirPatStew) August 4, 2018
This news, of course, comes on the heels of the first season of Star Trek: Discovery, the first new Star Trek television series since Star Trek: Enterprise ended its run in 2005 and in the wake of the rebooted movie series that began in 2009 with J.J. Abrams Star Trek, which takes place in an entirely different timeline from that of the original series or any of its follow-ups. Unlike earlier series, Discovery did not air on broadcast or cable television but on CBS's video streaming service CBS All Access, which is only available via subscription. Personally, I have not seen Discovery yet in no small part because I've been reluctant to sign up for yet another streaming service just to watch one show, but from what I have heard from friends who have watched the show is that, while it started out somewhat weak, Discovery ended its first season on a strong and promising note. In any case, the show was picked up for a second season and, as noted, CBS is talking about expanding its offering of Trek-related programming, so I suppose it is working out for them quite nicely.
As for this new Picard series, it's hard to know what to think about it until we get more details. A show that focuses on Picard as an Admiral behind a desk or an Ambassador doesn't exactly sound like one that will bring in viewers, and a show that just replicates The Next Generation could quickly run out of material before becoming repetitive. In any case, I'll be willing to give it a chance simply because its Patrick Stewart and it would be nice to see Jean-Luc Picard in action again.