Al Franken Announces Resignation From The Senate Amid Sexual Harassment Allegations
Al Franken's Senate career reaches its inevitable end.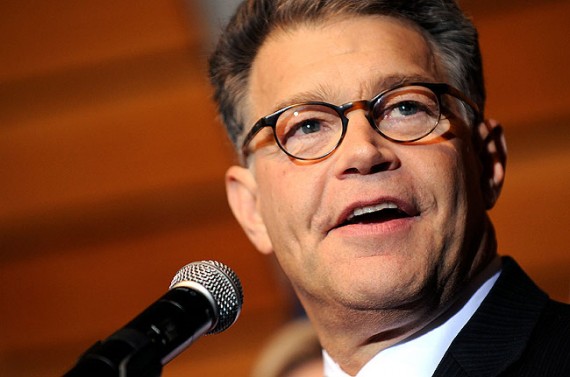 As expected, Minnesota Senator Al Franken has announced he will be resigning from the Senate in the wake of reports by eight women of sexual harassment and other inappropriate behavior on his part:
WASHINGTON — Senator Al Franken of Minnesota announced Thursday he would resign "in the coming weeks" from the Senate after his support among Democrats crumbled, becoming the highest-profile casualty in the growing list of lawmakers felled by charges of sexual harassment or indiscretions.

"I of all people am aware that there is some irony in the fact that I am leaving while a man who has bragged on tape about his history of sexual assault sits in the Oval Office, and a man who has repeatedly preyed on young girls campaigns for the Senate with the full support of his party," Mr. Franken said.

Mr. Franken also said that he had been ready to "cooperate fully" with a Senate Ethics Committee investigation but that he decided to leave office because it became clear he could not both pursue the investigation and represent the people of Minnesota. Still, he maintained that he would have ultimately been cleared.

"Some of the allegations against me are simply not true," Mr. Franken said. "Others I remember very differently. I know in my heart, nothing that I have done as a Senator, nothing, has brought dishonor on this institution, and I am confident that the Ethics Committee would agree."

He also said he was "shocked" and "upset" by the harassment allegations and that in responding to the claims, he may have given people the "false impression" that he was admitting to any of the accusations. He added that he planned to continue to be a "champion" for women and would be active outside of the Senate.

"Even on the worst day of my political life, I feel like it has all been worth it," he said. "Politics, Paul Wellstone told us, is about the improvement of people's lives. I know that the work I have been able to do has improved people's lives. I would do it all over again in a heartbeat."
You can watch the video of Franken's remarks below:
Franken's decision came in the wake of allegations that began to unfold just three weeks ago, but which continued to build as the weeks went on. The reports began when  Los Angeles news anchor Leann Tweeden wrote and spoke on the air about an incident during a 2006 USO Tour she was on with Franken. Tweeden said that Franken tried to forcibly kiss her and, later, appeared in pictures where he seemed to be groping her while she slept.  A few days later, a second woman came forward alleging that Franken had groped her while posing for a photograph at the Minnesota State Fair in 2010 after he had become a Senator. That same week, two more women came forward to make similar allegations against Franken, alleging incidents that happened during a second 2006 USO Tour and at a political event in Minnesota in 2007 while Franken was just beginning to explore what became his 2008 campaign for the Senate. Last week, similar accusations have been made by two more women, including an Army veteran and an as-yet-unidentified political official from New England, both of whom say that Franken groped them. Yesterday, two more women came forward to claim similar actions by Franken during the 2006-2007 time period. This last set of charges came in the wake of the resignation of Congressman John Conyers amid a series of allegations of harassment and other inappropriate behavior on his part over a number of years, as well as the settlement of such claims using taxpayer dollars. It also comes on the same day that Time Magazine had chosen women who have come forward to speak out about being sexually harassed as the "Person Of The Year."  It was these last set of allegations that led a number of Franken's Democratic colleagues to call on him to resign. By the end of the day yesterday, 38 Senate Democrats had joined in that call, with the majority of the holdouts being members of the Senate Ethics Committee who according to Senate Rules are supposed to remain publicly neutral when there is an ongoing investigation.
According to reports, Franken will make his resignation official at the end of this month, which would give the state's Governor more than enough time to name someone who would replace Franken at the beginning of 2018 and would serve at least until a Special Election is held for the seat. The current Governor, Mark Dayton, is a Democrat and it is expected that he would appoint a Democrat to fill Franken's seat. Among the top prospects for that job is the state's Lt. Governor Tina Smith. Other potential names include Attorney General Lori Swanson and two Members of Congress, Keith Ellison and Tim Walz. Regardless of who Dayton chooses, the Senate seat will be up for a Special Election in November of next year at the same time that Minnesota's other Senator, Amy Klobuchar, will be running for re-election in her own right. The Republicans will no doubt put up nominees for both seats, additionally, it's possible that we'll see a primary on the Democratic side for the nomination for Franken's seat. On the Republican side, potential candidates include former Governor Tim Pawlenty and former Congresswoman Michele Bachmann. A bid by Bachmann, though, would seem to be quixotic given that there's never been any indication that she has any political appeal outside of her old Congressional District even among the state's Republicans. While a candidate like Pawlenty might potentially be competitive, the likely political atmosphere in 2018 along with the fact that Minnesota seems to clearly be a solidly blue state suggests strongly that the seat will remain in Democratic hands.
Update: This post was updated to note that Minnesota is, of course, a solidly blue state.