Tulsi Gabbard Enters The Race For President
Hawaii Congresswoman Tulsi Gabbard is the latest Democrat to throw their hat into the Presidential ring.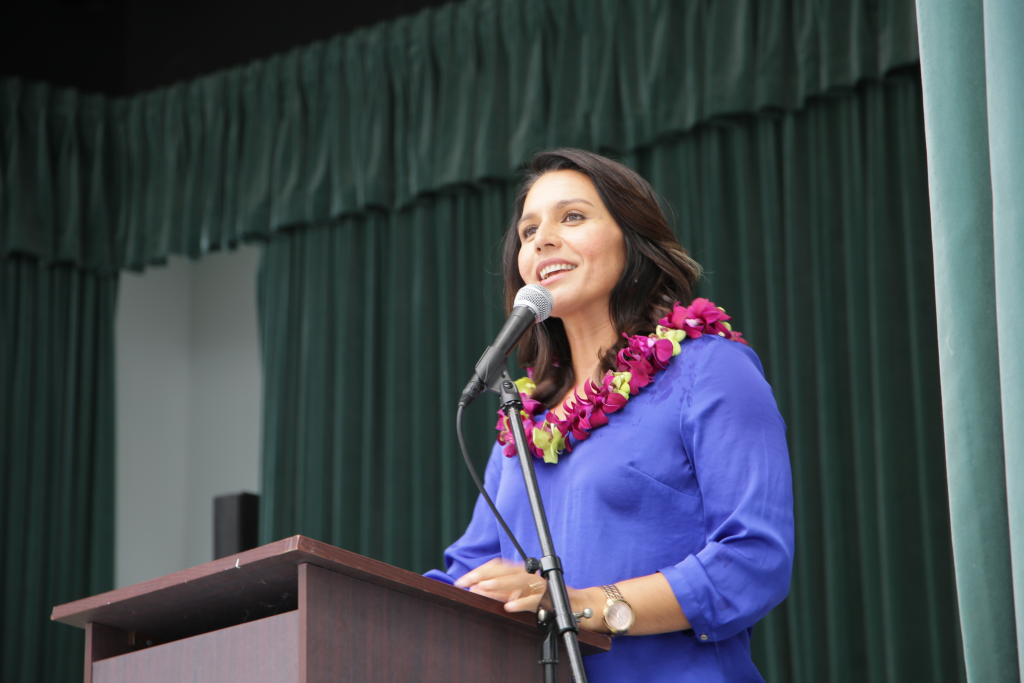 Hawaii Congresswoman Tulsi Gabbard has announced her candidacy for the Democratic Presidential nomination:
Representative Tulsi Gabbard of Hawaii said Friday that she would run for president, joining what is expected to be a crowded field of Democrats seeking to challenge President Trump in 2020.

Ms. Gabbard announced her decision to CNN in an interview with the political commentator Van Jones that is scheduled to air on Saturday. "I have decided to run," she said in a short clip posted Friday, "and will be making a formal announcement within the next week."

Ms. Gabbard, 37, is one of the lesser known of the possible candidates. An Army National Guard veteran who deployed twice to the Middle East, she was first elected to the House in 2012, a decade after she became the youngest person elected to the Hawaii State Legislature. She was the first Hindu and the first American Samoan elected to Congress.

Since then, she has earned a reputation for her opposition to American military intervention and "regime change" efforts abroad — and for sometimes breaking from the Democratic Party line. In 2015, she voted with Republicans to increase screening of Syrian refugees. Shortly thereafter, she startled the Democratic National Committee by calling for more presidential debates than the party wanted to hold.

And just this week, she wrote an op-ed accusing fellow Democrats of "religious bigotry" for sharply questioning a judicial nominee, Brian Buescher, on his membership in the Knights of Columbus. (Though she did not name names, her targets were clear: Senator Kamala Harris of California, another likely presidential candidate, and Senator Mazie Hirono, who also represents Hawaii.)

Ms. Gabbard also endorsed Senator Bernie Sanders in the 2016 primaries — resigning as vice chairwoman of the D.N.C. to do so — when most party officials were circling the wagons around Hillary Clinton. That creates an interesting dynamic for the 2020 race because Mr. Sanders may run again.
Gabbard is an Iraq War veteran who has represented Hawaii in Congress since being 2012. Before that, she served as a member of the Honolulu City Council and the Hawaii House of Representatives. It was not until the 2016 Presidential election cycle, though, that Gabbard achieved national prominence when she resigned her position as a Vice Chair of the Democratic National Committee over objections to a primary debate that schedule she and others deemed to be too preferential to Hillary Clinton. Not long thereafter, she became one of the first Members of Congress to endorse Vermont Senator Bernie Sanders in the fight for the 2016 Democratic Presidential nomination. She has also been the source of controversy in recent years for actions such as meeting with Syrian leader Bashar Assad last year, after which she urged caution in the use of military force. She also raised concerns among some of her progressive supporters by meeting with Donald Trump during the transition period between Election Day 2016 and Inauguration Day.
Realistically speaking, it's hard to see Gabbard as a top contender for the nomination. Partly this is because she represents Hawaii, which means that she's not exactly well know by the average voter or even with the rank-and-file of her own party, although her role in the 2016 election has made her better known than she otherwise might be. It's also worth noting that Gabbard would be only 39 on Inauguration Day 2021. This would make her the youngest person ever elected President. Only two Presidents, who ascended to the Presidency upon the assassination of William McKinley, and John F. Kennedy, have become President before reached the age of 45. Gabbard would also be running against the fact that, generally speaking, sitting members of the House of Representatives have not been successful in bids for the Presidency. Americans have only elected such a person President once since 1789, and that happened in 1880 when James Garfield, who also happened to be a Civil War hero, was elected President with barely a 2,000 vote advantage in the popular vote. Even leaving aside this history, it's hard to see how Gabbard would differentiate herself from other progressive candidates who are either in the race for the White House or seriously considering a bid for the Presidency, including Bernie Sanders, Elizabeth Warren, Cory Booker, and Kamala Harris. Finally, Gabbard has polled in the single digits in recent polls of the prospective Democratic field, although a good part of that may be due to the fact that she is relatively unknown. While it seems unlikely, it's possible that she could become more of a contender as time goes on, or that she could end up being among those considered as a potential running mate for whoever does win the nomination.