Tulsi Gabbard Files Ridiculous Lawsuit Against Google
Tulsi Gabbard has filed a seemingly frivolous lawsuit against Google due to a temporary suspension of her advertising account.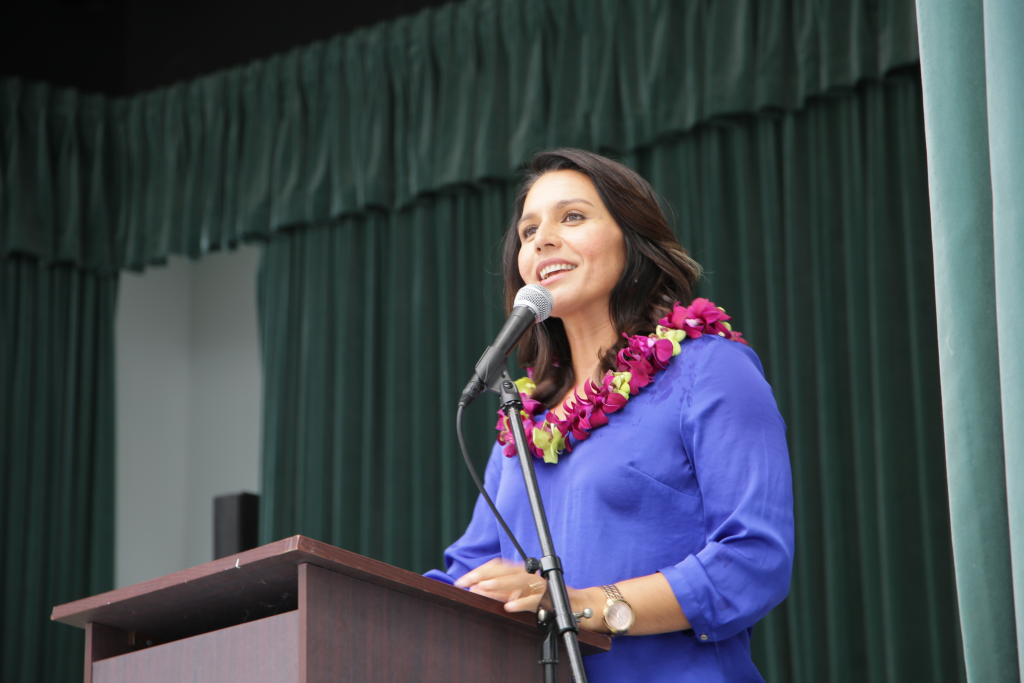 Hawaii Congresswoman Tulsi Gabbard, who has been running for President and stuck far in the back of the pack, is suing Google claiming that it is improperly discriminating against her campaign:
Representative Tulsi Gabbard, the long-shot presidential candidate from Hawaii, said in a federal lawsuit that Google infringed on her free speech when it briefly suspended her campaign's advertising account after the first Democratic debate in June.

The lawsuit, filed on Thursday in a federal court in Los Angeles, is believed to be the first time a presidential candidate has sued a major technology firm.

In a twist that reflects Ms. Gabbard's unorthodox political views, the claim that her speech was stifled by Google is similar to complaints made over the last year in Republican circles. Few Democrats have raised similar concerns.

Big tech companies like Google are getting increasing scrutiny by lawmakers and regulators around the world for a wide variety of issues, including their influence on political debate, their handling of consumer data, and the aggressive way they compete with smaller companies.

A day before the Gabbard lawsuit was filed, Facebook said the Federal Trade Commission had opened a formal antitrust investigation into its business practices. Earlier in the day, the F.T.C. announced that Facebook was fined a record $5 billion for deceiving users about their ability to control the privacy of their personal data.

Tulsi Now Inc., the campaign committee for Ms. Gabbard, said Google suspended the campaign's advertising account for six hours on June 27 and June 28, obstructing its ability to raise money and spread her message to potential voters.

After the first Democratic debate, Ms. Gabbard was briefly the most searched-for candidate on Google. Her campaign wanted to capitalize on the attention she was receiving by buying ads that would have placed its website at the top of search results for her name.

The lawsuit also said the Gabbard campaign believed its emails were being placed in spam folders on Gmail at "a disproportionately high rate" when compared with emails from other Democratic candidates.

"Google's arbitrary and capricious treatment of Gabbard's campaign should raise concerns for policymakers everywhere about the company's ability to use its dominance to impact political discourse, in a way that interferes with the upcoming 2020 presidential election," the lawsuit said.

Ms. Gabbard and her campaign are seeking an injunction against Google from further meddling in the election and damages of at least $50 million.

Google has automated systems that flag unusual activity on advertiser accounts — including large spending changes — to prevent fraud, said Jose Castaneda, a spokesman for the company.

"In this case, our system triggered a suspension and the account was reinstated shortly thereafter," he said. "We are proud to offer ad products that help campaigns connect directly with voters, and we do so without bias toward any party or political ideology."

No other campaigns have publicly claimed that Google has suspended their advertising accounts.

(…)

"Google's discriminatory actions against my campaign are reflective of how dangerous their complete dominance over internet search is, and how the increasing dominance of big tech companies over our public discourse threatens our core American values," Ms. Gabbard said in a statement. "This is a threat to free speech, fair elections, and to our democracy, and I intend to fight back on behalf of all Americans."

While assertions of tech firms tipping the scales against political opponents are largely unproven, the lawsuit taps into concern that tech companies aren't transparent about how decisions are made and they aren't held accountable when things go wrong.
Last week, senators homed in on Google in a subcommittee hearing about censorship in search. The hearing aired many largely unproven claims that Google tilts search results against conservative viewpoints.
"Google's control over what people hear, read, watch and see is unprecedented," said Senator Ted Cruz, the Republican from Texas who led the subcommittee. "With that market power, Google can and often does control our discourse."

Gabbard campaign workers sent an email to a Google representative on June 27 at 9:30 p.m. once they realized the account had been suspended. In emails reviewed by The New York Times, the campaign sent Google a screenshot of a notice of suspension for "problems with billing information or violations of our advertising policies."

The account was reactivated at 3:30 a.m. on June 28. In the email announcing that it had reinstated the account, Google wrote that the company temporarily suspended the campaign's account to verify billing information and policy compliance, but offered no other explanation for what had happened.

The campaign said it had opened the Google advertising account in February and had bought ads on Google search before the suspension. It said there was no problem with its billing information and that it had not violated Google's terms of service.

"To this day, Google has not provided a straight answer — let alone a credible one — as to why Tulsi's political speech was silenced when millions of people wanted to hear from her," the lawsuit said.

Without the ads, the Tulsi 2020 website, which has links for donations and information about the goals of her candidacy, appears in the first page of search results for "Tulsi Gabbard." But it is below stories and videos about her — selected by a Google algorithm — and after her Wikipedia page, her Twitter profile and her congressional website.

Reading through the Complaint, which I've embedded below, I'm left with the inescapable conclusion that this is nothing more than a campaign stunt on Gabbard's part. While it doesn't seem to stray into the territory of being the kind of frivolous lawsuit that would warrant sanctions under Rule 11 of the Federal Rules of Civil Procedure, it comes pretty close. For example, while the Complaint does allege that the Gabbard advertising account was down for a period that coincides with the debate it doesn't seem to me to do anything but make vague accusations that this was deliberate or that Google and its employees were deliberately non-responsive to the campaign's complaints about the account being down. The Complaint does allege. though, that the company deliberately interfered with traffic to the campaign website and directs email from the campaign to potential supporters at an inordinate rate compared to other candidates. Though the Complaint makes these allegations, it doesn't cite any facts other than innuendo to support these claims.
The Complaint further strays into the territory of the ridiculous when it gets to the point when it alleges the legal basis for the Complaint. The first two counts, for example, are allegations that Google has violated the free speech rights of Gabbard and her campaign under both the First Amendment and under similar provisions of the California Constitution. This, of course, is utterly ridiculous because the First Amendment only applies to government action and Google is, of course, not a government entity. This is also true of the similar provision of the California Constitution. Beyond those grounds, the Complaint also cites a number of Federal and California laws regarding business activity but these causes of action suffer from the same deficiency as the rest of the Complaint. Specifically, they are full of innuendo and conjecture but fail to allege anything that comes close to being a factual allegation of wrongdoing on Google's part. In fact, by its own admission, the Complaint states that the Google Ads account was reinstated within hours after Google was notified of its apparently inadvertent suspension. While Gabbard and her campaign may really believe that this was all part of some vast conspiracy against her the Complaint doesn't allege any facts to support that conclusion. Given this, I suspect it will not survive a Motion to Dismiss.
As for Gabbard herself, her campaign has basically gone nowhere since she entered the race in January. She has not polled above 2% in any national poll and has not performed any better in any of the statewide polls. Additionally, the campaign's report to the Federal Election Commission shows that she raised less than $2 million in the second quarter of the year and that she raised less money from April 1st to June 30th than she had in the first month of the year. Despite this, Gabbard qualified for the first debate and also for the second debate. If she doesn't improve on these poll and fundraising numbers, though, she'll most likely fail to qualify for the third and fourth debates in September and October respectively. At that point, she will be among many candidates who will have to decide whether it'xs worthwhile to keep up this quixotic campaign.
Here's the Complaint:
Tulsi Now Inc v. Google Et Al by Doug Mataconis on Scribd