Tulsi Gabbard Won't Run For Re-Election, Will Focus On Doomed White House Run
Hawaii Congresswoman Tulsi Gabbard, who is basically a non-entity in the race for the Democratic nomination, will not be running for re-election.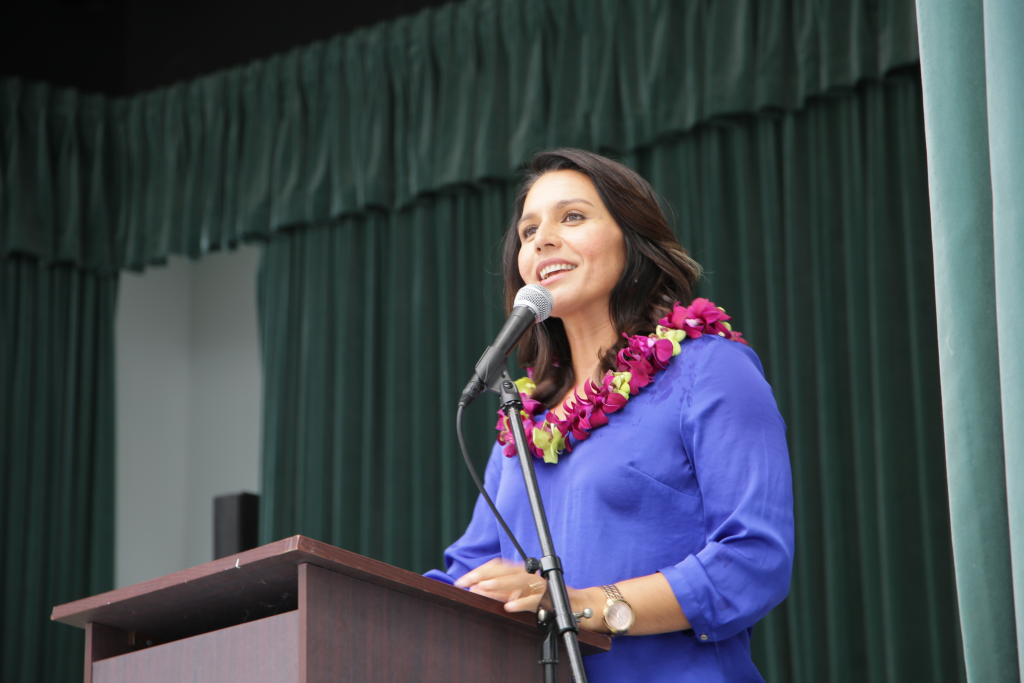 Congresswoman Tulsi Gabbard, who has languished near the bottom of the race for the Democratic nomination, has announced that she will not run for re-election to the House of Representatives from Hawaii, increasing speculation that she may be eyeing a third-party run for the White House notwithstanding her denials to the contrary:
Democratic presidential candidate Tulsi Gabbard said Thursday that she will not run for re-election for her U.S. representative seat, saying she wants to focus on trying to secure her party's nomination to challenge President Donald Trump.

Gabbard, who represents Hawaii, made the announcement in a video and email to supporters.

"I believe that I can best serve the people of Hawaii and our country as your president and commander-in-chief," Gabbard said in the video.

She also expressed gratitude to the people of Hawaii for her nearly seven years in Congress.

In January, Hawaii state Sen. Kai Kahele, a Democrat, said he would run for Gabbard's seat, NBC affiliate KHNL of Honolulu reported.

An Iowa Democratic caucus poll out this week put Gabbard at 3 percent, with former Vice President Joe Biden, Massachusetts Sen. Elizabeth Warren, and South Bend, Indiana, Mayor Pete Buttigieg in the top three spots.

She is in a crowded field of Democrats seeking the nomination to run for president. Another candidate, U.S. Rep. Tim Ryan, D-Ohio, ended his long-shot presidential campaign Thursday.
This news comes several days after Gabbard was in the headlines after former Secretary of State and 2016 Presidential candidate Hillary Clinton warned that Gabbard was being "groomed" to become a third-party candidate that could have a negative impact on whoever the Democratic nominee is much like Jill Stein of the Green Party arguably in 2016. Initially, it was reported that Clinton had said that Gabbard was being groomed by Russians to run as a third-party candidate, which led to the backlash from Gabbard. As noted in the correction to the New York Times report linked above as well as subsequent reporting, though, it is clear that Clinton actually said that Gabbard is being "groomed" by Republicans. While it might seem like a far-fetched allegation, there is some sense to it. For one thing, Gabbard has long been a critic of the Clinton wing of the Democratic Party in general and Clinton herself in particular. Additionally, conservative media outlets have been promoting Gabbard in a way that seems odd for a Republican-leaning news network, but it makes sense if your goal is to promote Gabbard as a potential spoiler for whoever wins the Democratic nomination. The latest example of that came just last night, with Gabbard's appearance on Sean Hannity's show:
Rep. Tulsi Gabbard, D-Hawaii, echoed the frustrations of many Republicans over a perceived lack of transparency in the handling of the impeachment inquiry led by House Democrats.

Appearing on "Hannity" Thursday, the presidential candidate said she originally supported the inquiry, but she stressed the need for transparency.

"I don't know what's going on in those closed doors," Gabbard said. "We as members of Congress do not have access to the information that's being shared. I think the American people deserve to know exactly what the facts are, what the evidence is being presented as this inquiry goes on."

She also expressed concerns that a hyper-partisan impeachment inquiry would "tear apart" the country. "I've long expressed my concern about going through impeachment proceedings in a very, very partisan way because it will only further tear apart an already divided country."

Gabbard also sounded off again about former presidential candidate Hillary Clinton, who has suggested that Republicans were grooming Gabbard to run a third-party candidacy. After Clinton's comments, Gabbard called Clinton "the queen of warmongers, embodiment of corruption, and personification of the rot that has sickened the Democratic Party for so long."

On Hannity, Gabbard said that Clinton has sent a warning out to all veterans and anyone who stood up to her "warmongering policies."

"She is not only calling me a traitor, she is not only trying to smear my character, she's sending a warning out to every veteran, every single American, anyone who stands up the warmongering foreign policies that really are her legacy, that have been so destructive and costly to my brothers and sisters in uniform, because the American people trillions of dollars, and because of so much damage in the war," Gabbard said of Clinton.
Based on behavior like this, it's entirely legitimate to wonder exactly what it is that Gabbard has on her mind. Regardless of her tweets, it's obvious that she is not going to be the Democratic nominee. She's also not going to be considered by any of the potential nominees — which at this point would be Biden, Warren, Sanders, Buttigieg, or Harris — as a running mate, or for a Cabinet position for that matter. She also has a long history of being a thorn in the side of the Democratic National Committee and the center-left wing of the party. Given that, her claim that she has no intention of all running third-party should be taken with a grain of salt at least. At some point, it is going to dawn on her that continuing her run for the Democratic nomination is a waste of time. That's when we'll see whether she fades into the background or mounts a third-party run whose only plausible motivation can be to knee-cap the eventual Democratic nominee.