Kamala Harris Set To Enter Presidential Race On Martin Luther King Jr. Day
California Senator Kamala Harris is set to enter the race for the Democratic Presidential nomination later this month.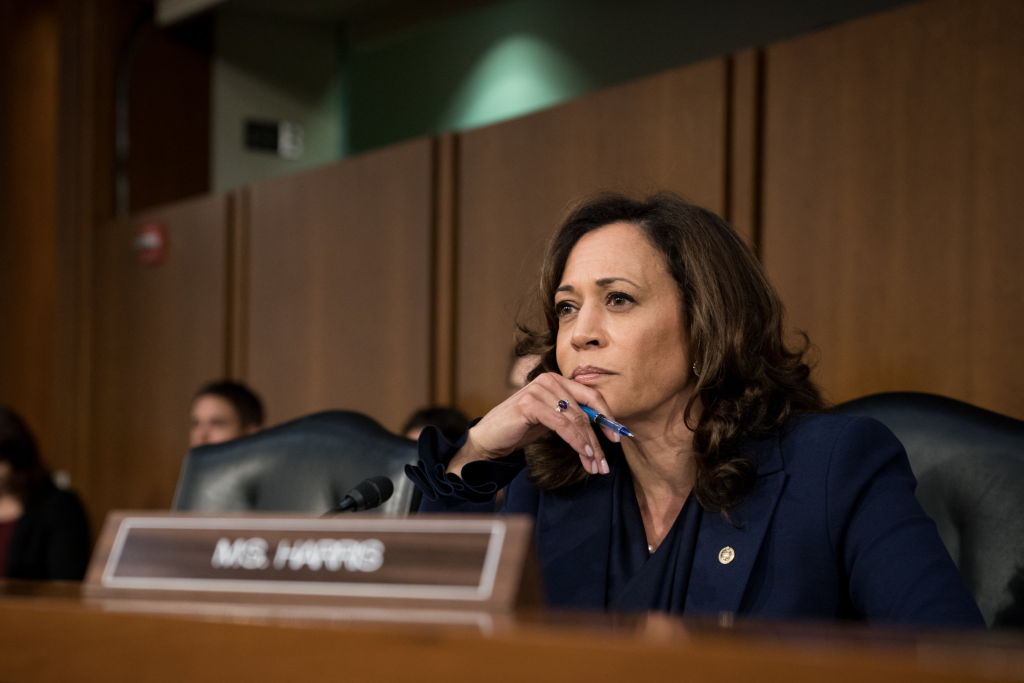 California Senator Kamala Harris, who has been in office since being elected in 2016, will reportedly enter the race for the Democratic Presidential nomination on Martin Luther King Jr. Day: 
Sen. Kamala Harris is finalizing plans to announce her entry into the 2020 presidential race around Martin Luther King Day, multiple outlets reported late Wednesday night citing sources close to the California Democrat.

Harris would be the fourth person so far to join the race for the Democratic nomination, though that number is expected to balloon to dozens of candidates by the time campaign season kicks into full swing.

Harris and her aides are still working out the final details of her announcement rally, including the date, which could be Martin Luther King Day, Jan. 21, CBS News reported.

Advisers to Harris do not want to link the senator too closely to San Francisco, but they still prefer the Bay Area to be the backdrop for her rally, per CBS' reporting.

"San Francisco is viewed as a very nutty place by people outside of California, and frankly, by a lot of people inside California," Democratic strategist Darry Sragow, who teaches political science at the University of Southern California, told CBS News.

Harris was born in Oakland and began her public career as a two-term district attorney there.

Though California is Harris' home state, her team wants to locate its headquarters on the East Coast, near the major cable news outlets and within quicker flying distance to some of the early Midwestern and East Coast primaries and caucuses, such as Iowa, New Hampshire and South Carolina.

One source told Roll Call that Baltimore, with its three nearby airports and close proximity to Washington, stands atop the shortlist.

The city is a 40-minute train ride and roughly an hourlong drive from Washington, allowing Harris more flexibility to make it back to the Capitol on short notice for votes in the Senate.

A Baltimore headquarters would also allow staffers who join the campaign to commute from their homes and apartments in Washington instead of having to find new housing in another part of the country.

Harris has been on tour recently promoting her new memoir, "The Truths We Hold: An American Journey," a milestone for many recent major party nominees for president.

At a book event Wednesday night at George Washington University in D.C., Harris batted away reporters' questions about a pending 2020 announcement.

In the first CNN/Des Moines Register/Mediacom poll of the cycle of likely Iowa caucus-goers last month, Harris had support from 5 percent of those surveyed, placing her fifth among the field of 20.
Harris was coy about confirming these reports in an appearance on Morning Joe this morning, and was more interested in talking about the ongoing government shutdown, the reports this morning that the President may divert money from disaster relief allocated to California and other parts of the country to pay for her wall, and the two books that she has put out in recent weeks in advance of a Presidential announcement. This is, of course, understandable since its likely that she and her supporters are eying some kind of high-publicity announcement a week from Monday when she formally enters the race, but the fact that she's been visiting Iowa, talking to potential campaign staff, and making herself more available to the national media makes it clear what her intentions are.
Prior to being elected to the Senate in 2016, Harris served since 2011 as Attorney General of California and, for eight years before that, as District Attorney of San Francisco. Since winning election to the Senate, Harris has been mentioned as a potential Presidential candidate notwithstanding what remains a rather thin resume and level of experience. Inevitably, there have been several analogies drawn between her and former President Barack Obama notwithstanding the fact that their level of experience and their prominence on the national scene were quite different at the respective times in their political careers. Additionally, the fact that Harris comes from the West Coast rather than the Midwest as President Obama did is potentially a mark against her in an election year where Democrats are clearly going to be interested in winning back the working class voters they lost to Trump in 2016.
In any case, Harris has been working to increase her national profile inside the Democratic Party by traveling to several early primary states to speak at party events and by campaigning for Democratic candidates in the just-concluded midterm elections. Additionally, she received significant national attention and praise from fellow Democrats for her questioning of Justice Brett Kavanaugh both during the first round of substantive hearings and during the reopened hearings aimed at investigating the allegations made by Dr. Christine Blasey Ford At the time, though, some critics accused both her and fellow Senator Cory Booker of grandstanding for the cameras and the national hearing during the course of the hearings.
In any case, Harris is still relatively unknown even inside the Democratic Party so it's hard to judge how she'll come across if she does end up running, especially if she's running against far better-known candidates such as Joe Biden, Bernie Sanders, and Elizabeth Warren. One advantage Harris does have over these other candidates, of course, is her youth, something that could be appealing to voters looking to hand power to a new generation of leaders rather than nominating and potentially electing another Baby Boomer.